New Mexico Music Educators Association Recognized with 2023 NAfME Excellence in Advocacy Award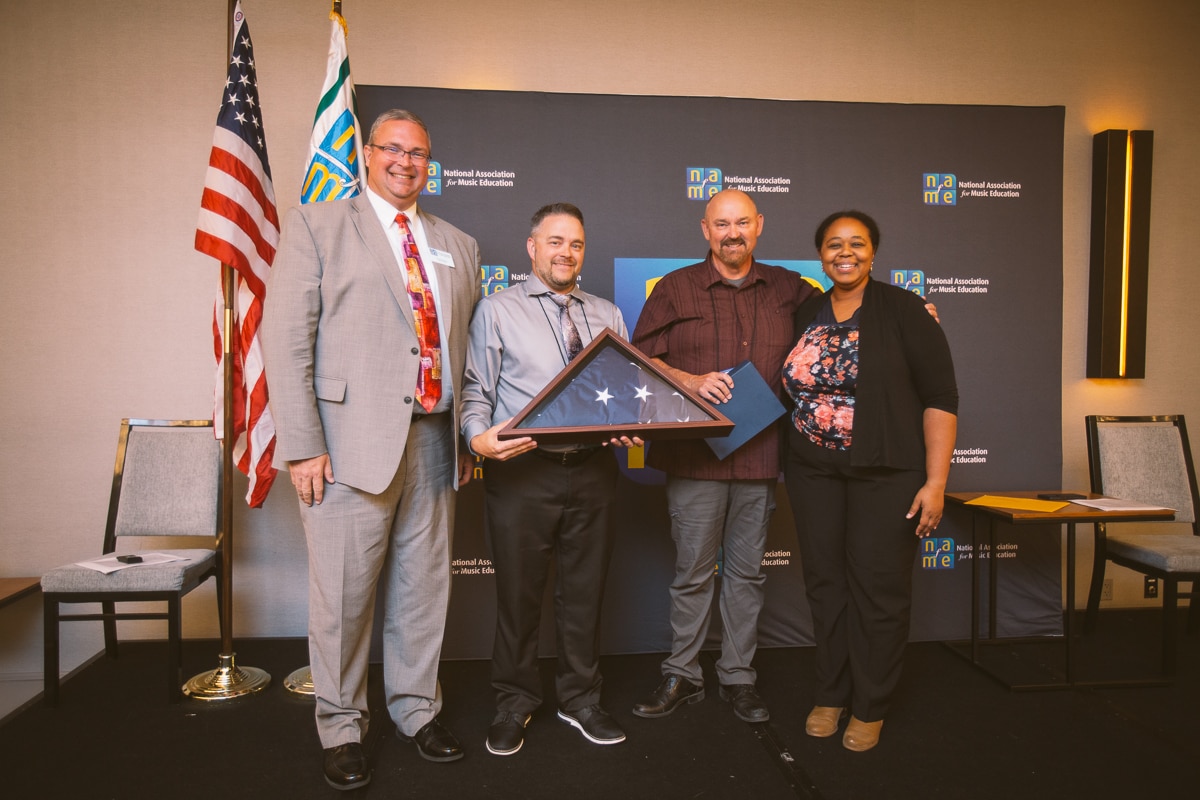 /   News Posts   /   New Mexico Music Educators Association Recognized with 2023 NAfME Excellence in Advocacy Award
Media Contact: Catherina Hurlburt
CatherinaH@nafme.org or 703-860-4000
New Mexico Music Educators Association
Recognized with 2023 NAfME Excellence in Advocacy Award
RESTON, VA (July 25, 2023)—The National Association for Music Education (NAfME) honored the New Mexico Music Educators Association (NMMEA) with the 2023 NAfME Excellence in Advocacy Award in recognition of their efforts advocating for music education. NAfME President and Board Chair Scott R. Sheehan presented the award during the "Together Towards Tomorrow" NAfME National Assembly gathering in Washington, DC, in June.
"On behalf of the NAfME National Executive Board, we offer our deepest congratulations and thanks to the New Mexico Music Educators Association for all of their work in bringing a spotlight to music education this past year in their state," shared NAfME President Scott R. Sheehan. "As we are all transforming how our associations operate, the New Mexico MEA has taken several small steps that have made a big impact. Their focus on restructuring leadership opportunities and building community within the membership is making a difference not only for NMMEA, but for music education and for the students. Their efforts to intentionally engage members from rural and urban areas in New Mexico has resulted in stronger communication with their state and national legislatures. We are pleased to honor them for their transformative work and look forward to seeing the results of their efforts in the years to come."
New Mexico Music Educators Association strategically focused on community building within their organization as a form of advocacy. NMMEA used differentiated communication styles to build community within the membership. One example was the weekly advocacy challenges shared with members. These were easy, actionable small tasks to encourage members to participate in yearlong advocacy efforts. Challenges ranged from the school, community, local, state, and federal level.
Using feedback from members, they restructured service and leadership opportunities within the organization. This led to more transparency and broadened membership engagement. With this transparency, NMMEA drew more engagement from their rural and urban areas.
NMMEA hosted town halls throughout the year as a space for members to share their thoughts and build connections and networks. During the 2022 NAfME Virtual Hill Week held September 19–23, NMMEA efforts resulted in three times as many advocacy messages being sent to Capitol Hill from New Mexico members than any other state.
The NAfME Excellence in Advocacy award, presented annually at the NAfME National Leadership Assembly, recognizes a state music education association (MEA) for outstanding accomplishments in music education advocacy. State MEAs around the country are advocating by meeting with State Boards of Education, advocating to state legislatures, and engaging affected parties in advocating for music education. The 2022 Excellence in Advocacy Award recipient was the Georgia Music Educators Association. The 2021 Excellence in Advocacy Award recipients were Louisiana, Ohio, and Vermont Music Educators Associations; the 2020 Excellence in Advocacy Award recipient was the Wisconsin Music Educators Association; the 2019 Excellence in Advocacy Award recipient was the Florida Music Education Association; and the 2018 Excellence in Advocacy Award recipient was the Michigan Music Educators Association.
###
The National Association for Music Education (NAfME) is a collaborative community that supports music educators and advocates for equitable access to music education. The only association that addresses all aspects of music education, NAfME, together with its affiliated state music education associations, advocates at the national, state, and local levels and provides resources and opportunities for teachers, students, parents, and administrators. Founded in 1907 and representing more than 53,000 members teaching millions of students, NAfME advances the music education profession and promotes lifelong experiences in music.
Follow NAfME on Twitter (twitter.com/nafme) and on Facebook (facebook.com/nafme).
Published Date
July 25, 2023
Copyright
July 25, 2023. © National Association for Music Education (NAfME.org)