Sharing Stories about Ourselves 
By NAfME Members Lori Schwartz Reichl and Jonathan Grantham
Have you ever asked someone a question—or have been asked a question—and were disappointed when the inquiry or explanation was not reciprocated? Have you shared something about yourself, but failed to ask the other person if they would like to share information with you? Consider how it makes you feel when someone carves out the time and makes the effort to ask about you or show concern. Do you feel they understand you better? Consider how it makes you feel when someone takes the time and makes an effort to share information about themself with you. Do you feel you understand them better?
As we settle into a productive pace for the school year, take some time to reflect on the first several educational weeks that have elapsed. What processes, strategies, or tools did you use to get to know your students and colleagues? Did you take the time to listen to their individual stories before hastily leaping into the continuous grind of routines? Did you attempt to form relationships and establish understanding? Did you display care before demonstrating content? Are you ensuring that the stories of your students and colleagues permeate the curriculum, classroom, and department? Did you even ask these valued stakeholders to share their unique stories? How does this distinct knowledge of your students and colleagues shape your instruction, collaboration, and communication?
Now, consider this storytelling technique from a different perspective. What processes, strategies, or tools did you implement for your students and colleagues to get to know you? Did you share information, tell a story, perform an act, create a video, design a presentation, and/or show photographs? How does this unique knowledge about you shape your students' learning and your colleagues' partnership? How might it enhance their correspondence, comprehension, and/or confidence? Imagine the impact that sharing details about yourself could do to strengthen a pathway to perpetual purpose and pride within our collaborative learning spaces.
So, what do purpose and pride look like for educators? Are we willing to let our students see us as more than the "sage on the stage?" Are there opportunities for us to model connection before content in meaningful and tangible ways that allow our students to truly perceive us? When we reflect on teachers and mentors who have had an impact on us, it is often because of our personal interactions with them. They have left us with a feeling of belonging and compassion. The teacher paved the way. We can do it for our students, too!
Creating a culture in our classroom that helps to build and foster connection and meaningful relationships needs daily attention and care. In the same way that we work on developing good fundamentals in our music-making, we must turn similar attention to the compassionate work of relationship and culture building. How might this look in our classrooms and ensembles? As our students enter the classroom or rehearsal space (both virtually and face-to-face), do we greet each of them by name? Do we make eye contact with each student and ask about things we know are happening in their lives? These small interactions help to build deposits in the relational "accounts" we have with one another. During the course of the class or rehearsal is there breathing room in the lesson plan for interactions when the students can discuss what they are seeing, hearing, and experiencing in their music-making? How much time is devoted to listening to student voices in the course of a lesson or rehearsal? Have we even considered the inclusion of this valuable time?
Celebrating individual and group progress is also necessary to foster a supportive forward momentum in the learning. As the class is ending, are we dedicating time to stand at the door and thank each student by name as they leave? This is also a great opportunity to congratulate students on concepts that they improved upon during class. This strategy is also a chance for our students to connect with us as they exit the learning space. Hearing our students thank us and wish us a great day as they leave is good for our souls, too!
In considering these ideas for our students, how can we as the teachers, model what it means to share honestly and vulnerably (but appropriately) in ways that support relationship building, learning, and the music-making that we are sharing? Remember, this takes time and effort, but it is worth it! Personal experiences and stories can help connect us to our students in ways that feel authentic. A great way to build this organically is to have a question of the day that we ask our students. These questions can be fun, serious, related to the content for the lesson, or a current event that is happening. In asking our students to share with one another their responses to the question, we also have a chance to share our answers—our stories with them.
What are ways we can comfortably and confidently share our stories with our students and/or colleagues? Here are some personal examples from the authors:
From Jonathan:
"When I show up as my most authentic self in front of my students, when I let them see my humanity, my fallibility, I am always humbled by the grace they extend to me in return. Releasing myself from always having the right answer, to never making mistakes, to being a perfect model for them creates exactly the same healthy expectations for their existence in my classroom. Adding a robust sense of humor and room in the margins of the lesson plans for jokes, stories, and meaningful organic interactions means each day feels like a special event. It means I enjoy waking up for an ordinary Tuesday."
From Lori:
"From teaching young students to working with practicing teachers, the amount of which I share is often the same. The content is fairly similar, too. My 6th-grade humor is apparent regardless of the ages of the people with whom I am collaborating, and "Story Time with Lori" makes an occasional appearance! When I reveal to students that I was in first grade twice, changed majors, and transferred universities, it's as if a sense of relief permeates the learning space. There's an understanding that there is room to experiment and develop ourselves. Regardless of whether I play my saxophone, sing a song (and usually change the lyrics!), attempt some dance moves, or tell a story, I offer a unique piece of myself to my students and colleagues. I share the good, the bad, and the ugly, and we roll our eyes, laugh, and sometimes even cry together. I try to embrace my uniqueness and encourage others to do the same. When students and colleagues see that I'm willing to openly share, they are more inclined to do so, too. With this reciprocation, an instant trust is born."
When we teach the same students for a semester or year-long class, or recognize that they may be members of our programs for consecutive years, we may sprinkle stories throughout the journey. However, if we are only collaborating for a short time or a few days, the need to more readily share and truly comprehend how our stories may encourage, motivate, or validate those we lead and care for is essential. There is an expression "you can't make old friends," and this reminds us that where we are with our students and colleagues in the fall will look very different in the spring—as it should! There will be shared experiences, laughter, challenges, and successes that bring us together with our students, our colleagues, and our communities. If we focus on how we show up with them and for them, then sharing stories about ourselves may more easily emerge. In turn, those shared experiences may be strengthened with an earned relational trust. A pathway to perpetual purpose and pride may emanate from the relationships we make, the content we learn, and the music we produce.
About the authors: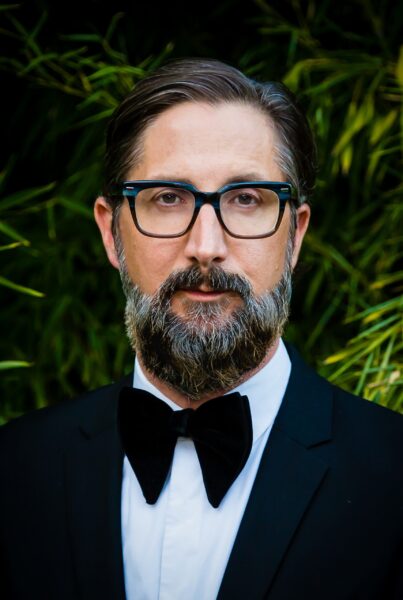 Jonathan Grantham, director of bands at Amador Valley High School in Pleasanton, California, leads a band program of 300 students involved in five concert ensembles, three jazz bands, a competitive marching band, various chamber ensembles, two winter percussion units, and two winter guards. In his twenty years at Amador Valley the band program has grown to triple in size, and the ensembles have earned consistent superior ratings and high honors. Under Mr. Grantham's guidance, Amador Valley's top wind ensemble has performed at the California Band Directors Association state conference three times (2007, 2010, 2018), and twice at The Midwest International Band and Orchestra Clinic (2013, 2019).
Mr. Grantham is active as an adjudicator, clinician, and guest conductor. He was an executive board member for NAfME/CMEA Bay Section and the Western Band Association and served for several years on the Special Projects Committee for the California Band Directors Association. He received his bachelor's degree in music education/trombone performance from Central Michigan University, graduating magna cum laude, and earned his master's degree in conducting at the American Band College of Sam Houston State University, graduating magna cum laude. Mr. Grantham maintains an active music education blog and enjoys mentoring new teachers. Honors include twice earning the Excellence in Education Award from Pleasanton Unified School District (2009, 2016) and being chosen as Pleasanton Unified School District's Teacher of the Year (2013). Mr. Grantham was honored by the CMEA State Association in 2015 with the Don Schmeer/Byron Hoyt Band Educator Award. In 2018 Jonathan was inducted into the John Philip Sousa Foundation's Bandworld Legion of Honor. He resides in Martinez, California with his partner Ryan. He can be contacted at jgrantham@pleasantonusd.net.
Lori Schwartz Reichl has served as a proud educator for two decades. She has successfully led secondary music programs in a rural school in Pennsylvania and two Title I schools in Maryland, one of which was assigned to corrective action. In both states, Lori has opened new buildings and developed their music programs. These unique experiences of establishing and maintaining programs in a variety of educational settings have permitted Lori to expand her multifaceted career into a portfolio as a clinician, conductor, instructor, speaker, and writer. Lori is the author of 75 articles for an assortment of publications. She designed these mentoring pieces into a graduate course that she instructs annually at The University of the Arts in Philadelphia and VanderCook College of Music in Chicago entitled "Making Key Changes: Refresh Your Music Program." Lori has conducted honor bands or presented at conferences in 16 states and abroad, prepared countless K–12 professional development sessions nationwide, spoken in numerous classrooms, and has been interviewed for 12 podcasts.
Lori is co-founder of Women Banding Together, serves as the Maryland state chair and a member of the mentoring committee for Women Band Directors International, and serves as an advisor for the Status of Women Mentoring Program for the North American Saxophone Alliance. Lori earned her bachelor's and master's degrees in Music Education, obtained an Administrator I Certification, and is pursuing a Doctorate in Music Education (ABD). Lori resides near Baltimore, Maryland, with her husband and two children. Learn more about Lori at MakingKeyChanges.com. 
Did this blog spur new ideas for your music program? Share them on Amplify! Interested in reprinting this article? Please review the reprint guidelines.
The National Association for Music Education (NAfME) provides a number of forums for the sharing of information and opinion, including blogs and postings on our website, articles and columns in our magazines and journals, and postings to our Amplify member portal. Unless specifically noted, the views expressed in these media do not necessarily represent the policy or views of the Association, its officers, or its employees.
October 19, 2021. © National Association for Music Education (NAfME.org)
Published Date
October 19, 2021
Copyright
October 19, 2021. © National Association for Music Education (NAfME.org)