Play Ball! Out to the Ballgame with Major League Baseball Team Organist Matthew Kaminski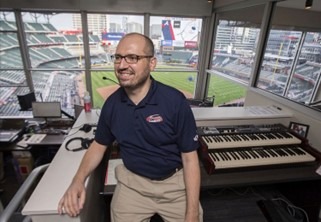 /   News Posts   /   Play Ball! Out to the Ballgame with Major League Baseball Team Organist Matthew Kaminski
Play Ball!
Out to the Ballgame with Major League Baseball (MLB) Team Organist Matthew Kaminski
By Thomas Amoriello Jr., Immediate Past Chair of the NAfME Council for Guitar Education
The sights, sounds, and smells of the ballpark have created an atmosphere that has contributed to America's pastime equally alongside the feats of legendary players including Hank Aaron, Ted Williams, and Derek Jeter. The famed seventh inning stretch singing of "Take Me Out to the Ballgame" has been a fan favorite for over a century, but the sound of the organ is also synonymous with the sport. Following in the footsteps of famed Chicago White Sox organist Nancy Faust, who entertained fans for more than 40 years in Chicago, Matthew Kaminski has "played" in more than a thousand ballgames for Atlanta's Major League Baseball team and finds unique ways to make musical connections to baseball spectators young and old alike.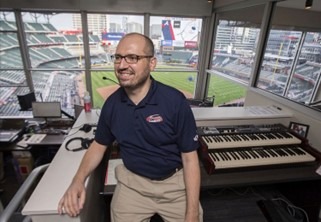 Thank you to Mr. Kaminski for sharing your thoughts with the NAfME membership. Please feel free to leave comments on social media for open dialogue about music or baseball or reach out to me at thomasamoriello@gmail.com.
What is your typical pre-game ritual before you are ready to accompany  Atlanta's baseball team for nine innings?
For evening (7:20 PM) games, I arrive at the stadium around 4:30 PM and get ready for my batting practice set. The gates usually open at 5:30 PM, and I play at that time until the visiting team's batting practice is over (usually around 6:30 PM). Around 7 PM, the pregame activities start. I usually play during a feature called "oblivious cam" as well as for the ceremonial first pitch.
Having earned a Master of Music Degree from Georgia State University, how did you end up as part of the entertainment at 81 home games a year for a major league baseball team?
In 2009, one of my adult organ students knew the audio engineer for Atlanta's baseball team. He told me that they were looking for an organist, and I thought about it for about a second and said, "Sure, I can do that!" I got an interview about a week later and then auditioned during two "Spring Training" games that were held at Turner Field. I passed that audition and have been the organist ever since! Growing up in Chicago, I heard the sound of the organ at Wrigley Field many times, but never thought that I would even get that opportunity one day!
Featuring live musicians at public sporting events is kind of a dying art form, but you have found innovative ways via social media, especially Twitter, to interact with baseball spectators in real time, taking quirky requests that range from pop, classic rock, Disney, TV themes, cartoon jingles, and everything in between. How much fun are you having perched up in the booth juggling the tunes and knowing that you make a connection to the 41,084 capacity in attendance?
I love having a connection with the crowd at the stadium, and also with people watching at home. I try my best, before and during the game, to keep fans engaged in the game with my audio commentary. That's been the most satisfying part of being the organist for Atlanta's baseball team. I try my hardest to mix up songs that appeal to all ages and music listeners. It certainly is a lot of fun!
The sounds of Matthew Kaminski
Do you get a chance to communicate with the MLB players themselves and while wandering around "behind the scenes" at the park?
Unfortunately, I don't since I'm in the control room in the third level of the stadium, and they're down on the field. Actually, there has only been one active player who requested to meet me, and that was Jerry Blevins (pitcher). He told me how he loved listening to my walkup songs and trying to figure out the connection to the batter. He said that other bullpen pitchers also were listening since there are speakers nearby.
"As a jazz musician, my fondness for improvisation has really helped me play all styles of music."
How many Turner Field—and now Truist Park—games (including playoffs) have you actually played at this point? Are there any organists in Cooperstown? Is there a Matthew Kaminski Topps Baseball Card or bobble head doll yet?
Last year, I passed my 1000th game with Atlanta in my 13th season (this current season is my 14th). However, I have a lot more to go to catch up to Nancy Faust, the former organist of the White Sox, who played for 41 seasons! I'm not sure If there is an organist in Cooperstown, but Nancy would definitely be deserving! A wonderful Atlanta fan actually made me (or ordered me) a Matthew Kaminski Bobblehead, so I have the one-of-a-kind version!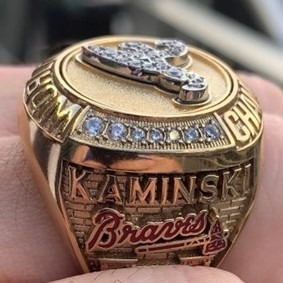 What advice would you give to a young aspiring keyboardist/organist interested in pursuing the dream job you are living?
Get some experience playing for high school, college, minor league baseball, basketball, softball, or even hockey games. Search out the teams that are nearby, or even a few hours' drive, and try to talk them into having an organist at their games! As a jazz musician, my fondness for improvisation has really helped me play all styles of music. Sometimes I play a song for the first time in front of 42,000 people! My ear training skills have been put into good use in many situations! I also play in a variety of groups from salsa, jazz, polka, blues, rock, etc. It has all helped me in my baseball organ gigs.
Any words of wisdom for the NAfME membership and music educators who will be reading this?
As a piano/organ/accordion teacher, I try to teach my students a wide variety of music including classical, jazz, blues, rock, pop, salsa, polka, Latin, etc. Having the skills of playing by ear, reading from a "fake book" or lead sheet, and improvising is just as important as reading written music. All these skills will pay off in making the students well-rounded musicians.
About the author:
Thomas Amoriello Jr. is the Past Chair of the NAfME Council for Guitar Education and is also the former Guitar Chairperson for the New Jersey Music Education Association. Tom has taught guitar classes for the Flemington Raritan School District in Flemington, New Jersey, since 2005 and also teaches at Hunterdon Academy of the Arts. He has earned a Master of Music Degree in Classical Guitar Performance from Shenandoah Conservatory and a Bachelor of Arts in Music from Rowan University. Currently he is pursuing a Doctor of Music Education degree from Liberty University. Tom is the author of the children's picture books A Journey to Guitarland with Maestro Armadillo and Ukulele Sam Strums in the Sand. He recently released his third neoclassical heavy metal recording entitled Phantom Sounds which is available from Shredguy Records. Visit thomasamoriello.com for more information.
Did this blog spur new ideas for your music program? Share them on Amplify! Interested in reprinting this article? Please review the reprint guidelines.
The National Association for Music Education (NAfME) provides a number of forums for the sharing of information and opinion, including blogs and postings on our website, articles and columns in our magazines and journals, and postings to our Amplify member portal. Unless specifically noted, the views expressed in these media do not necessarily represent the policy or views of the Association, its officers, or its employees.
August 11, 2022. © National Association for Music Education (NAfME.org)
Published Date
August 11, 2022
Copyright
August 11, 2022. © National Association for Music Education (NAfME.org)