Resources for Learning the Violin Audition Excerpt: Mendelssohn Scherzo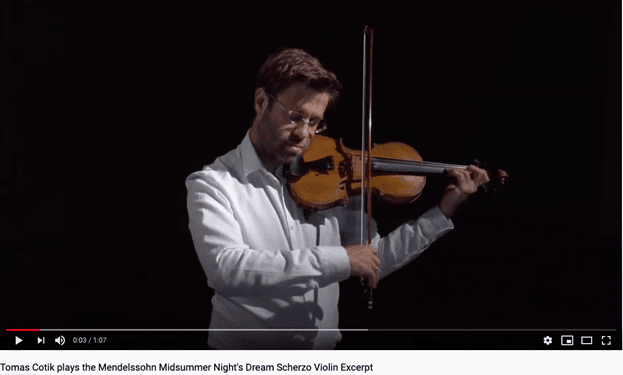 Resources for Learning the Violin Audition Excerpt:
Mendelssohn A Midsummer Night's Dream, Scherzo
By NAfME Member Tomás Cotik
Copyright © by Tomás Cotik – All rights reserved.
The April 2021 issue of Teaching Music will include an article by Tomás Cotik on guidelines for recorded auditions. This is article three of six supplementing that upcoming article.
Below, you will find a brief introduction about the piece followed by a couple of recommendations of orchestral recordings and a list of concise advice that focuses on solving the usual problems that I have seen students confront in terms of rhythm, bow strokes, articulation, dynamics, vibrato, intonation, and phrasing when working on this excerpt. Please take any advice only as a guide; any recommendation or list of typical tendencies does not apply to every student. Slow, mindful practice, continued work on the basics (Intonation, Rhythm, and Sound), recording yourself regularly, and feedback from a teacher is at least as important! At the end of the document, you will find a score with the fingerings and bowings I used in the video as well as the orchestral score of the excerpt.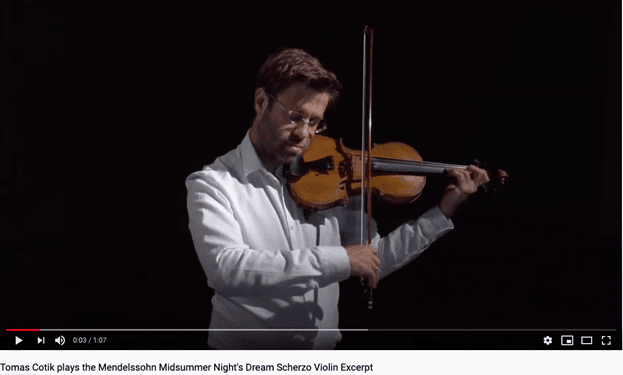 Click here to watch my own video recording of this excerpt on YouTube. 
Background
Mendelssohn was a life-long admirer of Shakespeare, first experiencing his writings by reading German translations as a child. At the age of seventeen, young Felix was inspired to write an overture to Shakespeare's play, A Midsummer Night's Dream. Over the years, this concert overture's popularity grew in conjunction with the composer's reputation, and in 1843, Prussian King Frederick William IV commissioned Mendelssohn to compose incidental music for an upcoming production of the same play. The resulting work, Op. 61, incorporates the famous Scherzo as an intermezzo between Acts I and II. This delicate yet lively movement is dominated by "chattering winds and dancing strings." 
Listen:
Follow along with the full score as you listen to various recordings. A few examples: 
Rhythm:
Subdivide mentally and practice with the metronome in different subdivisions.
Practicing in all 16th notes helps with accuracy and prevents rushing.
Playing the excerpt at different tempi can also help vary the focus of your attention to different musical layers ranging from articulation and precision to the overarching shape of the music.
Be sure that you are not compressing the 16th notes or rushing the 8th notes.
Also be careful not to accelerando in the crescendos and vice versa. 
Pay attention not to play late coming off the slurred Ds before rehearsal A.
Some rhythms could be interpreted as hemiolas. This rhythmic "double meaning" is best preserved with integrity of the 16th notes through subdivision.
Bow Stroke:
Think of the bow stroke as "on-ish". The stroke is very fast, and the stick's flexibility will take care of the bounce.
Find the angle and position on the bow where it bounces naturally and the notes speak clearly. Experiment with different possibilities to re-assess any habits.
The spiccato for the 8th notes is very controlled and is picked up from the string.
For the 16th notes, allow the bow to bounce barely above the string. 
Use mainly your fingers; have the elbow in a position that easily allows for string crossings.
Keep a loose thumb and relax the muscles behind your shoulder blade.
Articulations:
Be sure that the articulation of every note is clear and consistent.
The first note after a slur must be heard clearly.
The accents should be very subtle; keep them in the context of the phrase and dynamics.
Consider a mini comma before the trill and before sforzandos for clarity, but without losing tempo.
Dynamics:
Most of the piece is in a very soft dynamic.
Crescendos should be very nuanced (don't get too loud).
Sforzandi should be in context; they can be done as a slight accent with bow speed.
Think of the subito piano as an instant release and prepare for it ahead of time.
Phrasing:
Thinking in groups of 4 bars can help organize the phrasing.
Practicing with one click per bar, then every two, and even every four bars will help shape the phrasing.
Always sing the musical line in your head. 
Take care to not play unwanted accents due to string crossings or due to the difference in the way each string projects.
Don't accent the last note of a passage; another instrument is continuing the phrase.
Study the score to understand the context of what you are playing; be aware of who is playing and how the rhythms interlock.
It is not a sin to play along with the recordings of professional orchestras a few times; it might inspire, motivate, and teach you.
Mendelssohn A Midsummer Night's Dream, Scherzo, Violin I (Fingerings and Bowings by Tomás Cotik)
Mendelssohn A Midsummer Night's Dream, Scherzo, Score
About the author:
Hailed by Michael Tilson Thomas as "an excellent violinist," Dr. Tomás Cotik was a first-prize winner at the National Broadcast Music Competition in his native Argentina in 1997, and the winner of the Government of Canada Award for 2003-2005. An avid recording artist, Dr. Cotik has recorded fifteen CDs for Naxos and Centaur Records, which have received enthusiastic reviews from publications such as Gramophone, Fanfare, American Record Guide, Downbeat, and MusicWeb International. Dr. Cotik was a rotating concertmaster with the New World Symphony and has performed hundreds of recitals and chamber music concerts across the globe. Committed to passing on his passion for music, Dr. Cotik was appointed Assistant Professor of Violin at Portland State University in 2016. He previously taught at West Texas A&M University, Florida International University, and at the University of Miami's Frost School of Music. His articles about pedagogy have been published in renowned international publications such as The Strad, the American String Teacher Journal, and the American Music Teacher Journal.
E-mail: tcotik@pdx.edu
Website: www.tomascotik.com
Did this blog spur new ideas for your music program? Share them on Amplify! Interested in reprinting this article? Please review the reprint guidelines.
The National Association for Music Education (NAfME) provides a number of forums for the sharing of information and opinion, including blogs and postings on our website, articles and columns in our magazines and journals, and postings to our Amplify member portal. Unless specifically noted, the views expressed in these media do not necessarily represent the policy or views of the Association, its officers, or its employees.
March 4, 2021. © National Association for Music Education (NAfME.org)
Published Date
March 4, 2021
Copyright
March 4, 2021. © National Association for Music Education (NAfME.org)