Say What?
There's an Africentric Music Education Framework?
By Dr. Georgiary Bledsoe and Dr. Sonya White Hope, sponsored by SankofaSongs
Why, yes. Yes, there is! We suggested in "Engaging an Africentric Paradigm" that racially-charged discord has been a wakeup call for music educators and has led to a dawning realization that we play a role in maintaining the status quo—or changing it. There is increasing clarity that teachers who discard students' cultural assets do so to the detriment of themselves, their students, and society. These realizations are significant drivers of culturally relevant pedagogy. We use this blog post to summarize our series of five articles on the topic, published in the NAfME e-newsletter March through July 2021.
We feel it is critical to first distinguish between heritage knowledge and cultural knowledge. This distinction helps highlight the fact that, in large measure, white children have frequent experiences of their heritage in the music classroom and children of color do not. Heritage knowledge refers to a group repository of values, ideas, practices, and ways of being that give you a sense of belonging to your people. In contrast to heritage knowledge, cultural knowledge is the knowledge you gain about the legacies and patterns of cultures other than your own (King & Swartz, 2016).
When teacher and student share a heritage, the scope and sequence of learning feels natural and makes sense for both. If they do not, and the teacher is unable to provide meaningful access, the student is obliged to make her own connections or be left out. Students experience the absence of their own heritage as an indicator that their heritage and they themselves are lacking in value. This is especially true when teachers unwittingly or overtly label students' heritage knowledge as aberrant or undesirable. When students internalize these ideas, it negatively impacts their engagement and learning.
This bifurcated value structure, long established in music education, does not however reflect the fluid nature of American culture, and it certainly does not reflect the central role of African American music in American culture. If we want to be truly culturally relevant to every student in this place, then we need to counterbalance Eurocentricity with a deep understanding of Africentric heritage and culture.
People have been making music in African-centered ways for millennia.* However, American music education has been missing a systematic way of engaging Africentric music. The BaobaoTree Framework is a set of understandings and strategies designed to help teachers engage with Africentric music in holistic ways that fill this void. This Framework is built on four pillars: Dispositions, Aims, Pedagogy, Practice (DAPP). The first pillar, Dispositions, is predicated on the following assumptions: Before an educator can comprehend the nature of the change required, before one can even fully recognize that change is needed, before one can switch from "I think, therefore I am" to "I am because we are," there has to be an openness. Educators must first recognize that highly valuable knowledge exists outside of the Eurocentric paradigm, that some of this knowledge even exists outside of the educators themselves. Five foundational dispositions, when adopted, offer educators opportunities for meaningful engagement with an Africentric paradigm.
We define Aims, the second pillar, by focusing on why students should know or be able to do a thing and the relationship of that "why" to what students should know or be able to do. This strategy illuminates intimate links between music teaching and larger social narratives, and it frames the aims of music education in Africentric contexts.
Though teachers may explicitly choose repertoire with diversity in mind, we believe it is fair to say there are forces at work beyond literature choices, and that those forces also shape students' learning experiences. Since these forces are not typically spoken about, they may operate below the level of consciousness. We refer to these forces as "grand narratives." They are the values that shape the way we teach, the common stock of stories we tell ourselves about what is and is not important. 
Exposing the grand narratives that shape our teaching equips us to recognize that African American music operates through different narratives. It equips us to begin to level the playing field. The presupposition that all songs can be taught effectively and meaningfully using mainstream approaches is a common fallacy. It obscures the musical tradition and heritage knowledge that produced spirituals, the blues, and jazz. It omits the values and narratives that make these traditions meaningful, and it devalues the people for whom they are meaningful.
Through a compendium of Africentric themes, teachers can anchor their aims in specific cultural and musical values and contexts. They can push back against hidden agendas and shape students' music education experiences with intentionality. The compendium is called SCRRM HOPE ("scream hope")—an acronym for Spirituality, Communalism, Resilience, Realness, Musicality & Rhythm, Humanism, Orality, Personal Style, and Emotional Vitality. SCRRM HOPE facilitates connections between Africentric music culture, practices, values, styles, forms, and expression.
The qualities of the third pillar, Africentric Pedagogy, that are critical to understand are that it is relational, generative, and emergent. It is not transactional, neither management-driven, nor focused solely on transmission. Africentric pedagogy is designed to produce group and thus individual academic and cultural excellence, expand students' heritage and cultural knowledge, teach agency, and create a shared commitment to group well-being and belonging. Africentric pedagogy always seeks to build, nurture, and/or sustain community. People of all backgrounds, whether they hold insider heritage knowledge or solely outsider cultural knowledge of Africentric music, can access this generative approach to teaching.
The fourth pillar, Practice, pairs the above pedagogies with strategies for choosing curricula. We have adapted the principles delineated in King and Swartz (2016). The pairing ensures that methods and content can be seen and experienced as pedagogy in action. The Practice side of the pairs provides strategies for choosing strong content and for structuring its use. It also suggests ways to choose methods that expand current notions of literacy, lesson planning, and assessment. We recognize that the practices resulting from the use of these strategies may at times appear to be in friction with contemporary teaching orthodoxy. In reality, these frictions provide opportunities for expansiveness, flexibility, and generativeness. The elements of the Framework build on each other and are interwoven in actual practice, layering Practice with Pedagogy, informed by Dispositions and Aims.
In closing, we share opportunities to learn about our professional development and curricular resources. SankofaSongs presents a summer institute dedicated to culturally relevant music education strategies for teaching music of the African diaspora, scheduled for July 22-24, 2021, and co-sponsored by NAfME, the North Carolina Humanities Council, and Hayti Heritage Center. Visit www.sankofasongs.org to learn more. Here's our intro video:
BaobaoTree offers curricular resources and professional development workshops to support teaching and learning Africentric music, including scores and parts for band, orchestra, and chorus, as well as pedagogical materials, lesson plans, online resources, and more on the way. Visit BaobaoTree to learn more: www.baobaotreelearning.com.
* Africentric music education refers to learning and teaching which centers music of the African diaspora and in which peoples of African descent speak for themselves.
About the authors: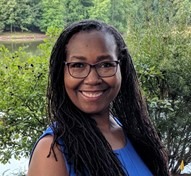 DR. GEORGIARY BLEDSOE: Ethnomusicologist and Social Entrepreneur
Dr. Bledsoe earned the B.A. and M.A. at Stanford University and a Ph.D. at Duke University where she was the Mary Lou Williams Instructor of Music. The American Musicological Society awarded her the Howard Mayer Brown Award for her work on the ethnographic history of gospel music in St. Louis. She completed a Mellon Postdoctoral Fellowship at Brandeis University with a joint appointment in Music, African & African American Studies and American Studies. She taught at Tufts University and currently serves as a Visiting Scholar at Duke University. She has lectured widely and is a published author.
She is the Founder and former Executive Director of BUMP, a nonprofit organization that empowers youth through music of the African diaspora. Dr. Bledsoe is the Founder and Principal of BaobaoTree LLC, dedicated to equipping K–12 music educators with tools for teaching music of Africa and its diaspora. She is Co-Founder of the nonprofit SankofaSongs and Co-Director of SankofaSongs Summer Institute.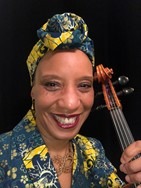 DR. SONYA WHITE HOPE: Violist, Teacher, and Researcher
Dr. Sonya White Hope has been teaching strings and related music courses in the Boston Public Schools since 1992. Dr. White Hope is the Co-Founder of the nonprofit SankofaSongs and Co-Director of SankofaSongs Summer Institute. As a self-proclaimed Africentric music educator, Dr. White Hope engages scholarship on arts education as cultural emancipation philosophy and examines topics at the intersection of music/arts education, Africa-descended peoples, and the arts of the African Diaspora. White Hope is especially interested in exploring and adapting Africentric methods in order to achieve an effective, nuanced approach to learning, teaching, and studying American music. When she isn't teaching, performing, or researching, Dr. White Hope enjoys making all sorts of art, cycling, and swimming.
Did this blog spur new ideas for your music program? Share them on Amplify! Interested in reprinting this article? Please review the reprint guidelines.
The National Association for Music Education (NAfME) provides a number of forums for the sharing of information and opinion, including blogs and postings on our website, articles and columns in our magazines and journals, and postings to our Amplify member portal. Unless specifically noted, the views expressed in these media do not necessarily represent the policy or views of the Association, its officers, or its employees.
July 12, 2021. © National Association for Music Education (NAfME.org)
Published Date
July 12, 2021
Copyright
July 12, 2021. © National Association for Music Education (NAfME.org)