Sound Design and the Thrill of Theme Parks Harmonize as Universal Orlando Collaborates with NAfME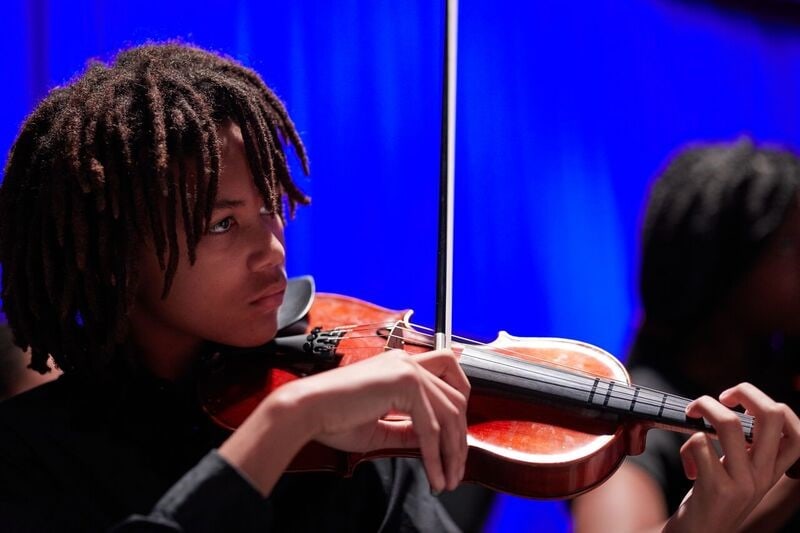 /   News Posts   /   Sound Design and the Thrill of Theme Parks Harmonize as Universal Orlando Collaborates with NAfME
Sound Design and the Thrill of Theme Parks Harmonize as Universal Orlando Collaborates with NAfME
By Teresa Crews, sponsored by Universal Orlando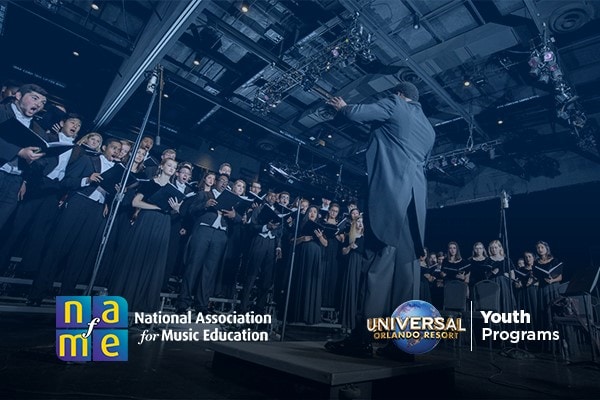 At Universal Orlando Resort, one of our principal educational objectives is to inspire students to embrace, experience, and engage Science, Technology, Engineering, the Arts, and Math (STEAM). In addition, we want students to be aware of related careers and potential future opportunities as represented in our park content.
Some may ask, "What does this have to do with Universal Orlando Resort's collaboration with the National Association for Music Education (NAfME)?" There is a universality of the art of music and the creative processes that is required to share that art with the world. More than just the melody you hum while listening to the radio, practicing your favorite sport, learning to dance, or anywhere else your life journey takes you, music is a complex art form. In addition, the art of music production involves engineering, design, and multiple technologies that integrate to create the final work that is shared with the world.
Through Universal Orlando's STARS Performance Program, groups big or small can put on a show and share their music with our park guests. There are also workshops like Sound Design: Music and the Art of Foley that give your band, choir, or orchestra students the opportunity to experience life as working movie musicians, syncing music or choral arrangements—including Foley, automated dialogue replacement, and digital sound effects—to real movie scenes from hits like Illumination Entertainment's "Despicable Me" and "The Lorax."
The mission of NAfME is to advance music education by promoting the understanding and making of music by all. One of Universal Orlando Youth Programs' missions is to inspire students to experience and learn about Science, Technology, Engineering, the Arts, Math, and related careers through our park content. Our parks would not be nearly as engaging and immersive if it were not for the musical sounds and sites you experience in our lands, rides, and attractions. Music and the arts are everywhere, and STEM is what allows us to hear and respond.
"STEM without the Arts would just Bb."
Universal Orlando Youth Programs is committed to supporting the NAfME mission through the development of educational and entertaining experiences for students and educators. Please visit NAfME Academy to learn from one of today's most respected music educators, Robert W. Smith, in his webinar titled, "Administrating the School Music Program from a Business Perspective." Or click here to experience our Performance Workshop, Sound Design: Music and the Art of Foley.
Did this blog spur new ideas for your music program? Share them on Amplify! Interested in reprinting this article? Please review the reprint guidelines.
The National Association for Music Education (NAfME) provides a number of forums for the sharing of information and opinion, including blogs and postings on our website, articles and columns in our magazines and journals, and postings to our Amplify member portal. Unless specifically noted, the views expressed in these media do not necessarily represent the policy or views of the Association, its officers, or its employees.
Catherina Hurlburt, Marketing Communications Manager. January 8, 2019. © National Association for Music Education (NAfME.org)
Published Date
January 8, 2019
Copyright
January 8, 2019. © National Association for Music Education (NAfME.org)