Starting Your Music Suite Right
A New Construction and Renovation Resource
By Whitney B. Winkels, sponsored by Wenger Corporation 
Designing the perfect music space can seem overwhelming, but you don't have to do it on your own. For 75 years, Wenger Corporation has been committed to careful thought, quality, and innovation, making us a trusted resource in music education and performance spaces. This commitment led us to create the first "Planning Guide for School Music Facilities" nearly 30 years ago.
Our "Planning Guide for School Music Facilities" allows us to share everything we've learned over the years speaking and listening to educators, facility planners, administrators, and architects. Now you have a trusted partner to shepherd you through the steps you need to ensure success, whether you're creating a new Music Suite from the ground up or renovating an existing space in your organization. Our step-by-step approach not only simplifies the process, but it can help you avoid costly and sometimes irreversible mistakes when it comes to your Music Suite.
We're happy to share our newest iteration of this guide, so you can start your planning on the right foot—and with confidence.
Getting Back to Basics
The Music Suite is a complex environment that includes all of the rooms or areas used for music education, including: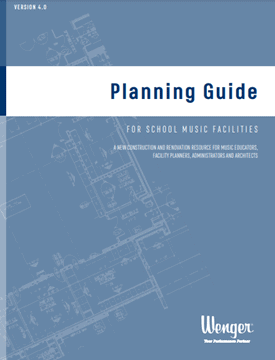 Rehearsal rooms
Practice rooms
Music lab
Music libraries
Offices and studios
Storage rooms
Our Planning Guide helps you understand these dynamics so that your Music Suite design guarantees effective education, without any surprises down the road.
Breaking Things Down
First, we outline the five critical factors that should influence every component of your Music Suite, including:
Acoustics: How well your facility promotes critical listening is directly proportional to how effective it will be.
Floor Plan: The layout of your Music Suite determines whether it is effective, ineffective, or even unusable.
Technology: Planning for current and future technology needs will help you maximize your Music Suite investment.
Storage: Storage not only affects equipment, but also acoustics, traffic flow, and security.
Equipment: Choosing proper equipment is the final step toward guaranteeing a successful Music Suite.
As you move through the brief explanations of these critical factors, you gain a better understanding of how these seemingly individual components directly impact each other. We also clearly explain how to make choices that provide the best benefits across all these areas. That helps outline the fundamental needs of your music facility. And, once clearly defined, you can apply them to your entire project.
Putting It All Together
Once you understand your project considerations, our Planning Guide steers you through the nine phases of the construction process itself, all the way from pre-planning to your school opening. This eliminates the mystery and guesswork often associated with building a music suite, leaving you with a streamlined and straightforward approach.
Finally, our guide helps you outline exactly what you need with handy planning documents, including:
A glossary of terms
Instrument, Programming, and Equipment worksheets
Key questions to ask about acoustics
Rule of Thumb Guidelines to determine square footage and volume for your Music Suite
Using these tools helps you make the most critical decisions long before the construction even begins. And, while the process may seem overwhelming, spending time early on with these tools can help you save money and avoid problems later on, when changes become difficult and cost prohibitive.
Do you have new music construction or renovation on the horizon? Don't wait to start your planning. Set your project up for success from the beginning with our Planning Guide for School Music Facilities.
About the author: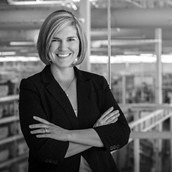 Whitney B. Winkels is the Senior Marketing Communications Manager for Wenger Corporation. She joined Wenger Corporation in 2016 as the Performing Arts Marketing Manager and helped lead marketing and communications efforts for the Wenger Corporation's Wenger and J.R. Clancy brands. As the Senior Marketing Communications Manager, she oversees Wenger's Music Education, Performing Arts and Athletics marketing initiatives.
Did this blog spur new ideas for your music program? Share them on Amplify! Interested in reprinting this article? Please review the reprint guidelines.
The National Association for Music Education (NAfME) provides a number of forums for the sharing of information and opinion, including blogs and postings on our website, articles and columns in our magazines and journals, and postings to our Amplify member portal. Unless specifically noted, the views expressed in these media do not necessarily represent the policy or views of the Association, its officers, or its employees.
August 16, 2022. © National Association for Music Education (NAfME.org)
Published Date
August 16, 2022
Copyright
August 16, 2022. © National Association for Music Education (NAfME.org)