The Importance of Knowledge Transfer in Music Education
Music educators can benefit from reflecting on past experiences and applying these ideas and skills to their current endeavors.
By LaToya A. Webb
This article first appeared in the October 2021 issue of Teaching Music.
Before studying music full-time as an undergraduate student and working toward a master's degree in music education, I worked in the customer service industry. I held positions as a waitress, a baker, and the team lead in dealing with bankruptcy and fraud for a mortgage company. Each job provided me with a wealth of knowledge and skills outside of music, as well as meaningful relationships and rewarding opportunities and experiences that I will never forget.
While working in customer service, I learned to interact with people, build relationships, and listen to customers' wants, needs, complaints, and praise. Based on my experiences, I wholeheartedly believe that my ability to transfer knowledge and build on these skills from a field outside music has made me a better music educator. When thinking about customer service, I often reflect on a quote from Maya Angelou, "I've learned that people will forget what you said. People will forget what you did, but people will never forget how you made them feel." Everyone can instantly recall a good and bad customer-service experience. Take a moment to think about how those encounters made you feel.
Providing superb customer service is no easy feat. It requires one to be knowledgeable about products, policies, and procedures. It also requires patience, compassion, selflessness, humility, flexibility, good communication and listening skills, and genuine love and passion for being a "people" person while serving others. These are qualities and skills that I use consistently as a music educator. It's helpful to think about the experiences, knowledge, and skills you gained in your previous job(s) before teaching in the music field. Could any of those skills be used today in your classroom?
As an educator, leader, conductor, and human being, I'm constantly transferring my knowledge of learning styles, musical skills, life experiences, personalities, psychology, teaching pedagogies and philosophies, administration, and so much more over into what I do daily. I do not view teaching, conducting, leading, or anything else through tunnel vision or as a single entity. Instead, I use the mastered skills and knowledge from multiple disciplines and apply them in different contexts, whether inside or outside their original occurrence. There is no growth in limiting oneself or operating in sameness just because it may be comfortable for you. American activist Bryant McGill once said, "Whatever makes you uncomfortable is your biggest opportunity for growth." There is so much more to learn, gain, show, share, and become, all of which can be amplified by the transfer of knowledge and skills to aid in keeping any content relevant to what you do, no matter the capacity.
When reflecting on my experiences, both music-related and non-music-related, I find that transferring my knowledge across disciplines, curricula, activities, practices, life, and procedures makes me a more fluid and flexible individual. I've noticed that students get into spaces where they only see one class as it is (e.g., music theory). Many students have difficulty transferring the knowledge from one discipline over to another (such as music theory to English); it's almost as if they have tunnel vision for each separate discipline or context. I find myself continuously asking questions, connecting dots, engaging students in more profound levels of learning and understanding, and reminding them to transfer their knowledge. I also observe teachers who limit themselves with the same routine. However, the ability or lack of ability to transfer knowledge can also affect people in their daily lives.
A considerable part of transferring knowledge is sharing ideas, information, strategies, abilities, and understandings. Unfortunately, it can be very challenging to engage in the sharing process if there are no trustworthy relationships, if the culture or the environment is not welcoming, or if individuals are selfish. Some people are reluctant to share because they fear they will no longer be needed or viewed as assets. Many are not confident in who they are and what they bring to the table. Some do not share because they have a competitive mindset — they want to win and remain on top. Additionally, specific ideas, information, strategies, abilities, and knowledge can become outdated or irrelevant. Hence, we all should strive to become lifelong learners, build better relationships, and champion each other to share what we know.
Regardless of whether you can see the big picture, getting into the habit of learning from all your experiences will enhance your growth as a person and as a teacher. — LATOYA A. WEBB
Here are some transfer-of-knowledge examples:
A high school music teacher completes Orff-Schulwerk Level I certification in June. Over the summer, the teacher rewrites a portion of the Level I curriculum and activities to incorporate them in their classroom so that the content is relevant to older students.
Students take a course in musical composition. The students compose their music during the semester, relying heavily on the knowledge, skills, and techniques presented throughout the course and their prior musical activities.
During a class unit, members of the percussion ensemble learn about some styles of African drumming. The instructor invites the drummers of a local African dance company to visit their class to teach the ensemble members about African drumming and the techniques one should master. In return, the drummers of the African dance company invite the percussion ensemble to collaborate and perform a musical selection at their upcoming show. The ensemble members apply related knowledge and skills from their class in their interactions with the drummers.
A music performance student graduates with an undergraduate degree. They have difficulty finding a full-time job performing as a professional musician, so they accept a music teaching position at a small private K–12 school. Though they are not performing professionally, they are applying the knowledge and skills from their music degree and outside resources to teaching others.
Though I learned many skills through the customer service industry, I am grateful that these jobs gave me the ability to transfer knowledge and skills to anything I do in life. As the world, society, and individual lives continue to change, so do our many responsibilities and expectations. I hope that more individuals in the music educator profession reflect on and incorporate the skills and knowledge they learn from all their experiences, even if they do not fully apply them in every context.
Challenge yourself to keep the information relevant to what you do, and as much as possible, embrace the uncomfortableness you may feel from transferring knowledge. Regardless of whether you can see the big picture, getting into the habit of learning from all your experiences will enhance your growth as a person and as a teacher, and it will eventually become second nature.
Advantages of Transferring Knowledge
Builds your knowledge and skill base
Improves your ability to communicate and collaborate
Makes you a better problem-solver
Helps you to think quickly and make faster decisions
Allows you to grow as a fluid and well-rounded individual
Helps you to become a more diverse and accessible human and teacher
Strengthens your instructional delivery to teach and help all to learn
Increases your confidence and desire to continue learning and sharing
About the author: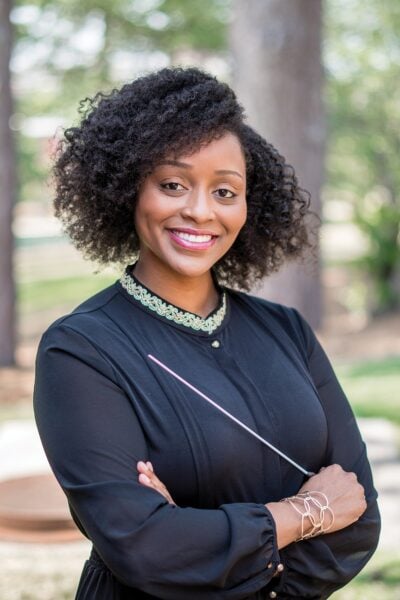 LaToya A. Webb (latoya.webb@austin.utexas.edu) is an assistant professor of practice in instrumental conducting and the assistant director of bands at the Butler School of Music at the University of Texas at Austin.
Did this blog spur new ideas for your music program? Share them on Amplify! Interested in reprinting this article? Please review the reprint guidelines.
The National Association for Music Education (NAfME) provides a number of forums for the sharing of information and opinion, including blogs and postings on our website, articles and columns in our magazines and journals, and postings to our Amplify member portal. Unless specifically noted, the views expressed in these media do not necessarily represent the policy or views of the Association, its officers, or its employees.
June 14, 2022. © National Association for Music Education (NAfME.org)
Published Date
June 14, 2022
Category
Classroom Management

Music Education Profession
Copyright
June 14, 2022. © National Association for Music Education (NAfME.org)