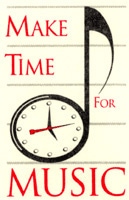 Year and Theme
1993 "Make Time for Music"
Location
The John F. Kennedy Center for the Performing Arts, Washington, D.C.
Host
Cynthia Gibb
Choir
Montgomery County Public Schools, Rockville, Maryland
Orchestra
The Northern Virginia Youth Symphony, Luis Haza, Director
Music
Harmony 
Words and Music by Artie Kaplan and Norman J. Simon
Copyright© 1972, 1973 by Thrice Music, Inc., and Norman J. Simon Music, New York, NY.
Siyahamba 
Traditional South African Freedom Song
Arranged by R.J. de Frece
Copyright ©1992 R.J. de Frece, Alberta, Canada.
Garden of the Earth
Arranged by Paul Winter and Paul Halley
Copyright ©1987 Living Music Records, Inc., Litchfield, CT.
If I Had A Hammer (The Hammer Song) 
Words and Music by Lee Hays and Pete Seeger
TRO Copyright ©1958 (renewed) 1962 (renewed) Lulow Music, Inc., New York, NY.
Used by Permission.
Siboney
Copyright © 1929 Leo Feist Inc.
Arrangement Copyright © 1934 by Edward B. Marks.
Sing a Song of Peace 
Original Music and Arrangement by Jill Gallina
"This is My Country" – Words by Don Raye, Music by Al Jacobs
Copyright ©1991 Shawnee Press, Inc. Delaware Water Gap, PA
"This is My Country" Copyright ©1940 (renewed) Templeton Publishing.
Amigos 
Words and Music by Judith Cook Tucker
Copyright ©1985 Judith Cook Tucker/World Music Press
Published by World Music Press (Multicultural Materials for Music Educators) PO Box 2565 Danbury, CT 06813.