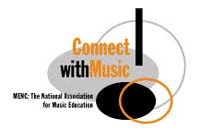 Year and Theme
2003 "Connect With Music!"
Location
The Lisner Auditorium, George Washington University, Washington, D.C.
Host
"Mark Twain" and "The President of the 'United States of Music'"
Choir
The Children's Chorus of Washington, Joan Gregoryk, Director
Orchestra
The American Youth Philharmonic, Luis Haza, Director
Music
Land That We Love 
"America the Beautiful"
Words by Katharine Lee Bates
Music by Samuel Ward
Original Words, Melody, and Arrangement by Jill Gallina
Copyright © 1997 Shawnee Press, Inc.
International Copyright Secured.
All Rights Reserved.
Una Luna Brilla
Words and Music by Aline Shader
Copyright © 1998 Aline Shader
All Rights Reserved.
Turn the Beat Around
Words and Music by Peter Jackson, Jr. and Gerald Jackson
Copyright © 1975 Unichappell Music, Inc.
All Rights Reserved.
Mmangwane
South African Folk Song
Unpublished
Where Do the Stars Go?
Words by Amanda Walter
Music by Sherri Porterfield
Copyright © 1998 Heritage Music Press
All Rights Reserved.
Wildwood Flower
(Instrumental Feature)
By Hermann Clebanoff , Scored by Wayne Robinson
Copyright ©1976 Dorabet Music Company
All Rights Reserved.
M.T.'s Sage Advice
Words and Music by Linda Spevacek
Copyright © 1997 Heritage Music Press
All Rights Reserved.
The Picnic of the World
Words by John Forster
Music by Jacques Offenbach
Copyright © 1990 Limousine Music Co.
All Rights Reserved.