Bring Music to Life in Your School Community
QuaverEd's "Pumpkin Bones" will engage your whole school.
Sponsored by QuaverEd
Music is incredibly powerful. Having music in schools helps students use their imaginations and express themselves. No matter the classroom, simply the presence of music enhances learning. Music teachers see this every day.
QuaverEd believes music can spread through entire communities. With powerful songs and fun activities, we reach students who eagerly share the music they've learned with their teachers, friends, and families. When the entire community participates, students create deeper connections with the songs they hear and sing.
This fall, QuaverMusic is pleased to introduce you to our beloved seasonal song: "Pumpkin Bones"! It's the perfect song to engage your students and connect your classes and community. QuaverMusic teachers use "Pumpkin Bones" to teach minor tonality and the rhythm of four sixteenth notes. Along with an Orff Score and rhythm cards, there are a variety of ways to engage students in learning. We invite you to take "Pumpkin Bones" into your community this season!
Last October, QuaverMusic teachers from around the country creatively found ways to take "Pumpkin Bones" to the next level. Through their efforts, students, teachers, and families fell even more in love with the song. This year, we're spreading their ideas so that you can also bring joy to your school this fall.
Below you'll find ideas to implement your own "Pumpkin Bones" experience. To access the resources and printables mentioned, head to www.QuaverEd.com/Pumpkin-Bones.
Explore Ideas from QuaverMusic Teachers:
Mrs. Curry's Pumpkin Bones Scavenger Hunt:
Provide five staff members (e.g., bookkeeper, reading specialist, speech pathologist, SPED teacher, and custodian) with a laminated Capture Card
Share this video including clues and rules with homeroom teachers
Students who ask the correct staff member receive the Capture Card and return it to Mrs. Curry for a reward
Involve students' families by sharing the videos, rules, and clues on social media
Mrs. Tolley's Pumpkins Go Missing:
Add new pumpkin-themed items to classroom each week
Remove pumpkins and "blame" Pumpkin Bones to spark student speculation
Students "catch" the principal returning all the pumpkins and share that Pumpkin Bones felt guilty and returned them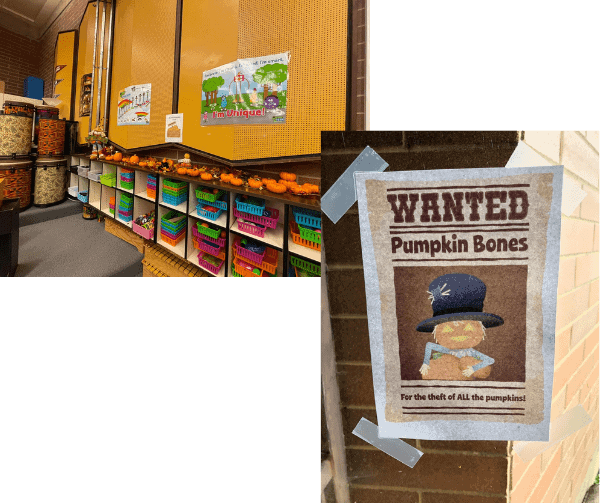 Mrs. Burton's Pumpkin Bones' Lessons:
Cut out and laminate multiple Pumpkin Bones figures
Hang up Wanted posters around the school
Interrupt the morning announcements to share that Pumpkin Bones has stolen her pumpkins
Students search around the school for hidden Cut-Out Pumpkin Bones
When returned, emphasize the importance of asking nicely, sharing with others, and correcting our mistakes
Ms. Theisen's Life-Size Pumpkin Bones
Hide Pumpkin Bones on the playground with a pumpkin bucket of Capture Cards
Hang up Wanted Posters with a hint and basic instructions
Students return the Capture Card for a reward
See Ms. Theisen implementing it in this video
No matter the season, music is a note that can carry through the entire school building and into your community. This October, take full advantage of QuaverMusic's "Pumpkin Bones" with a FREE 30-day preview of the entire curriculum! Click here to access your Free Preview.
We're excited to see how you bring music to life in your school! Be sure share with us on social media by tagging @QuaverEd (or @Quaver_Ed on Twitter) and using #PumpkinBones!
Did this blog spur new ideas for your music program? Share them on Amplify! Interested in reprinting this article? Please review the reprint guidelines.
The National Association for Music Education (NAfME) provides a number of forums for the sharing of information and opinion, including blogs and postings on our website, articles and columns in our magazines and journals, and postings to our Amplify member portal. Unless specifically noted, the views expressed in these media do not necessarily represent the policy or views of the Association, its officers, or its employees.
September 29, 2022. © National Association for Music Education (NAfME.org)
Published Date
September 29, 2022
Copyright
September 29, 2022. © National Association for Music Education (NAfME.org)