Bringing "All Music. All People." into Your Music Program
From Informances to Exploring Genres to "Music March Madness"
By NAfME member Elizabeth Caldwell
NAfME has taken a fresh approach to Music In Our Schools Month® (MIOSMTM) this school year, and I couldn't be happier! This year's theme is "All Music. All People."—and there is an increased emphasis on sharing the process that leads to the polished "final product" that communities are used to seeing in performances, and sharing a broader range of musicking that is more reflective of the work we do in our classrooms every day. With this new approach in mind, I am going to be trying some new MIOSM activities this year to connect with this theme.
Informances
NAfME has created lots of helpful resources to encourage music teachers to include "informances" as part of our MIOSM celebrations this year (click here to see all of their new MIOSM resources). Although the original idea is to share an informance in October, sharing the learning in process, and then a final performance in March to show the progress that students made to the final product, I'm excited to include some informances as part of our celebrations in March this year—I think it will accomplish the same goal of sharing the learning process, and give me a new format for showcasing student work in a more collaborative, low-pressure way.
Informances are a way to present music to an audience, like you would in a performance, but with a focus on informing the audience about the day-to-day musicking process rather than showcasing one, shiny, final product. It's more about the "audience" being invited to observe and experience a fuller breadth of students' musical development rather than being presented with a set of particular songs that students have perfected. Less about product and more about process. Less for the audience to consume and more for the audience to learn.
This year, my plan is to invite parents and any available staff/administrators to come visit my regular music classes when a particular class has something we can showcase. I may not do this with every grade, but if I know we're going to be doing something that would be interesting for others to see and wouldn't be too uncomfortable for the students to do in front of a small audience, I'll send out a quick email to let people know they're invited.
I like this idea because it leaves it open to how lessons develop throughout the month rather than pressuring myself or my students to have something ready by a certain date for a polished performance, and it doesn't require much advance planning in terms of logistics, since it's all during regular class time! There are so many other ways to showcase student learning through an "informance" though—read about more ways to structure an informance in this blog post.
Exploring Genres: Lesson Plan
Along with other in-class activities I plan to continue from past years (see my previous post here), I am so excited to share a new lesson plan focusing on the theme of "All Music. All People." through an exploration of a variety of genres and classroom instruments. I plan to use all or parts of this lesson with all of my classes K-6 at some point during the month of March.
The lesson is based around the book, My Family Plays Music by Judy Cox. In the story, a girl shares the many members of her musical family, the different ways that each is involved in making music through different genres, and how she connects with each by playing a specific classroom percussion instrument. As we read through the story, I'll pause to share a video clip with an example of each genre, and then have some students play a rhythmic ostinato along with the music as we listen again. It is a lovely book that I think is absolutely perfect for music class, and especially for this year's MIOSM theme! You can see all of the video clips I've found to use with each page of the story, with further details about how I plan to adapt the lesson for different grades, in this post.
Music March Madness
The final new idea I'm planning to try this year is a take on the "March Madness" brackets, pitting a variety of songs representing different musical genres against each other to see which one wins the popular vote. I've heard of other music teachers doing similar ideas in the past, and I thought with this year's theme, it was the perfect opportunity to try it out in my own school.
I counted 21 school days in the month of March this year, so I figured out a bracket that would take 21 days to get through:
The songs you choose could be anything, really, but with the theme of "all music" in mind, I tried to select songs that would represent a broad range of styles while still appealing to the K-6 age group. I also decided that, rather than choose "iconic" songs to represent different genres, I would select songs that were likely less well-known. I didn't want to give any songs an advantage or disadvantage by virtue of being familiar.
Each day, students will listen to the two (or three) songs that are competing against each other on the morning announcements (so, on day 1 they will listen to song 1 and song 2; on day 2 they will hear song 3 and song 4, etc.). Each homeroom teacher will ask students to vote on which song was their favorite and email me the results for me to tally. The overall winner from the school will be announced the next day. The winners from the first round will compete against each other later in the month until we get down to one top favorite song!
I'm excited to try this idea this year because it gives students a way to engage with a wide range of musical styles while also providing an easy way for us to start each day with music! I'm interested to see which ones they choose. To see all the songs I'll be using this year and get more details on how I'm running the bracket, read this post.
I hope you are as excited about the new direction of Music In Our Schools Month as I am! To read more about the theme for this year and see all of the resources and materials available to use to support the theme, be sure to check out the main webpage right here! I've been celebrating MIOSM for years, and will be continuing many of my traditional activities again this year along with my new ideas. You can read more about my ideas from past years in Part 1 of this series.
About the author: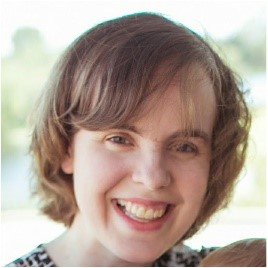 NAfME member Elizabeth Caldwell has been teaching elementary general music and choir for over a decade and cannot imagine ever doing anything else. She is also the author of the website, Organized Chaos Music, where she regularly shares organization strategies, lesson plans, and other ideas to encourage purposeful creativity in the music classroom. She holds her B.M.E from Wheaton College (IL) and her M.M.E. from Boston University, and was named Teacher of the Year in 2018. She has presented on lesson planning, restorative behavior management, effective recorder teaching, world music, National Core Arts general music standards, and other music education topics at conferences around the globe, and teaches an e-course on lesson planning through her website.
Follow Elizabeth on Facebook, Instagram, Twitter, YouTube, and Pinterest.
Did this blog spur new ideas for your music program? Share them on Amplify! Interested in reprinting this article? Please review the reprint guidelines.
The National Association for Music Education (NAfME) provides a number of forums for the sharing of information and opinion, including blogs and postings on our website, articles and columns in our magazines and journals, and postings to our Amplify member portal. Unless specifically noted, the views expressed in these media do not necessarily represent the policy or views of the Association, its officers, or its employees.
Catherina Hurlburt, Marketing Communications Manager. February 26, 2019. © National Association for Music Education (NAfME.org)
Published Date
February 26, 2019
Copyright
February 26, 2019. © National Association for Music Education (NAfME.org)