Creating Meaningful Communication: The Key to Successful Remote Learning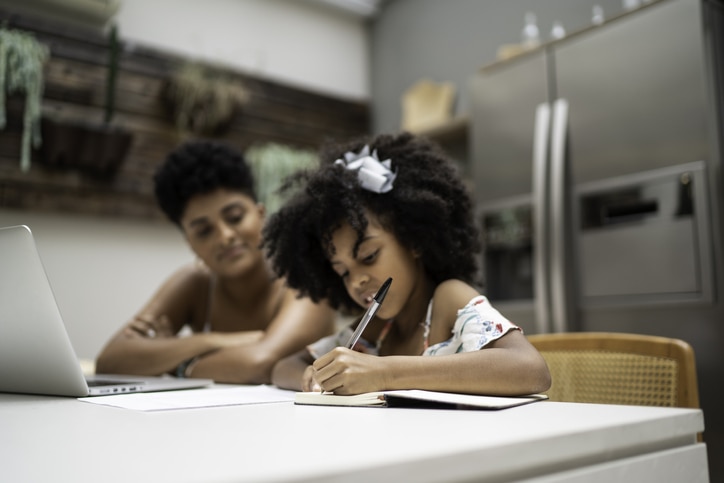 Creating Meaningful Communication
The Key to Successful Remote Learning
By NAfME Member Bob Habersat
How I long for the days when I could scan the room at the beginning of the period and do a quick assessment of what each student needed for the day. Sharon needs help understanding sixteenth note syncopation so she can finish the worksheet that was due yesterday. Nick has already mastered today's learning target and needs enrichment or he's going to get bored. I should probably stand next to Bill and give him a little one-on-one time because he had a bad day yesterday and could use the encouragement. These are things we do (did) all of the time, without thinking about them. Now we are disconnected, and it's difficult to make these types of meaningful connections.
I don't know about you, but my eLearning experience during the last quarter of the 2019–2020 school year was rough. Trying to juggle creating engaging lessons, getting students participating, and being a good husband/father was very tedious. I'd like to say that I managed it well and that every aspect of my life was in perfect balance during those months, but there were times when it all came crashing down and I felt like a bad teacher.
"Preparing for the upcoming school year, in whatever form it may take, has led to some serious soul-searching. What is our job as teachers, and how can it be translated virtually?"
Preparing for the upcoming school year, in whatever form it may take, has led to some serious soul-searching. What is our job as teachers, and how can it be translated virtually? My best experiences teaching during quarantine were individual and small group zoom sessions. Students were engaged and excited during these times, we had fun, and they made music. It's clear to me now that our job as teachers is to create meaningful communication with and between students. This is easy to do in person: Our curriculum is set, we can adjust on the fly, and differentiate as needed to help everyone feel like they are being successful. Teaching remotely means that everyone has to become a content creator and online curriculum designer. Even though learning a new skill set is fun, sometimes it gets in the way of what is important.
I'm lucky to have a soundproof, multi-camera, video recording studio in my basement. I've been creating content for five years on shedthemusic.com and I've gotten pretty efficient at the process. The full curricula for two out of five of my preps last semester were already built, with walkthrough videos, self-assessment documents, graphic organizers, and additional resources on an easy to use curriculum platform. All I had to do was copy and paste the URL of the lesson into Google Classroom, and I was done, giving me more time and energy to reach students. 
I realize that not everyone has a soundproof studio and an online database of content to easily distribute, which is why my teaching partner (Paul Levy) and I have made it our second job to create and share as many resources possible to help with schools that are affected by COVID-19 closings. Starting March 12th, we released a daily lesson on our YouTube channel. We made 70 lessons in total, and they are separated by topics to make mini units. You can check them out here. The Production Through Performance and Transcription curricula were made free for the end of the 2019–2020 school year, and we will offer discounts for next year. More information on the curricula and additional free resources that translate well to remote learning are available on this page.
I will have a first-year guitar curriculum available for next year as well. It will be hosted on our curriculum platform, and it will use Noteflight as the primary learning tool. Topics covered will include: notes in first position, writing bass lines, chords, lead sheet writing/reading, improvisation, transcription, and writing/playing multi-part guitar ensemble music. The guitar ensemble tunes and most of the exercises have backing tracks embedded in them, and you can use Noteflight's record feature to create ready-to-record virtual ensembles. I'm currently looking for people to test out the guitar platform. You can be part of the test group by clicking here. I'll also be hosting a free webinar on YouTube Live, July 14th at 12:00 PM CST on how to make videos with graphic and high-quality worksheets using the free Apple productivity apps on OSX. You can access that webinar here. 
Teaching during COVID is a surreal experience. It's easy to get caught in the weeds of what is going to happen and to become paralyzed by the not knowing. Take a breath this summer and then start creating. Create something for you, create something for your students, and try to imagine ways to engineer meaningful communication. Think of things that will free up your bandwidth if you have to teach remotely in the fall. And remember, we are all in this together! 
About the author:
NAfME member Bob Habersat is a high school music teacher in Oak Lawn, Illinois. Along with Paul Levy, he is also the co-creator of shedthemusic.com, a free and open source website providing resources for the modern musician.
Did this blog spur new ideas for your music program? Share them on Amplify! Interested in reprinting this article? Please review the reprint guidelines.
The National Association for Music Education (NAfME) provides a number of forums for the sharing of information and opinion, including blogs and postings on our website, articles and columns in our magazines and journals, and postings to our Amplify member portal. Unless specifically noted, the views expressed in these media do not necessarily represent the policy or views of the Association, its officers, or its employees.
July 9, 2020. © National Association for Music Education (NAfME.org)
Published Date
July 9, 2020
Copyright
July 9, 2020. © National Association for Music Education (NAfME.org)