Exploring Ethiopian Children's Songs in Washington, DC!
By NAfME Member Anna Harris 
Presenting Ethiopian Children's Songs in the Music Classroom at the "NAfME is ME!" 2022 NAfME National Conference in National Harbor, Maryland. Register now.
This year's NAfME National Conference is happening just outside Washington, DC, a city with a rich musical history and culture! As the birthplace of Go-Go music and the home of the Kennedy Center and the National Philharmonic, it also plays host to musical communities from around the globe. One of these communities, which I will be exploring in my session, is Ethiopia.
For the last five years, I have been collaborating with first-generation Ethiopian-Americans in the D.C. area to collect and transcribe children's songs as accurately and authentically as possible. I've done this to better meet the needs of my students, who all deserve to see their own cultures reflected in the content they are taught. There is a significant Ethiopian population in my school community, which is just north of D.C. In fact, outside of Africa, the D.C. area houses the largest Ethiopian community in the world! There are also large Ethiopian communities across the United States: in Seattle, Minneapolis-Saint Paul, Atlanta, Dallas, Houston, Los Angeles, Denver, Las Vegas, and New York City. If you teach in one of these areas, you may already know students from Ethiopia, many of whom are first-, second-, or third-generation immigrants. Their parents, grandparents, or even they themselves may have grown up singing the children's songs you will learn at this conference session.
In this session, we will sing, play, and explore three children's song-games from Ethiopia, while also learning more about Ethiopia's history and culture. Each song is geared to different ages, from very young students to upper elementary and middle school students. You will learn how to integrate these songs into your curriculum so students can get culture and content simultaneously. We will also dive into the social-emotional and academic benefits of culturally-relevant music in the classroom and how to teach authentically as a cultural outsider. Even if you do not teach Ethiopian students, this is a great chance to learn some songs from East Africa to add balance to the West African songs that have become so popular in music resources. So, let's learn a little about Ethiopia!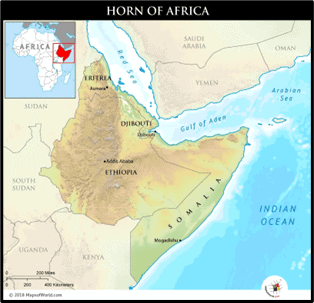 Ethiopia is geographically located in what is known as the "Horn of Africa." This East-African country is mostly made up of farmland and small villages, where many children help their families with the farm-work during the harvest season rather than attending school. Children in the same area will often get together to play games, sing songs, and create music of their own. These songs then spread orally to more villages and are changed along the way, so that many variations exist.
There are nearly 100 languages spoken by the various ethnic groups within Ethiopia, with the most common being Oromo, Amhara, Tigrayan, and Somali. In the conference session, we will look at songs from the largest two of these groups: Oromo and Amhara. These four ethnic groups make up about 75% of the population of Ethiopia and exist beyond the political borders of the country. For example, the Somali live in Ethiopia and Somalia, and Tigrayan culture extends into Eritrea.
The capital city of Ethiopia is Addis Ababa, which means "New Flower" in the national language of Amharic. There, one can see the cultural diversity of Ethiopia in the food, clothing, and traditions of the previously mentioned major ethnic groups. Italian buildings, food, and language are also sprinkled around the city, left over from the five-year long Italian occupation of 1935.
 Fun facts to share with students:
Ethiopia has 53 volcanos, some of which are continually erupting!
The oldest known hominin skeleton (lovingly referred to as "Lucy" in English and "Dinkinesh" in Amharic) was discovered in Ethiopia. This human-ancestor is 3.2 million years old!
Coffee beans naturally grow in Ethiopia, and the drink was first made there! There is a story told throughout Ethiopia of Kaldi the goat herder who first discovered the beans when his goats ate some and became so energetic that they didn't sleep all night! Whether this story is true or not is up for debate, but coffee continues to be Ethiopia's biggest export today.
With the rapid increase in diversity among our students, it is our job as educators to incorporate a diverse selection of music into our curriculum. Students want to learn when they see themselves reflected in the content you teach. I hope you will join me in learning more about Ethiopian music in November.
A Note:
A major reason I started this project was because of how few teaching resources currently exist on the children and folk music of Ethiopia. This is a rich musical culture that is underrepresented in the current music education canon. If you are interested in the process I used to collect these songs, and how you can replicate it for a culture in your own community, please join me for my other session at this year's conference:
"Notes of Diversity; Creating Resources for Underrepresented Cultures" Friday, November 4 at 11:30AM.
"Ethiopian Children's Songs in the Music Classroom" will take place at the 2022 NAfME National Conference on Saturday, November 5 at 11:25AM.
About the author: 
NAfME member Anna Harris teaches elementary general music in Montgomery County Public Schools in the state of Maryland. She received her Master of Arts in Music Education at Teachers College, Columbia University in 2020, and both her Bachelor of Music Education and Bachelor of Arts in Vocal Performance at The University of Maryland in 2015. Ms. Harris is the creator of The Ethiopian Song Project, a teaching resource that aims to make traditional Ethiopian children's songs available to music educators across the United States. She is also the recipient of the Give A Note Foundation's Fall 2018 Music Education Innovator Award, which funds the remainder of her research. In the future, Ms. Harris plans to continue creating resources of songs from marginalized and underrepresented groups within the United States. Ms. Harris has presented at state, regional, and national conferences on The Ethiopian Song Project and the grassroots creation of culturally authentic music resources.
Did this blog spur new ideas for your music program? Share them on Amplify! Interested in reprinting this article? Please review the reprint guidelines.
The National Association for Music Education (NAfME) provides a number of forums for the sharing of information and opinion, including blogs and postings on our website, articles and columns in our magazines and journals, and postings to our Amplify member portal. Unless specifically noted, the views expressed in these media do not necessarily represent the policy or views of the Association, its officers, or its employees.
October 24, 2022. © National Association for Music Education (NAfME.org)
Published Date
October 24, 2022
Category
Culture

Diversity, Equity, Inclusion, and Access (DEIA)

Race

Representation
Copyright
October 24, 2022. © National Association for Music Education (NAfME.org)