A Fantastic Force
The Importance of Connections and Teamwork in Advocacy 
By Andi Hasley, Immediate Past President of West Virginia Music Educators Association
Sponsored by the CMA Foundation
A little more than five years ago, while attending my first NAfME National Assembly, I kept hearing other state leaders discuss their progress on "Hill Day." As a fan of American history and politics, I was immediately interested in learning more. I realized that this could be an area in which I could make a long-term impact on music education in the Mountain State, but I had no idea where to begin. And so, with the help of the NAfME Advocacy Team, and my friend Randall Reid-Smith, curator at the West Virginia Department of Arts, Culture and History, a new journey into national, state, and local music advocacy was born.
After two years of participating in NAfME Hill Day, the West Virginia Music Educators Association (WVMEA) leadership felt confident that it was time for our organization to become more visible within our state and local governments, but we were unsure where to start. Enter the CMA Foundation and the 2018 Advocacy Grant.
With the help of the CMA Foundation, NAfME, the West Virginia Department of Art, Culture, and History, VH1 Save the Music, and West Virginia singer-songwriter Christian Lopez, WVMEA was able to host our first advocacy day at our state capital. This day raised the profile of our organization significantly within the state capital. The participants of our "Hill Day" were able to make connections with many of our elected officials, especially when "come meet with artist, Christian Lopez" entered into the equation. One of the most effective means of advocacy used was our "Faces of Music Education" leave-behind. Each participating member provided a picture and personal statement from a West Virginia student musician. Thank you, CMA Foundation Executive Director, Tiffany Kerns for this idea! Check out an example here. 
As successful as this advocacy day was, we realized more work was needed at the local level by people in each geographic area of the state. And so, the WVMEA Advocacy Leadership Force was formed. Based on the NAfME model, with which you may be familiar, WVMEA leadership issued a call for interested members. Specifically, we were looking for music educators residing in each region of our state, in order to increase engagement around local educational information and concerns.
The first step in forming our own Advocacy Leadership Force (ALF) was appropriate training. With the help of our friends at the West Virginia Department of Arts, Culture and History, VH1 Save the Music, Conn-Selmer, West Virginia University School of Music, NAfME, and North Carolina Music Educators Association, members of the WVMEA ALF spent two days learning best
practices in advocacy. Having this time to learn and collaborate as a team was a game changer for establishing not only our next steps, but also for building our rapport with each other.
Following our training, the group participated in biweekly or monthly group calls. We have since curated lists of our elected officials by region and assigned a specific member of our force as a contact. We continue to develop a master list of all music teachers in West Virginia, divided by county. Along with help from our above-mentioned friends, we proctored an advocacy session at our state conference, allowing us to connect with individual members.
We have found answers to members' questions and concerns regarding adoption of curriculum materials and inadequate scheduling of music courses. We have even managed to get WVMEA on the state radio broadcast.
Most importantly, we have formed a TEAM! We rely on each other not just for information, but also for support. And, thanks to NAfME and our marketing chair Michelle Eichelberger, we even have our own logo.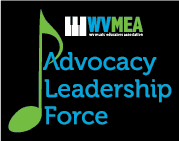 You can access our WVMEA Advocacy Leadership Force page here.
You may have noticed the names of various partners mentioned several times throughout this blog post. They are mentioned frequently because they are a big reason for the success of this new venture. Advocacy can be lonely and frustrating. Oftentimes a "win" isn't realized for years, and more than likely that win is followed by another long journey toward an unknown goal. These outside organizations have helped us not only to understand the process of advocating, but also the importance of connections. Creating a team with specific areas of focus has not only spread our scope of influence but has also given each of us the much-needed support to continue to fight the good fight. Effective advocacy, in my opinion, is like running a marathon at a sprinter's pace. I am so grateful to have more people running this sprint with me today than I did five years ago.
About the author: 
Andi Hasley is completing her 18th year as a West Virginia music educator. Currently, Hasley is the choral director at Martinsburg North Middle School in Martinsburg, West Virginia, and serves as the Berkeley County Schools Music Coordinator. She is Immediate Past President and Advocacy Chair of the West Virginia Music Educators Association (WVMEA) and founder of the WVMEA Advocacy Leadership Force. Andi holds a Bachelors of Music in Music Education from West Virginia University and a Masters of Arts in Instructional Leadership from American Public University. She resides in Martinsburg, West Virginia, with her husband James and their two children.
Did this blog spur new ideas for your music program? Share them on Amplify! Interested in reprinting this article? Please review the reprint guidelines.
The National Association for Music Education (NAfME) provides a number of forums for the sharing of information and opinion, including blogs and postings on our website, articles and columns in our magazines and journals, and postings to our Amplify member portal. Unless specifically noted, the views expressed in these media do not necessarily represent the policy or views of the Association, its officers, or its employees.
Catherina Hurlburt, Marketing Communications Manager. April 16, 2020. © National Association for Music Education (NAfME.org)
Published Date
April 16, 2020
Copyright
April 16, 2020. © National Association for Music Education (NAfME.org)