Gamifying Solfège
By Gregory Ristow and Leah Sheldon, sponsored by uTheory
It's no secret that integrating play and instruction leads to deeper, more engaged learning and better retention, no matter the age of learner or the subject. Students take ownership of learning and let go of self-criticism and fear in a playful environment, and teachers gain the freedom to listen in and focus on their students. That's critical when it comes to building reading skills.
In this post we'll share six favorite solfège games that we use in our teaching, drawing on both Dalcroze Eurhythmics and the solfège games available at uTheory. And for more on the value of play in learning, listen to our interview with Jed Dearybury, author of The Playful Classroom and The Power of Play for All Ages on Notes from the Staff.
Solfège Sally
uTheory offers a plethora of tools to level up your ear training instruction. From theory lessons and exercises to games and other free printable music theory resources, you'll find what you need to boost your students' solfège fluency.
Solfège Sally is uTheory's latest solfège memory game, loosely modeled after the popular electronic toy Simon. Play back the tune you hear in solfège. Each time you get it right, one more note is added! Choose from major, natural minor, harmonic minor, and melodic minor melodies in scale degrees, solfège Do minor and solfège La minor.
Use Solfège Sally with students individually and create friendly competitions for high scores. Or project it for your full ensemble. Have your class listen and sing the pattern back, on solfège or scale degrees, while the teacher or selected student inputs the melody. Go a step further and turn it into a dictation exercise—after reaching a predetermined score, have students notate the pattern individually or together on the board.
Bodyfège
Being able to quickly adapt games to the size of the class and level of the learners is key. Here's one of our favorite Dalcroze solfège games. It's practical, effective, and easy-to-implement in your classroom immediately. We use this with our students from elementary school through college.
Bodyfège is a partner activity in which students echo, and sometimes lead, a four-beat melodic pattern. Students face each other in pairs (or trios, if there's an odd number). When we first introduce this, we limit it to two notes, Do and Sol. (Sol and Mi can work equally well, especially if you teach using Kodály's sequence.) Each degree of the scale has a corresponding motion:
Do = Fists pat thighs
Sol = Partners high five each other
La = Snap (above high five location)
Mi = Both partners clap
Re = Hands on hips
Fa = Shoulder shrug & palms turned up
Ti = Above your head – Kodály style!
Upper Do = Fist pump arms above head
Lower Sol = Partners low five
Say, "Do what I do four beats later." Start by singing and moving a catchy one-measure tune using these two notes only. The class echoes. As the class masters those notes, play the patterns for them to echo on an instrument (or sing it on a neutral syllable)—and have them echo with the solfège and movement. Gradually, over the course of multiple classes (or even multiple years) add other notes in the order above until you've completed the scale. You can even have students take turns leading Bodyfège to build their improvisation skills.
Solfège Hand Sign Memes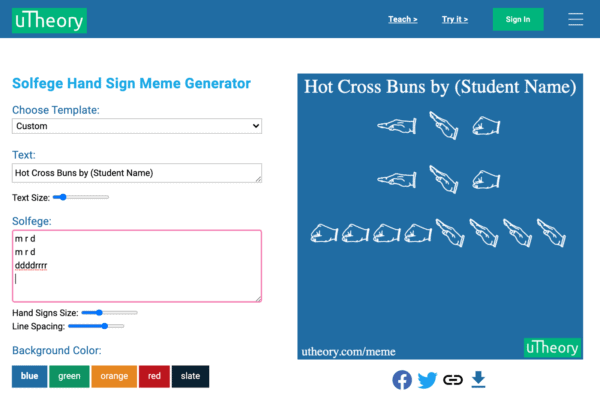 uTheory has released a solfège hand sign meme generator, using uTheory's Kodály/Curwen solfège hand sign font. While fun for sharing musical messages on social media, it's also a quick and powerful tool to easily engage students in ear training activities. Make name-the-tune images for students, or have them create their own for each other.
We love to do this as a scavenger hunt to get our students out of their seats! Using the solfège meme generator, create a series of melodies to hang around your classroom. Give each melody a number, code name, or another identifier. Provide students with a list of melodies (by title, written in spelled-out solfège syllables, or musical notation) and space to write the corresponding identifiers. Consider a reward for students who finish first, second, and third!
Here are eight ways teachers are using the solfège meme generator in their classrooms.
Doop Canon
The
Doop Canon
is a musical, Dalcrozian way of teaching rhythm that allows students to feel the relationship of different note values, and builds up their ability to do real-time rhythmic dictations. Have students do what you do, four beats later:
Quarter = "doop" (tap finger on nose)
Eighths = "chick-ah" (tug on earlobes)
Half = "Oooh" (pushing one hand then the other to the side)
Whole = "Bong" (great big clap with lots of follow through!)
At first, use only one note value for a full measure. (All quarters, eighths, etc.) As students master the basic sounds and motions, make it continuous. As they echo, you perform the next measure. (Making every other measure a whole note is a great way to start this.) When even that becomes easy, you can begin mixing multiple note values together within a measure. Teaching students to lead this is a powerful way to teach them about rhythmic composition, too!
Broken Record Melody
Students walk with your improvised melody. When the melody gets "stuck" on a note, they freeze in place. For a greater challenge, have them show the appropriate Curwen/Kodály hand sign when they freeze. Give it a try yourself with this melody we improvised for the game.
C-to-C Scales
C-to-C scales are great for more advanced classes. These scales are somewhat like jumping into a scale that is already in progress. In the Dalcroze solfège method, these scales are the primary tool used to teach sensitivity to scale degree function. The C-to-C scales, also known as Do-to-Do or "Dalcroze scales," are typical scales, but sung from C (C sharp or C flat) up an octave, and back down:

The goal of the Dalcroze scales is to hear these as scales beginning from a degree of the scale other than tonic—and not to hear them as modes. You can hear it in action in our Dalcroze Solfège Games episode of Notes from the Staff, or dive deep into Dalcroze's approach to teaching ear training in this article from the Journal of Music Theory Pedagogy.
Learning More
At uTheory, we're on a mission to enable students to master music theory and ear training, and to provide teachers with the resources they need to make that possible. Our online theory and ear training lessons, exercises, games, and other free printable music theory resources are used by hundreds of schools. And our podcast, Notes from the Staff, brings practical advice from experienced music educators on teaching music theory and ear training. Check out our episodes on choosing a solfège system, teaching sight reading in choir, or demystifying perfect pitch.
About the authors: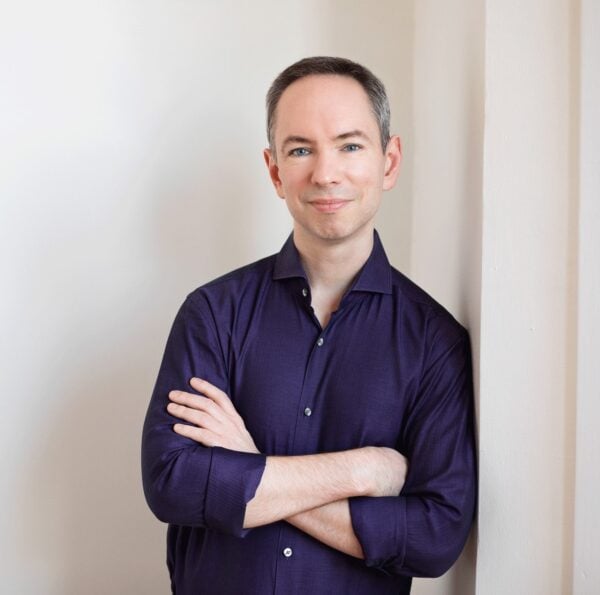 Gregory Ristow is associate professor of conducting and director of vocal ensembles at the Oberlin Conservatory of Music, and the founder of uTheory. He has taught Dalcroze Eurhythmics to students from preschool through college, and his writing on music theory pedagogy has appeared in the Journal of Music Theory Pedagogy, the American Dalcroze Journal, Being Music: The Canadian Dalcroze Journal, and Theory and Practice.
Leah Sheldon, Head of Teacher Engagement for uTheory, is an experienced public school music educator. She holds a Bachelor of Music Education degree from Baldwin Wallace University, Conservatory of Music.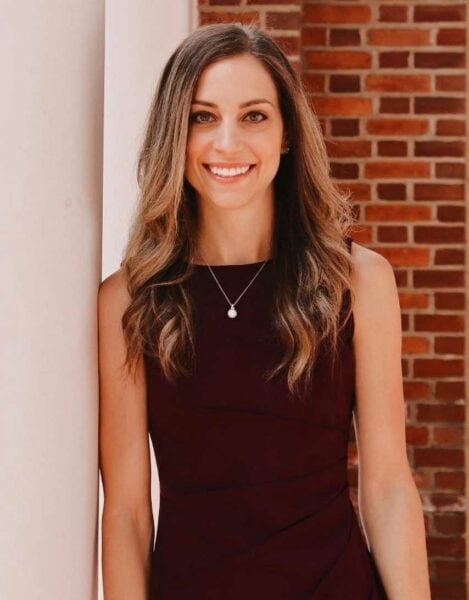 Leah currently teaches 4th-8th grade instrumental music at the University of Pittsburgh's Falk Laboratory School, and has served as a middle school and high school band director, assistant marching band director, and kindergarten through 4th-grade elementary music teacher. In 2018, Leah was recognized by her educational peers and students in receiving the Teacher of the Month award through Partners in Education.
Did this blog spur new ideas for your music program? Share them on Amplify! Interested in reprinting this article? Please review the reprint guidelines.
The National Association for Music Education (NAfME) provides a number of forums for the sharing of information and opinion, including blogs and postings on our website, articles and columns in our magazines and journals, and postings to our Amplify member portal. Unless specifically noted, the views expressed in these media do not necessarily represent the policy or views of the Association, its officers, or its employees.
October 17, 2022. © National Association for Music Education (NAfME.org)
Published Date
October 17, 2022
Copyright
October 17, 2022. © National Association for Music Education (NAfME.org)