Great Tools for Online Lessons
Three Ideas to Incorporate into Your Online Lessons
Sponsored by Forte
As online and hybrid teaching studios have grown in popularity, there has been more discussion about the unique demands of online music education. Online lessons not only require knowledge of music pedagogy but also some level of comfort with technology. In most cases, that comfort level is lower than you might think. Many newer tools are built for folks who don't want to invest a lot of time tackling the tech. But how can you find the right balance between tech-savvy and teaching?
At Forte (www.fortelessons.com), we always put music teachers first, and we understand the value of your expertise and dedication. We understand that music teachers don't want gimmicks or hassles that get in the way of their teaching. 
That's why we're always striving to help music teachers find new ways to improve their online lessons. Regardless of how long you've been teaching online, here are three ideas to incorporate into your online lessons.
Invest in high-quality gear to create a great online lesson experience.
Online music teachers use technology for one purpose: strengthen the two-way communication between you and your student. To this end, even minor upgrades in hardware can make a huge difference. But music teachers also want hardware that is effortless to set up and use.
Despite recent improvements, computers' internal microphones often don't capture the full sound of your instrument. If you want better audio quality, we recommend investing in a high-quality external microphone that can pick up the rich sound of your instrument. For a relatively minor investment, you can buy a microphone that plugs directly into your computer's USB port. If you work with an electronic or amplified instrument, one feature to look for is the ability to plug the "audio out" cable from an instrument into the base of the mic. This sort of mic usually has a built-in mixer so you can find the right balance between your voice and the instrument.
While your current laptop or computer has a built-in camera, you shouldn't assume that it is the best quality. An external webcam gives you greater clarity and more options for camera angles that help students see better. And if you buy another camera, you should also consider buying a camera stand that can hold your phone or extra webcam during lessons.
Here are some recommendations:
Level up your online lessons with multiple media sources using OBS. 
Many tech-savvy online music teachers use Open Broadcasting System (OBS) to combine still images, video, and audio into a single output for their live lesson. OBS is free software that gives you better control and flexibility over what your students see during a lesson. With OBS, you can create an amazing, combined livestream for your lesson, customized for you, your instrument, and your teaching style.
As with any software, getting the most out of OBS requires a small investment of time and effort. It's fast and easy to download. The entire process should take only a few minutes. After you download OBS, launch the application and you are on your way to having more detailed views of your demonstrations, more control over your screen sharing, and so much more.
For those of you who want a more in-depth introduction to OBS, you can learn how useful OBS can be for your studio here.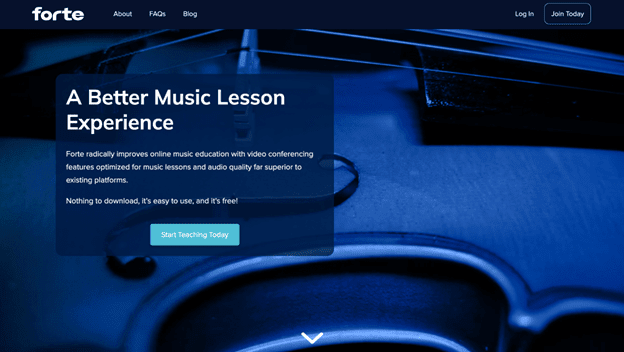 Use a videoconferencing platform purpose-built for music lessons.
Despite the growing popularity of online music lessons, many video conferencing platforms are optimized for the spoken human voice, not for music. Although Zoom has emerged as a popular platform, it is not built for music lessons and is no longer free.
Forte is a free alternative to Zoom that is loved by thousands of music teachers and students all over the world. Forte's features help you focus on teaching so you can shape the next generation of musicians.
Next year, Forte teachers will be able to connect with new students globally. Forte will partner with large K–12 institutions around the world with thousands of students looking for music teachers. Sign up here for the Forte waitlist to get new online students, and you'll be among the first in line.
Start teaching on Forte today and elevate your online lessons!
Have questions? Forte prides itself on excellent customer service from real musicians. You can reach them at info@fortelessons.com.
Also see "Elevate Your Online Music Lessons"
Did this blog spur new ideas for your music program? Share them on Amplify! Interested in reprinting this article? Please review the reprint guidelines.
The National Association for Music Education (NAfME) provides a number of forums for the sharing of information and opinion, including blogs and postings on our website, articles and columns in our magazines and journals, and postings to our Amplify member portal. Unless specifically noted, the views expressed in these media do not necessarily represent the policy or views of the Association, its officers, or its employees.
November 10, 2022. © National Association for Music Education (NAfME.org)
Published Date
November 10, 2022
Copyright
November 10, 2022. © National Association for Music Education (NAfME.org)