Meaningful Learning
Using Music Tech to Save Time for Making Music
By David Newman, sponsored by NAfME Corporate Member uTheory
In this post, educator David Newman shares ways teaching technologies have enabled him to focus on what matters most in the classroom.
Community, musicianship, unspoken communication, emotion, joy, and a sense of the intangible beauty of music. These are the things that drew me to music as a student, and these are the things I hope to help my students discover themselves. They are also things that can't easily be assessed by a test.
But they are not the only things our students need. Solid music theory fundamentals enhance their ability to engage deeply with music, to sight read, to be better performers, and to understand the music they love.
One of the things to come out of this year of COVID teaching for me has been learning skills to offload the teaching and assessing of music theory fundamentals to technology. Because of that, as we return to in-person learning, I'm more able to do fun and musical things that inspire me and my students in class. And, I'm not afraid to get into areas that aren't being tested but that matter deeply.
Here are some of the ways that uTheory—an online platform for learning rhythm, music theory, and ear training—provides a unique solution to these challenges.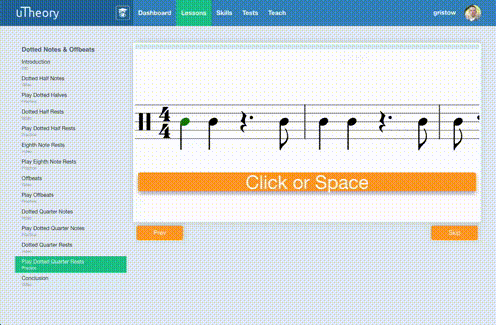 Meeting Students Where They Are
In my music theory classes, students often arrive with great disparities in their skills. This is equally true in school ensemble programs.
uTheory provides a carefully sequenced library of lessons and assessments, so you can tailor each student's learning to their individual needs. 
uTheory teaches through bite-sized videos, followed immediately by related exercises. These videos give students an introduction to the material in a graphic-rich format they are comfortable and familiar with, making it easy for students to progress through each lesson.
On uTheory, assessments are individualized and calibrated to the skill level of each student. uTheory keeps track of which skills are proficient and which ones still need work. The game-like environment and compact lessons help engage students and give them incentive to demonstrate their mastery. And as a teacher, I can see exactly how my students are doing on each of these.
Motivating Students
Traditional pen-and-paper music theory assignments don't provide students enough immediate feedback to keep them motivated and engaged in their learning.
With an online tool like uTheory, students know right away whether they've answered a question correctly or not, and they get specific guidance to learn to answer it correctly.
The dashboard and skills page let students see their progress and have control over the learning process. Students' growth is tangible and rewarding. And teachers can see who's struggling with what, whether a student has been putting in the time they need to learn, and what they need help with.
And this works wonderfully with private students, too. An adult voice student came to me with little background in music theory, though he longs to have a singing career. I encouraged him to get started with uTheory's free plan, which allows students to complete ten exercises a day. He quickly became so engaged with the learning process that those ten exercises a day were not enough. He upgraded to the unlimited package this summer, and has continued to progress at a rapid rate, and comes to lessons excited about his progress.
Assessment
I teach more than 100 students. Keeping track of each student's progress on individual skills is an enormous challenge. Traditional in-class assessments also steal time from instruction, and they can leave advanced students feeling bored and beginning students feeling discouraged. uTheory can solve both of those problems. 
Whether students are working on uTheory at home or in class, they are able to work efficiently on the tasks that are most important to their individual progress.
uTheory does the grading and tracking for me. With uTheory's class views and student detail views, I can see at a glance how individual students and the class as a whole are doing. Because of that, I am free to direct my attention to areas where students need help or clarification–and to dig deep into aspects of music making that are not easily assessed.​​
Click to enlarge
uTheory's focus is on the fundamentals. Rhythm reading, notes, scales, key signatures, intervals, chords, and solfege. Frequently, my students who struggle with higher level material are actually revealing gaps in their understanding of these very fundamental concepts. These are the skills that enable students to succeed as performers and creators.
uTheory strives to make music theory learning accessible to all. Teacher accounts are free on uTheory, and students can complete up to ten exercises or lesson pages daily for free. Group licenses for education are available. uTheory's optional integration with Google Classroom makes it easy for students to log in and access the materials they need. And the uTheory team is always happy to answer your questions at hello@utheory.com.
Now that I've returned to in-person instruction, I have found myself freed to be more creative, flexible, and in-depth with my class time, because I know that certain rudiments are being covered with my online materials. And the more confident I am in those online assessments, the better my classroom experience becomes, both for me and my students. We sing more. We go into more depth. We spend more time listening to and making music.
This is why I teach.
About the author: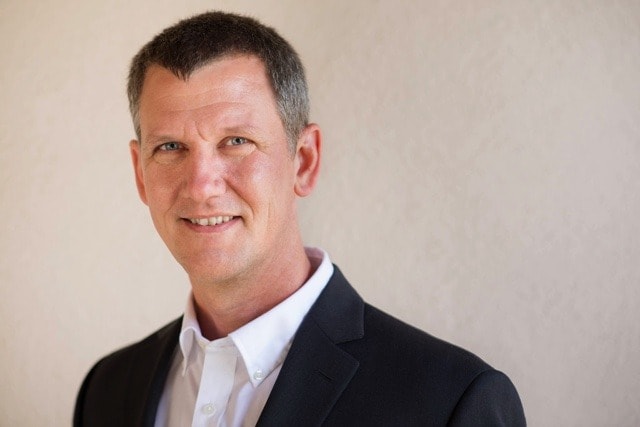 David Newman teaches aural skills, music theory, and voice on the faculty of James Madison University, and is a member of the creative team at uTheory where he is developing ear training lessons, exercises, and games. His teaching songs have millions of views on YouTube. He maintains an active career as a classical singer and can be heard on the Philips, Dorian, and Naxos labels.
Did this blog spur new ideas for your music program? Share them on Amplify! Interested in reprinting this article? Please review the reprint guidelines.
The National Association for Music Education (NAfME) provides a number of forums for the sharing of information and opinion, including blogs and postings on our website, articles and columns in our magazines and journals, and postings to our Amplify member portal. Unless specifically noted, the views expressed in these media do not necessarily represent the policy or views of the Association, its officers, or its employees.
October 14, 2021. © National Association for Music Education (NAfME.org)
Published Date
October 14, 2021
Copyright
October 14, 2021. © National Association for Music Education (NAfME.org)