Music In Our Schools Month® 2020 Ideas for the Classroom
Music Changes Lives
By NAfME Member Elizabeth Caldwell
This blog was first published on "Organized Chaos."
This year the NAfME Music In Our Schools Month® (MIOSM®) theme is "Music Changes Lives," and I'm so excited to share some new ideas to celebrate! I've been celebrating Music In Our Schools Month with my classes for years, but this new theme has sparked some new ideas that I think will be inspiring for the whole school community.
Because
When I first saw the new theme, I immediately knew I would be using the book Because by Mo Willems to introduce the theme. If you aren't familiar with the book already, here's a reading. It's a beautiful story with fantastic illustrations:
I plan to read the book to the class and then use the story as a prompt to lead into a discussion about how music has had an impact on our lives.
Poster Contest
Using the book Because as a starting point, I will have students use this template (click the image below to copy and paste to your own computer) to make a poster about how music has had an impact on their own lives—they might include things like, "because of piano I can make my own music," or "because of music I don't feel lonely," or "because of trombone I know how to work hard," or "because of choir I have new friends." I'll share some of my own thoughts from my own life as examples and then have them fill in their own thoughts by finishing the sentence, either with words or pictures (or both).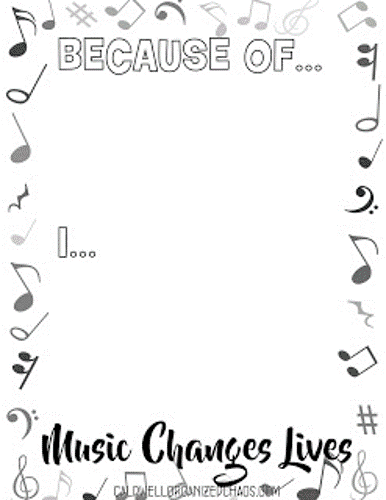 Rather than take too much class time working on the posters themselves, I'm planning to send these home and turn it into a poster contest! The class with the highest percentage of participation will get a class prize (probably to play a game like freeze dance at the end of class), and I'll also choose the best poster(s) to feature on our school website and hang up around the school.
Community Survey

I'm also planning to send out a survey to staff in my building, district administrators, and parents about songs that have made an impact on them. I'm sending these out now, at the beginning of February, so I'll have time to collect and compile them, and then I'm hoping to collect enough entries to play one song, and share the accompanying story, each morning on the announcements. If you'd like to see the survey I'm sending out, you can take a look at it below: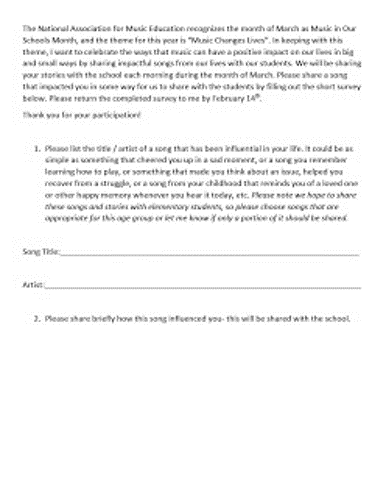 I think this will be a great way to get the community involved and thinking about the importance of music in their lives, while also inspiring students with stories from people in their community. I'm excited to see how this goes, and I can't wait to hear what people have to say!
Other Activities

Along with these new ideas I'll be using to tie into the specific theme for this year, I'll also be using a lot of the same activities from previous years, like Rhythm Battle and Disco Duel. The students look forward to these every year, and I can't wait to get started with them again! If you aren't familiar with how I celebrate Music In Our Schools Month, be sure to check out all of my previous posts below—there are so many fun ways to celebrate with your school community, and they don't take a ton of effort to put together!
I can't wait to celebrate the impact and importance of music in our lives with my entire school community this year. I think it will be a wonderful month! If you have other ideas for ways to incorporate the new theme this year, I'd love to hear about them in the comments or on Amplify! Happy MIOSM!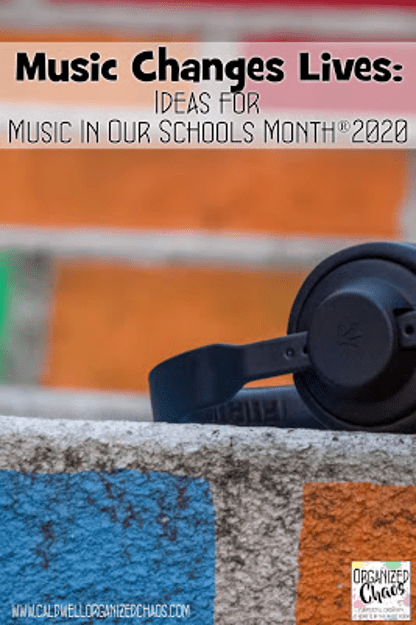 About the author: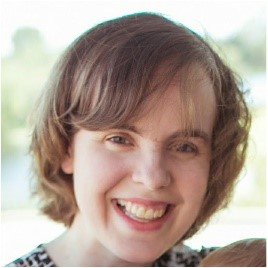 NAfME member Elizabeth Caldwell has been teaching elementary general music and choir for over a decade and cannot imagine ever doing anything else. She is also the author of the website, Organized Chaos Music, where she regularly shares organization strategies, lesson plans, and other ideas to encourage purposeful creativity in the music classroom. She holds her B.M.E from Wheaton College (IL) and her M.M.E. from Boston University, and was named Teacher of the Year in 2018. She has presented on lesson planning, restorative behavior management, effective recorder teaching, world music, National Core Arts general music standards, and other music education topics at conferences around the globe, and teaches an e-course on lesson planning through her website.
Follow Elizabeth on Facebook, Instagram, Twitter, YouTube, and Pinterest.
Did this blog spur new ideas for your music program? Share them on Amplify! Interested in reprinting this article? Please review the reprint guidelines.
The National Association for Music Education (NAfME) provides a number of forums for the sharing of information and opinion, including blogs and postings on our website, articles and columns in our magazines and journals, and postings to our Amplify member portal. Unless specifically noted, the views expressed in these media do not necessarily represent the policy or views of the Association, its officers, or its employees.
Catherina Hurlburt, Marketing Communications Manager. February 18, 2020. © National Association for Music Education (NAfME.org)
Published Date
February 18, 2020
Copyright
February 18, 2020. © National Association for Music Education (NAfME.org)