Music In Our Schools Month® 2023
"Music Is All of Us" Song Bracket
By NAfME Member Elizabeth Caldwell
This article was originally published on the Organized Chaos blog.
This year the theme for Music In Our Schools Month® (MIOSM®) is "Music Is All of Us." I have been doing a "musical March madness"-style song bracket, where students listen to different songs each day and vote on their favorites, for several years now, and I was so excited to see the new theme this year that could be taken in so many cool directions! I decided I wanted to compile songs that focus on the importance of "us"—friendship, unity, togetherness, community.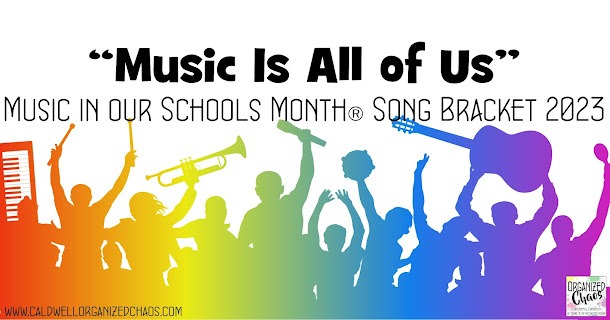 As I have done the last few years, I'm going to be setting up Google slides files with the songs for each day embedded in the slides so that classes can vote in their homerooms. If you want to see how I organize the logistics so classes can vote every day regardless of whether they have music that day or not, check out my 2021 MIOSM post (and definitely let me know if you have any questions, I'm happy to help). Doing it in slides was such an easy way to have all the songs organized and make it easy for the homeroom teachers to report their class's vote rather than having to email me every day! I don't have the rights to share the song files, but you can make a copy of my slide templates and add the audio files yourself by clicking on the image below: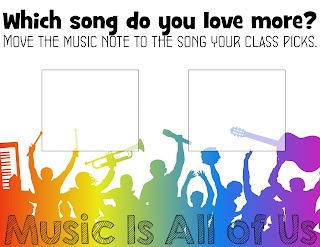 I'm so excited to focus on the power of "us" this year—I think it's such a powerful message for today more than ever. Here are the songs I'll be using in this year's bracket (in no particular order):
We're All In This Together from High School Musical
Everyday People by Sly & The Family Stone
I'll Be There for You by The Rembrandts
You Will Be Found from Dear Evan Hansen
Better Together by Jeremy Loops
I'll Be Waiting by Walk Off the Earth
Tera Yaar Hoon Main from Sonu Ke Titu Ki Sweety
A Friend Like You by Andy Grammer/ Anthem Lights
Nuestra Amistad by Tercer Cielo
How Are You (My Friend) by Johnny Drille
Together by For King and Country, Tori Kelly, and Kirk Franklin
I'm excited to see how the students respond to this year's playlist, and I'm curious to see which song wins out in the end! What are your plans for Music In Our Schools Month® this year? What are other songs that fit this theme? I'd love to hear more suggestions in the comments on my blog. If you're looking for more ideas to use for MIOSM, here are all my posts on the topic.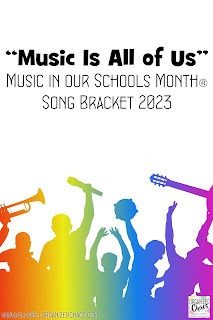 Further reading:
About the author: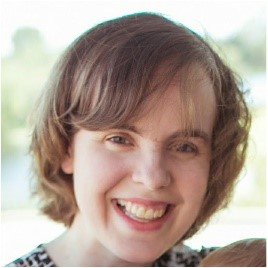 NAfME member Elizabeth Caldwell has been teaching elementary general music and choir for over a decade and cannot imagine ever doing anything else. She is also the author of the website, Organized Chaos Music, where she regularly shares organization strategies, lesson plans, and other ideas to encourage purposeful creativity in the music classroom. She holds her B.M.E from Wheaton College (IL) and her M.M.E. from Boston University, and was named Teacher of the Year in 2018. She has presented on lesson planning, restorative behavior management, effective recorder teaching, world music, National Core Arts general music standards, and other music education topics at conferences around the globe, and teaches an e-course on lesson planning through her website.
Follow Elizabeth on Facebook, Instagram, Twitter, YouTube, and Pinterest.
Did this blog spur new ideas for your music program? Share them on Amplify! Interested in reprinting this article? Please review the reprint guidelines.
The National Association for Music Education (NAfME) provides a number of forums for the sharing of information and opinion, including blogs and postings on our website, articles and columns in our magazines and journals, and postings to our Amplify member portal. Unless specifically noted, the views expressed in these media do not necessarily represent the policy or views of the Association, its officers, or its employees.
March 1, 2023. © National Association for Music Education (NAfME.org)
Published Date
March 1, 2023
Copyright
March 1, 2023. © National Association for Music Education (NAfME.org)