New Year's Resolutions for Retired Music Educators
Make a Difference in the Music Education Profession
By NAfME Member Paul K. Fox
The original article was first published on Paul Fox's blog here.
Every year around the first of the year, the web highlights many so-called experts touting the benefits of making personal improvement plans . . . and is just as quick to admonish us for breaking them.
Of course, it does not have to be this way! Last year, yours truly made a promise to "practice what music teachers preach" and "make meaningful music" at least a little every day on his instrument. How did it go? Success! I made it to the middle of July without missing a day (until I sprained my left hand). But the goal led me to playing better than I have for decades, more self-confidence, a lot of fun polishing off movements from my favorite sonatas and concertos, and even the purchase of a new viola. Now? It is time for me to find a tuba, dive into my past "brass flame," and join a community band! 
As we succeed in everything else for our lives, the process of setting aside time to analyze our personal pathways, assessing our needs, and making new goals is healthy. For the eternal pursuit of happiness and self-fulfillment in retirement, I found these secrets to a "winning" set of New Year's Resolutions in the "Top-10 List" by the UAB School of Medicine:
Start with specific micro-goals. (Keep them small, simple, and easy to accomplish.)
Set resolutions for the right reasons. (Choose what is important to you, not someone else's expectations.)
Document your progress. (Write it down.)
Practice patience and forgiveness. (No one is perfect. Just keep at it despite the curve balls thrown at you.)
Schedule time to achieve goals. (Dedicate the necessary resolve and resources to accomplish them.)
Embrace the buddy system. (Share in collaborating on group goals. You don't have to achieve them alone!)
Consider your budget. (Finances may play a role. Stay within your means.)
Slow down and meditate. (Breathe, refocus, and be mindful.)
Reward yourself for achievements. (No matter how big or small, treat yourself for reaching your targets.)
Ask others to keep you accountable. (Publicize your intentions. They might help you achieve your goals.)
Sample Resolutions
You probably do not need someone to suggest things-to-do in 2022 or ways to self-improve. Effective goals and action plans must come from within yourself. However, there are countless advisors offering ideas to motivate you:
Keep a Positive Mindset
Commit to at least 10 Minutes of Exercise Daily
Make Better Dietary Choices
Stay Young-at-Heart – Surround Yourself with Young People
Stimulate Your Mind
Get Enough Sleep
Reach Out to Old Friends and Make New Ones
Kick Your Bad Habits
Maintain Your Purpose in Life as You Age
Give Back – Explore New Volunteer Opportunities
Examples from other sites: 
Engagement, Advocacy, and Association in Music Education
Modeling professionalism, these terms promote the power of "collaboration" and connections among music education colleagues and interested parties (music students, parents, and the general public). To foster a broader picture and devise "bigger than self" New Year's Resolutions, we should embrace forming partnerships throughout our pre-service, in-service, and retirement years with enhanced goals of active engagement, advocacy, and support of our professional associations.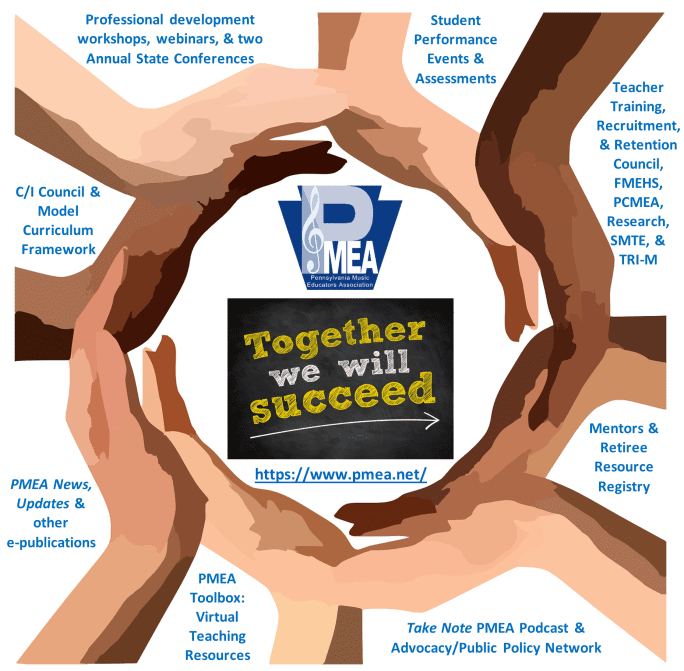 In many past blog posts on my site and articles in PMEA News, Retired Member Network eNEWS, and NAfME Music in a Minuet, we have addressed ways that retirees can share their awesome "musical gifts," know-how, and perspective to promote creative self-expression. If you are looking to adopt a 2022 New Year's Resolution to make a difference in the music education profession, revisit this free archive here and also peruse this article.
Additional blog posts on the topic of New Year's Resolutions and helping others in retirement:
Learn more about the benefits of becoming a retired NAfME member.
About the author:
Paul K. Fox, a NAfME Retired Member, is Chair of the PMEA State Council for Teacher Training, Recruitment, and Retention. He invites you to peruse his website.
Did this blog spur new ideas for your music program? Share them on Amplify! Interested in reprinting this article? Please review the reprint guidelines.
The National Association for Music Education (NAfME) provides a number of forums for the sharing of information and opinion, including blogs and postings on our website, articles and columns in our magazines and journals, and postings to our Amplify member portal. Unless specifically noted, the views expressed in these media do not necessarily represent the policy or views of the Association, its officers, or its employees.
February 1, 2022. © National Association for Music Education (NAfME.org)
Published Date
February 1, 2022
Copyright
February 1, 2022. © National Association for Music Education (NAfME.org)