The Patriotic Guitarist
Master Sergeant Alan Prather of "The President's Own"
By Thomas Amoriello Jr.
NAfME Council for Guitar Education Chair
 

The United States Marine Band is America's oldest continuously active professional musical organization. Founded in 1798, the band has performed for every U.S. president since John Adams. Known as "The President's Own" since the days of Thomas Jefferson, the Marine Band's mission is to provide music for the President of the United States and the Commandant of the Marine Corps. –USMB–
Guitarist Master Sergeant Alan Prather of Cuyahoga Falls, Ohio, joined "The President's Own" United States Marine Band in July 1999. Master Sgt. Prather began his musical training on the guitar at age 8. After graduating in 1986 from Cuyahoga Falls High School, he attended the University of Akron (UA) in Ohio where he earned a bachelor's degree in music education in 1991. In 2012, he earned his master's degree in music education from Kent State University in Kent, Ohio. His instructors included Dean Newton and Robert Fraser of UA. 

Prior to joining "The President's Own," he taught instrumental music in Nordonia Hills City School District in Ohio and freelanced with various ensembles. Master Sgt. Prather is a frequent soloist who leads, performs, and sings with a variety of Marine ensembles, including Free County, the Marine Jazz Orchestra, and the Marine Combo.
Master Sgt. Prather, the son of Patricia and Donald Prather of Cuyahoga Falls, currently lives in Mechanicsville, Maryland, with his wife Deborah and their children. 
The NAfME Council for Guitar Education would like to thank Master Sergeant Alan Prather, USMC of "The President's Own" United States Marine Corps Band, and Colonel Jason K. Fettig, Director, for sharing their insight with the NAfME membership. Thank you to and kind regards to Gunnery Sergeant Rachel Ghadiali, USMC, Master Sergeant Amanda Simmons, USMC, and Amanda Saunders for making this interview possible. For more information visit "The President's Own" website.
What is the audition process like for a guitarist interested in being a musician with the Marines?
Prior to the audition for "The President's Own" United States Marine Band, I was sent a list of songs I was expected to know. The list consisted of standard jazz, rock, and country. From that list the members of the audition committee chose the songs they wanted to hear, which I then played with a rhythm section comprised of members of the band. Early on I had indicated that I can sing, so for the second round I was asked to sing a couple of songs in addition to playing a few more on the guitar. Along with the musical aspect of the audition, I was also interviewed by the committee on a variety of topics.
"The President's Own" does not have a combat mission, so we are exempt from basic training. Upon arrival to Washington, DC, we are instructed in military customs and courtesies by the Drum Major of the band.
You have been a guitarist for "The President's Own" United States Marine Band for four presidencies. Do you have any memorable musical requests from a Commander-in-Chief?
One particular request stands out from New Year's Eve, 1999, at The White House. I was playing with a five-piece group in a tent in the Rose Garden, but most of the guests were inside the residence. At one point during the evening, our tent was completely empty and in walked President Clinton and his daughter, Chelsea. He stepped up onto the bandstand beside me, flipped through my music, pulled out "Unforgettable," and asked us to play it for them. He and Chelsea then danced together in the empty tent. There were 1,500 guests at The White House that night, but President Clinton found a few minutes to spend privately with his daughter. It was a special moment for all of us.
What type of versatile guitar skills are necessary to be a part of the "The President's Own" United States Marine Band?
I have been called on to play many different styles of music, as well as many different stringed instruments. That variety is one of the things I enjoy about my job. The majority of music that I get to play is jazz, but I also play a variety of pop music styles (classic rock, Motown, country). Occasionally I will perform with the concert band or orchestra, or on a chamber concert with a small ensemble. I spend most of my time on the electric guitar, but I also play a fair amount of acoustic guitar. Over the years I've played banjo many times with the Marine Band Dixieland Band at The White House and on public concerts, and I have even been asked to play the mandolin on one of the Marine Band's educational recordings.
In addition to my responsibilities as the guitarist, I also lead The White House Dance Band, which consists of six horns and rhythm section, the Marine Band's Big Band, and I co-lead the Marine Band's country-rock band, Free Country. Leading these groups has allowed me to make use of my experience in leading groups prior to joining the band, as well as to hone my skills as an arranger. I have written arrangements for the concert band, big band, dance band, and Free Country. While these skills aren't necessary to successfully perform my job, I have enjoyed the opportunities and extra responsibility having these skills has provided me.
What type of equipment comes in handy for the performance?
I use a variety of instruments. When playing straight-ahead jazz, I rely mostly on a semi-hollow body guitar. If the performance involves something more edgy, or if I'm playing with our country-rock group, I'll bring out a solid-body guitar with single-coil pickups. From time to time I'll be tasked with playing an event inside the home of the Commandant of the Marine Corps or the Chairman of the Joint Chiefs, and for a performance such as that I'll play an acoustic guitar. As far as amplification is concerned, my main amp is an all-tube amp with a pair of 12" speakers. I'm able to get a very nice tone out of it with the semi-hollow body guitar and, of course, it sounds great with the solid-body guitar and the pop music we play. I keep a small solid-state amp at The White House to use for indoor performances for which we typically provide music. (You might call it "society jazz" that is meant to be in the background.) It has a small footprint and a very nice tone with the semi-hollow body guitar, plus it has on-board effects. I also carry a tuner and an extra set of strings to every performance.
Where are some places you have traveled as a member of "The President's Own" United States Marine Band?
As a member of the Marine Band, I've traveled to just a few places. I've traveled to New York City numerous times for the United Nations Gala hosted by the President of the United States; to Chicago, Illinois, on an educational outreach tour; and to Juneau, Alaska, to perform for the Juneau Jazz and Classics Festival.
You have performed at inaugurations, memorials, and other important patriotic events. Please share a memorable experience related to that.
A couple of events come to mind, actually. The first is a concert we did at Arlington Cemetery in the amphitheater for the cemetery's 150th anniversary in 2014. Not only was I privileged to be a part of that special program, but I also wrote one of the arrangements that was featured in the performance.
The second patriotic performance that stands out is a concert we did with the Big Band in 2015 for the 75th anniversary of the end of World War II. The concert was held at the World War II Memorial on the Mall in Washington, DC, and many of the attendees were veterans. I wanted to create a special event for them, so the idea was to offer a sort of musical time capsule or "You Are There" concert. I culled through hours of news reels and radio reports to find audio clips of newscasts from major events in the war which were then played as lead ins to the music we played from that era. It ended up being a very meaningful experience for all of us.
Read past articles by Thomas Amoriello:
About the author: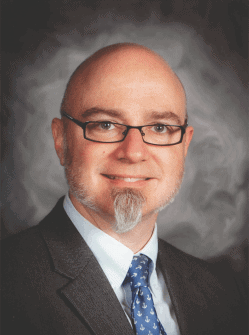 Thomas Amoriello Jr. serves as the chair on the NAfME Council for Guitar Education and is also the Chairperson for the New Jersey Music Education Association (NJMEA). He has had more than 30 guitar and ukulele advocacy articles published in music education journals in Michigan, Ohio, Rhode Island, and New Jersey. During his time on the NJMEA board he has co-directed four guitar festivals and drafted the proposal to approve the first ever NJMEA Honors Guitar Ensemble. Tom is an advocate for class guitar programs in public schools and has been a clinician presenting his "Guitar for the K-12 Music Educator" for the Guitar Foundation of America Festivals in Charleston, South Carolina, and Columbus, Georgia, Lehigh Valley Guitar Festival in Bethlehem, Pennsylvania, Philadelphia Classical Guitar Society Festival, Philadelphia, Pennsylvania, NAfME Biennial Conferences in Baltimore and Atlantic City, as well as other state music education conferences in New Jersey, Massachusetts, New York, and Virginia. He has twice been featured on episodes of "Classroom Closeup-NJ" which aired on New Jersey Public Television.
Tom has taught guitar classes for the Flemington Raritan School District in Flemington, New Jersey, since 2005 and was also an adjunct guitar instructor at Cumberland County College, New Jersey, for five years. He has earned a Master of Music Degree in Classical Guitar Performance from Shenandoah Conservatory and a Bachelor of Arts in Music from Rowan University. His primary teachers have been Alice Artzt, Glenn Caluda, David Crittenden, and Joseph Mayes. He has performed in the master classes of Benjamin Verdery in Maui, Hawaii, and Angelo Gilardino and Luigi Biscaldi in Biella, Italy.
He is the author of the children's picture books A Journey to Guitarland with Maestro Armadillo and Ukulele Sam Strums in the Sand, both available from Black Rose Writing. He recently made a heavy metal recording with a stellar roster of musicians including former members of Black Sabbath, Whitesnake, Ozzy Osbourne, Yngwie J. Malmsteen's Rising Force, and Dio that was released on H42 Records of Hamburg, Germany. The record released on 12-inch vinyl and digital platforms has received favorable reviews in many European rock magazines and appeared on the 2018 Top 15 Metal Albums list by Los Angeles KNAC Radio (Contributor Dr. Metal). Visit thomasamoriello.com for more information.
Did this blog spur new ideas for your music program? Share them on Amplify! Interested in reprinting this article? Please review the reprint guidelines.
The National Association for Music Education (NAfME) provides a number of forums for the sharing of information and opinion, including blogs and postings on our website, articles and columns in our magazines and journals, and postings to our Amplify member portal. Unless specifically noted, the views expressed in these media do not necessarily represent the policy or views of the Association, its officers, or its employees.
Catherina Hurlburt, Marketing Communications Manager. April 11, 2019. © National Association for Music Education (NAfME.org)
Published Date
April 11, 2019
Copyright
April 11, 2019. © National Association for Music Education (NAfME.org)