We See You, Sis! A Conversation of the Unique Experiences of Black Female Band Directors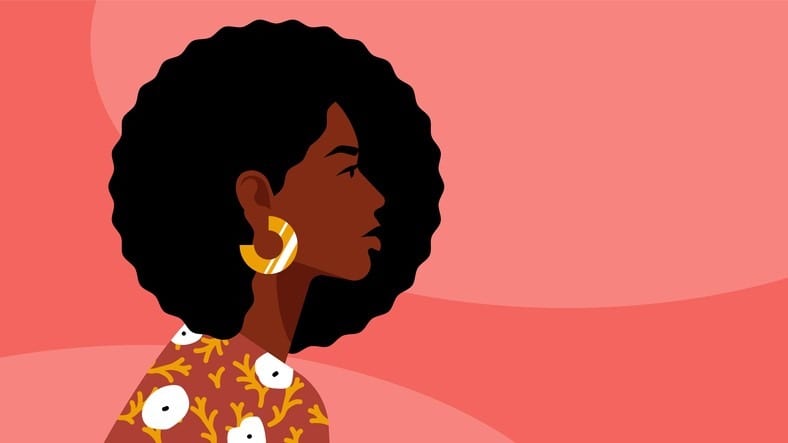 /   News Posts   /   We See You, Sis! A Conversation of the Unique Experiences of Black Female Band Directors
We See You, Sis!
A Conversation of the Unique Experiences of Black Female Band Directors
By NAfME Members Tiffiny C. Reckley and Jennifer A. Theilacker
Presenting We See You, Sis! A Conversation of the Unique Experiences of Black Female Band Directors at the "NAfME is ME!" 2022 NAfME National Conference in National Harbor, Maryland. Register now.
"All Black women have done throughout history is take care of other people, and our worth is in our work. And so we are not applauded until we produce something for someone else. We are not celebrated or validated until we do something for someone else, and so, we continue that—we continue that narrative in every way of life." ~ Rev. Dr. Theresa S. Thames (Princeton University) from "In Our Mothers' Gardens" documentary
How many Black female band directors do you know or have your students had exposure to within the classroom? Are you exploring a wider network to seek diverse representation to expose all students to women of color in these roles? Students should be able to see active diversity in real time. This starts with the director addressing and making a plan of action to change the narrative.
"We See You, Sis!" will address culturally appropriate terms, addressing personal biases, historical perceptions, networks to tap into, and the sharing of personal journeys of each of the presenters as women of color within the profession. Using a reflective and interactive format, we hope to expose directors to a variety of perspectives in diversifying their programs and discover how Black female directors have the P.O.W.E.R. to be impactful to key areas of their programs. We understand the need to have real voices of diversity represented to tell our stories and create awareness within our colleague community. The tough questions should be asked, and the hard conversations should be had as a means of professional development and growth for every educator because of the students we face each day.
Black female band directors may have completely different personal experiences as Black women, but many of our professional experiences of being band directors are the same. Born of the desire to ensure that we use our platform to amplify the work of established directors, we knew it was a responsibility to be able to use stories from our personal journeys to be able to inspire other colleagues to address the need for more inclusive representation of Black women as directors, composers, and clinicians. We look forward to providing authentic examples and resources in order to ensure that we have a wider exposure about lesser known figures in music education.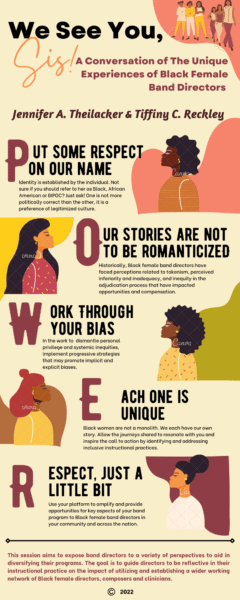 Be sure to stop by our presentation during the 2022 NAfME Convention to contribute to the conversation. We anticipate following up after the conference with a Part 2 that brings back some of the ideas that NAfME members shared during the live presentation.
About the authors: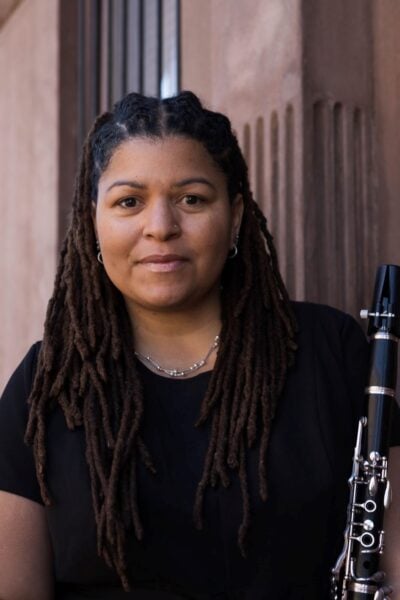 NAfME member Ms. Jennifer A. Theilacker, a native of Lancaster County, has been actively teaching and performing for more than twenty years. She is currently a band director in Harlem, New York, previously teaching in schools in Pennsylvania, Georgia, and Delaware. Jennifer holds a Bachelor's degree in Music Education from Millersville University, and is working towards her Masters from the American Band College through Central Washington University. Her professional affiliations include WBDI, ABWBD, MBDNA, NAfME, and GMEA.
NAfME member Ms. Tiffiny C. Reckley is currently an Instructional Supervisor & Professional Development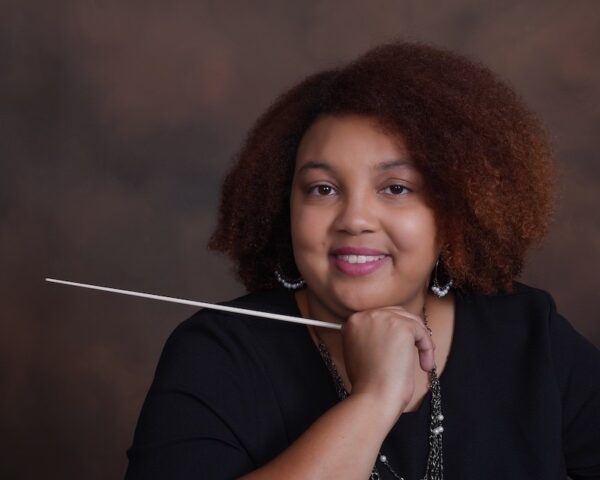 Specialist in Los Angeles. Having primarily served as band director, she earned her BM from Xavier University of Louisiana, and an MMED from the University of North Texas. Her presentation platforms include sociology, intersectionality, trauma, SEL, DEI, and social justice issues in the urban classroom. She is concurrently developing The Talented Teacher LLC, which will provide consulting for urban fine arts educators. Ms. Reckley is a member of several professional organizations.
Did this blog spur new ideas for your music program? Share them on Amplify! Interested in reprinting this article? Please review the reprint guidelines.
The National Association for Music Education (NAfME) provides a number of forums for the sharing of information and opinion, including blogs and postings on our website, articles and columns in our magazines and journals, and postings to our Amplify member portal. Unless specifically noted, the views expressed in these media do not necessarily represent the policy or views of the Association, its officers, or its employees.
October 21, 2022. © National Association for Music Education (NAfME.org)
Published Date
October 21, 2022
Category
Diversity, Equity, Inclusion, and Access (DEIA)

Gender

Race

Representation
Copyright
October 21, 2022. © National Association for Music Education (NAfME.org)