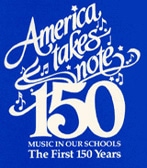 Year and Theme
1988 "America Takes Note!"
Location
DAR Constitution Hall, Washington, D.C.
Host
Shari Lewis and "Lambchop"
Choir
United States Air Force Singing Sergeants
Orchestra
United States Air Force Band, Lt. Colonel James M. Bankhead, Director
Music
The Star-Spangled Banner 
(First Verse Only, Sung in Unison in A flat)
Arranged by Damrosch, Band Arrangement Published by G. Schirmer
Distributed by Hal Leonard.
America Takes Note! 
Official Theme Song
Words and Music by Sandy Feldstein.
Published by Alfred Publishing.
The High School Cadets March 
(Instrumental Feature)
Featuring members of the Mount Vernon, VA, High School Band
Music by John Philip Sousa.
Published for Band by Carl Fischer.
Folk Song Medley 
"Erie Canal"
"Shenandoah"
"Old Dan Tucker"
Arranged by CMSgt. Michael Davis, USAF Band.
This Land is Your Land 
Words and Music by Woody Guthrie
Arranged by Lewis and Platt.
Published by The Richmond Organization.
Reach Out 
Featuring the Thomas Pullin Creative Arts Magnet School, Landover, MD
Words and Music by Cynthia Gray.
Copyright © MCMLXXXVI Heritage Music Press.
Plenty Good Room 
Traditional Spiritual
Arranged by Horman.
Published by Somerset Press.
This is My Country
(Festival Edition)
Words and Music by Don Raye and Al Jacobs
Arranged by Ringwald.
Published by Shawnee Press.
The U.S. Air Force Theme Song
"Off We Go (Into the Wild Blue Yonder)"
By Robert Crawford.