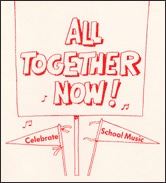 Year and Theme
1989 "All Together Now"
Location
Brooklyn Center for the Performing Arts, New York City, NY
Host
Shari Lewis and "Lambchop"
Choir
Siasid High School Choral
Orchestra
McDonald's All American High School Band, Dr. William P. Foster, Director
Music
The Star-Spangled Banner
(First Verse Only, Sung in Unison in A flat)
Arranged by Damrosch, Band Arrangement Published by G. Schirmer
Distributed by Hal Leonard.
All Together Now!
Official Theme Song
Words and Music by Natalie Sleeth
Copyright © 1988 Hinshaw Music, Inc.
Feelin' Alive 
Words and Music by Phyllis Aleta Wolfe
Published by Heritage Music Press.
The White Ensign 
(Instrumental Feature)
Music by Jerry Nowak
Band Only, Published by Boosey & Hawkes.
This Train Goes Marching In 
Two Spirituals
Arranged by Sandy Feldstein
Copyright © 1988 Alfred Publishing Co., Inc.
This Land is Your Land 
Words and Music by Woody Guthrie
Arranged by Lewis and Platt
Published by The Richmond Organization.
God Bless America
Words and Music by Irving Berlin
Published by Shawnee Press.