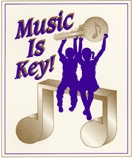 Year and Theme
1996 "Music is Key!"
Location
Interlochen Center for the Arts, Interlochen, Michigan
Host
Mervyn Warren
Choir
The Northwestern Michigan Children's Choir, Traverse City, Michigan, Mark & Barbara Puchalla, Directors
Orchestra
The Interlochen Arts Academy Orchestra, Matthew Hazelwood, Director
Music
Music and Kids 
Words and Music by Saundrai Berry Musser
Copyright © Saundra Berry Musser (ASCAP).
Good Night (A Russian Song)
Words and Music by Dmitri Kabalevsky, Arranged by Doreen Rao
Copyright © 1987 by Boosey & Hawkes, Inc.
Copyright for All Countries. All Rights Reserved.
Teach the Children to Sing 
Music and Arrangement by Joe Liles
Copyright ©1995 by Joe Liles.
Overture to "The Flying Dutchman"
(Instrumental Feature)
By Richard Wagner.
Peace Be With You 
Words and Music by Susan Bingham
Copyright ©1992 The Chancel Opera Company of Connecticut, Inc.,
227 Willow Street, New Haven, CT 06511, 203-562-0634
Get On Board This Train 
Traditional Spiritual
Arranged by Don Besig, ASCAP, Additional Words by Nancy Price, ASCAP
Copyright ©MCMXCIV by Alfred Publishing Co.,
All Rights Reserved.