A Conductor's Tale
Interview with American Young Voices Conductor Francisco J. Núñez
By NAfME Member Thomas Amoriello Jr.
Join in #YVatHome on June 2, 2:30 PM (local time). Click here to learn more.
Francisco J. Núñez is Principal Conductor of American Young Voices (AYV), and Ben Lewis is CEO of Young Voices International. These interviews provide a glimpse of what happens behind the scenes, a blossoming force in music education. Once popularized overseas in the United Kingdom and Germany, AYV is making a mark here in the United States and, in its infancy, has become an additional tool to excite children about singing.
Thank you to Maestro Núñez and Mr. Lewis for sharing your thoughts with the NAfME membership.
This June 2020 will mark the sixth year of American Young Voices performances with you conducting. How has this vision grown since the inaugural performance in at the Prudential Center 2015?
Francisco J. Núñez: Our very first American Young Voices concert took place at New Jersey's Prudential Center in 2015. At a time when no one really knew what American Young Voices was, dozens of adventurous teachers from New York, New Jersey, and Connecticut signed on. Teachers, excited at this unusual opportunity for their students to sing with other students in an actual arena, put them on buses which filled an entire section of the massive Prudential Center: 4,000 children in all. I was so amazed . . . and even better, so were they!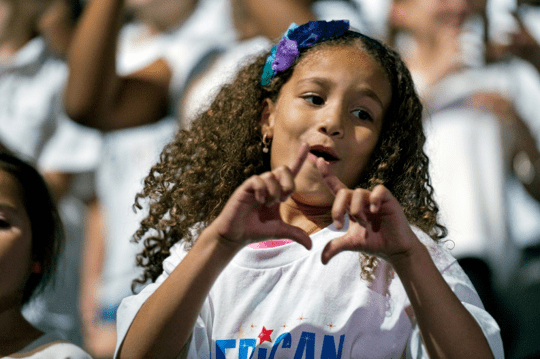 This one performance confirmed the vision of Ben Lewis (Young Voices International, CEO) that he could bring musical performances on this scale to American schools and American children, just as he had done in England. Five years later with additional cities added to the schedule, the number of children reached by American Young Voices in 2019 had grown to 20,000.
How do you go about selecting the repertoire for the event?
FJN: Very carefully and thoughtfully. We think about it all year long. We think about balance and the emotional, spiritual—the universal language qualities of music, and how it brings people and communities together: music in other languages, music from other countries, music meant to be accompanied by dance steps. We look at it all and include it all, to make every AYV concert the singular experience everyone—children, teachers, and audiences—will remember all year long.
Can you tell us about the registration and the prep work involved by music educators?
FJN: Music educators are deeply involved and talk with each other all the time on our email chain. We provide them with packets of educational materials and give them everything they need to prepare their children to enjoy the AYV experience at its fullest. We not only provide educators with sheet music, learning tracks, and vocal tracks, but just as important, with guides that meet national standards on how to teach current musical concepts, healthy vocal technique, rhythm and performance practices, even conducting gestures. And once a year I hold an in-person workshop for the teachers in every city on the tour, where we go over the music and choreography. In between, the teachers talk among themselves. We do everything to make this an educational experience for everyone!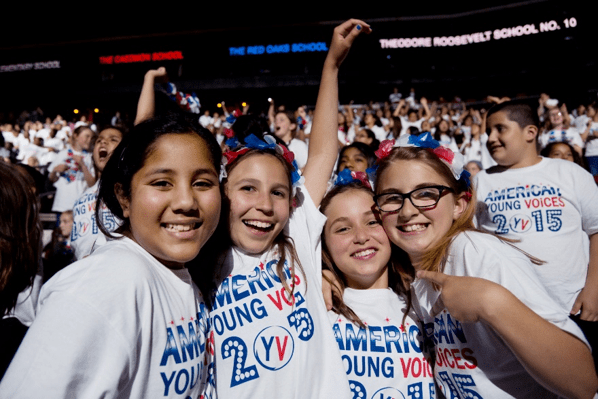 What are the average days like that surround the concert date?
FJN: After workshops, we take an entire week to work with the band and the singers. We go through everything very carefully to be sure we sound exactly like the original singers and the original bands. Every single one of our artists is exceptional and fully professional. They know when to perform full out and when to step back. Travelling from city to city, we have to lug a lot of stuff. So the band and the equipment travel separately. During the entire tour, everyone is hyped, with music playing and lots of coffee and donuts being passed around. Dress rehearsals start, earphones in place, and we begin to warm up. The sound checks take about two hours before we break for lunch.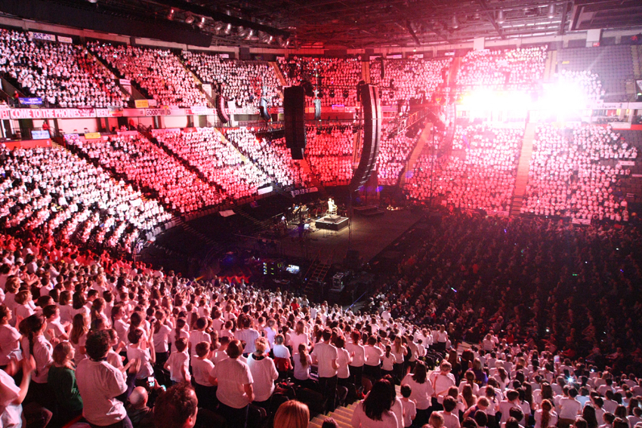 Then, following lunch, we see the first children begin entering the arena for rehearsal. Slowly they come, school by school, 40 to 80 children at a time. Then, in a rush, they begin entering more quickly, and before we know it, 8,000 children are now filling the arena. At 3 o'clock, when the band begins to tune up, the whole stadium erupts with children's excited screams. We bring out the singers, introduce them and the band, and at my downbeat . . . there is silence. It is then, that we begin our rehearsal with vocal warmups. We go through the program, deciding which side of the arena sings which parts, checking the sound and lighting systems, and making sure everything is perfect and ready to go at 7 PM. Then, in a pitch black arena, points of light flick on from the children's flashlights, and the magic begins!
What kind of feedback and excitement have you received from children who get to ultimately perform with a live band and light show production, and their parents who get to essentially see them do this in a professional basketball and hockey-sized arena?
FJN: AYV is something that is unlike anything else! It is a full rock concert with a full live band that plays music of every genre—gospel, folk, classical, rap, etc.—to make the children feel like stars. This is their shining moment in time! And the moment the concert is over, the children are already asking about when the next will take place. And as they leave for home, they continue singing: skipping and dancing out of the arena, boarding the buses, and on the entire ride home. They never want it to end.
Ben Lewis: AYV has an impact on those participating, which is way more than simply the concert. The whole journey that the young people involved go through from their first rehearsal to the eventual spectacle at the arena builds self-belief, a feeling of community, a sense of achievement, and ultimately the reward for all the hard work of being a part of a sold-out arena show. How many people can say they have performed in a world class arena? It really is a memory that stays with them forever.
Where would you like to see AYV in 2025?
FJN: We are excited at the enthusiasm of the teachers and students and look forward to AYV's reaching at least 15 cities in 2025. We do not think it is impossible that by that time, we may be reaching some 50,000 young people. It is gratifying that teachers are so animated about the program; they continue to return with new students year after year. Also, as the children and teachers return to their classrooms and communities after each concert and tell everyone how much fun they had singing and dancing with thousands of other children in a huge arena cheered on by a massive audience, AYV is becoming a "don't-miss" event.
BL: Ultimately, we would like to see AYV become something that children experience that has a positive impact on the rest of their lives. In the UK they are now celebrating their 25th anniversary, which means there are parents who performed when they were younger and are now seeing their own children taking part. They know the power of this performance opportunity, and we'd love the US to embrace this community event in the same way.
Any final thoughts regarding AYV and its place in music education?
FJN: American Young Voices is doing something that is unique. It not only provides a space for children to be inspired, to learn, and to grow. It creates arena-sized concerts. AYV supports and enhances the work of teachers, school systems, and communities. We aspire to be partners with educators, filling in whatever may be missing, but also bringing something more, and perhaps different, to the table. We create concerts by children and for children. Picture 8,000 choristers in front of an audience of 12,000! This is something that cannot be imagined . . . only experienced. For a child, this kind of concert, which takes only a few months to prepare for, is something so special, it is a memory that will last a lifetime.
BL: There are many music education programs out there, but none can match AYV when it comes to scale, inclusiveness, and quality combined. We believe that every child deserves the chance to experience a world-class musical performance and that it should be of a standard expected for any arena show. AYV is often the very first experience of a show on this kind of scale for the children involved, so it's vital that we make the most of this opportunity to inspire a love of music in the next generation.
On June 2, 2020, at 2:30 PM (local), join in American Young Voices at Home to thank our music teachers. Access "Power in Me" music, lesson plan, and other materials. Share your performances on social media with the hashtags #PowerInMe #YVatHome and #ThankYouTeachers.
Read past articles by Thomas Amoriello Jr.:
About the author: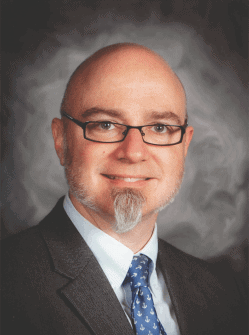 Thomas Amoriello Jr. serves as the chair on the NAfME Council for Guitar Education and is also the former Chairperson for the New Jersey Music Education Association. Tom has taught guitar classes for the Flemington Raritan School District in Flemington, New Jersey, since 2005 and was also an adjunct guitar instructor at Cumberland County College, New Jersey, for five years. He has earned a Master of Music Degree in Classical Guitar Performance from Shenandoah Conservatory and a Bachelor of Arts in Music from Rowan University. He is the author of the children's picture books A Journey to Guitarland with Maestro Armadillo and Ukulele Sam Strums in the Sand, both available from Black Rose Writing. He recently made a heavy metal recording with a stellar roster of musicians including former members of Black Sabbath, Whitesnake, Ozzy Osbourne, Yngwie J. Malmsteen's Rising Force, and Dio that was released on H42 Records of Hamburg, Germany. The record released on 12-inch vinyl and digital platforms has received favorable reviews in many European rock magazines and appeared on the 2018 Top 15 Metal Albums list by Los Angeles KNAC Radio (Contributor Dr. Metal). Visit thomasamoriello.com for more information.
Did this blog spur new ideas for your music program? Share them on Amplify! Interested in reprinting this article? Please review the reprint guidelines.
The National Association for Music Education (NAfME) provides a number of forums for the sharing of information and opinion, including blogs and postings on our website, articles and columns in our magazines and journals, and postings to our Amplify member portal. Unless specifically noted, the views expressed in these media do not necessarily represent the policy or views of the Association, its officers, or its employees.
Catherina Hurlburt, Marketing Communications Manager. February 27, 2020. © National Association for Music Education (NAfME.org)
Published Date
February 27, 2020
Copyright
February 27, 2020. © National Association for Music Education (NAfME.org)