A Bigger Life: An Open Letter from a 3 Strings UnLoCkeD Southwest Parent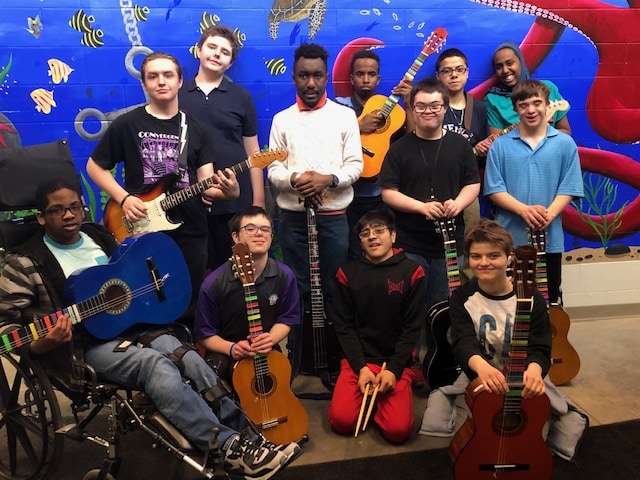 A Bigger Life
An Open Letter from a 3 Strings UnLoCkeD Southwest Parent
By NAfME Council for Guitar Education
in collaboration with Parent Ms. Sarah Shea
"Michael finally fell in love with high school, and I truly believe it all started with that little music class. Ruth made his life bigger."
The NAfME Council for Guitar Education would like to share an open letter to the NAfME membership from a music student parent of Ruth LeMay. Ms. LeMay is the Director of Guitar Education and founder of 3 Strings UnLoCkeD at Southwest High School in Minneapolis. Ms. Sarah Shea's son Michael is a student in Ms. LeMay's program, and below she shares the positive influence of how being involved with performing in 3 Strings UnLoCkeD Southwest has been in his life.
Here is a segment highlighting the important work that Ms. LeMay is doing in the world:
From Ms. Sarah Shea:
"Ever since my son, Michael, was diagnosed with autism, my driving force has been to make his life bigger. I want him to have choices in life. I want him to immerse himself into new experiences so that his world opens up. Unfortunately, that is easier said than done. Community support and acceptance is vital.
"Michael's first two years of high school were rough. High school wasn't turning out to be what Michael had imagined, and it was clear he wasn't happy. He wanted to be involved in other things, but his behaviors were working against him. He was becoming his own worst enemy.
"Then along came Ruth. Michael's participation in Ruth's music class changed everything. He picked up the drums immediately. He began singing. His self-esteem just grew and grew. He loved being on stage—the audience and the applause were the ingredients Michael was missing.
"All of that newfound confidence spilled out into the rest of his life as well. Over the next two years and all on his own accord, Michael was in a school musical, performed in the talent contest, joined an after-school club, and went to every single dance. He also began going to all the school sporting events and theatrical performances. After that initial rough start, Michael finally fell in love with high school, and I truly believe it all started with that little music class. Ruth made his life bigger."
More information on the 3 Strings UnLoCkeD Southwest program can be found here.
Inclusivity and Diversity in Music Education
A Position Statement of the National Association for Music Education
The study of music includes the study of the people, places, and cultures involved in its creation and performance. As our country becomes increasingly diverse, it is important for students in every school setting to study a wide variety of musical styles, cultures, and genres. The 2014 National Music Standards embrace this holistic approach to the study of music, encouraging teachers and students to explore a variety of musical styles and music-making traditions from around the world. This goal will be better served when we recruit a more diverse teacher workforce that more closely resembles the diversity of the United States and our school populations.
This position statement addresses the need for music education programs in our nation's schools to be inclusive of a variety of music making traditions and opportunities, as well as the importance of building a diverse music educator workforce to support music making by all. A companion statement on Access and Equity in Music Education addresses equitable access to music education for all students, so that students, regardless of race, ethnicity, disability, economic status, religious background, sexual orientation and identity, socioeconomic status, academic standing, exceptionalities, or musical abilities, can participate in the making of music within their schools. 
3 Strings UnLoCkeD will perform during the Saturday keynote at the 2019 NAfME National Conference on November 9. Register now.
Did this blog spur new ideas for your music program? Share them on Amplify! Interested in reprinting this article? Please review the reprint guidelines.
The National Association for Music Education (NAfME) provides a number of forums for the sharing of information and opinion, including blogs and postings on our website, articles and columns in our magazines and journals, and postings to our Amplify member portal. Unless specifically noted, the views expressed in these media do not necessarily represent the policy or views of the Association, its officers, or its employees.
October 11, 2019. © National Association for Music Education (NAfME.org)
Published Date
October 11, 2019
Copyright
October 11, 2019. © National Association for Music Education (NAfME.org)