Creating Those "Driveway Moments": An Interview with Tesfa Wondemagegnehu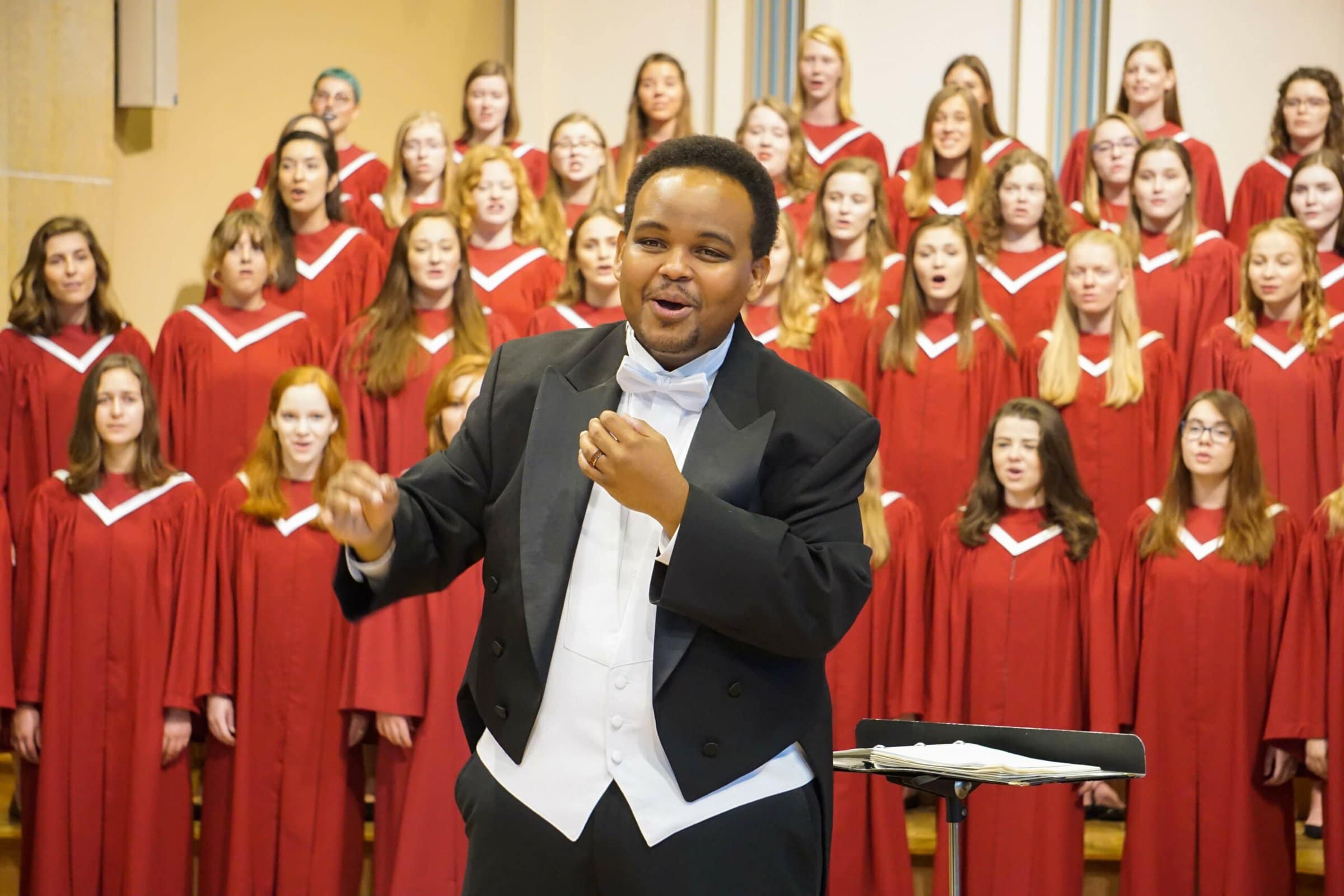 Creating Those "Driveway Moments"
An Interview with 2019 All-National Honor Ensemble Mixed Choir
Conductor Tesfa Wondemagegnehu
This year the 2019 All-National Honor Ensemble (ANHE) Mixed Choir will perform alongside five other All-National Honor Ensembles in Orlando, Florida. Tesfa Wondemagegnehu, conductor of the Viking Chorus and the Chapel Choir at St. Olaf College, will lead the 2019 ANHE Mixed Choir. He is also the guest artistic director of one of North America's largest LGBTQ+ choirs, Minnesota's One Voice Mixed Chorus. Here, he shares what led him into music, who inspires him, and those inspirational experiences he seeks to provide for his ensembles.
When did you first fall in love with music?
It was at an early age singing in church choir. My mom forced me to sing solos on Easter Sunday [I was so annoyed every time]! I think about those early experiences often, and how they still influence me today. I feel incredibly fortunate to have had them as a child. A little later in life [after a lot of rebellion and trouble], I was expelled as a ninth-grader. They gave my mom three options: I could go to my failing neighborhood school, I could go to a private school, or I could get a talent-based transfer to Memphis's performing arts high school.
I am forever grateful for the experiences given to me by all of my music teachers, but I probably wouldn't be alive if it were not for my high school choir director, Dr. Lulah Hedgeman.
Because of those early singing experiences, my mother forced me to audition for the performing arts school. The teacher took a risk on me and allowed me into her program on probation. I am forever grateful for that opportunity—it changed my life. My mom said, "Son, you were once a lost child on the path to destruction, but I believe that because of this choir teacher you became a found soul on a journey of inspiration." I am forever grateful for the experiences given to me by all of my music teachers, but I probably wouldn't be alive if it were not for my high school choir director, Dr. Lulah Hedgeman.
What inspired you to become a conductor? Describe the process in getting to where you are today.
I'd lived in Memphis all my life and ended up studying vocal performance at the University of Memphis. My ultimate goal was to be an opera singer and run a nonprofit that provided at-risk teenagers free voice lessons. The goal of the nonprofit was to help get those students college opportunities and scholarships. I continued my vocal studies as a graduate student at Florida State University (FSU) in Tallahassee. That dream ended when my mom suddenly passed away in 2006, and I dropped out of school. The jolt of that loss shook me to the core and revived some of my earlier issues.
I can't even imagine my life without choral music in it. It's impossible!
Later that year, I went down to Tallahassee to visit friends and see their voice recitals. FSU's Dr. André Thomas (previous ANHE conductor)—who was also my first All-State choir conductor—stopped me and asked, "What do you think about coming back to school, finishing your voice degree, and earning a second graduate degree in choral conducting? I want to give you a full assistantship!" Now this man had never seen me teach, had never seen me conduct, and I had never even expressed interest in conducting. Full disclosure: During that 1998 all-state experience, I'd gone up to him and said, "My name is Tesfa, and I'm going to go to Florida State University one day, and I am gonna be you one day." Dr. Thomas just chuckled and delivered his trademark, room-filling smile. 🙂 But based on one interaction that we'd had when I was a high school sophomore and one semester of singing in his chamber choir at FSU, he graciously and shockingly offered this life-changing opportunity.
I can't even imagine my life without choral music in it. It's impossible! Two of the most influential people in my life happened to be choir directors: my high school conductor, Dr. Lulah Hedgeman, and my graduate school professor, Dr. André Thomas.
What are some of the greatest accomplishments, and challenges, you face as a conductor of a large ensemble?
I feel as though my greatest accomplishments arrive when I can watch students succeed—not necessarily during the performance but during the process. I try my best to focus on the process, and the product typically takes care of itself. I'm addicted to witnessing those light bulb moments when you see the students "get it"— such as when we're practicing a piece of music and encounter a particular interval that's been giving us a hard time. When at last they get it, and can't stop getting it, I'm like "YASSSS . . . Y'all did that!"
My greatest challenge working with a large ensemble is truly seeing its beautiful, rich diversity—and not just racial diversity—and figuring out a way to make the ensemble experience representative of everybody in that room. How can I make what we're doing relate to their journey and their lives? Programming is a big part of that, but how can we make each song relevant to 200+ people, be authentic and respectful to their lived experiences, AND present the composition honestly? That is always tricky for me . . .
What factors do you consider when programming music for a concert or honor ensemble? What are some of your favorite pieces of repertoire?
Coming from the media world, I am always thinking about how we create those "driveway moments." You know those moments . . . when you are listening to something on the radio, and you sit in the driveway for an extra 20 minutes because you are completely captivated by what you are hearing. How can we create those experiences in an honor choir? How do we weave together an emotional journey, a cohesive story, and make it feel more like a singular piece of media that speaks to some of the issues we face today?
My favorite pieces of repertoire are ones that people sing with that sparkle in their eye . . . you can feel the "yay" energy from the room when you ask them to bring the music out for rehearsal. I tend to really connect with those.
What excites you the most about the ANHE program? What do you hope your young musicians who attend will take away from their experience?
Well, we're talking about a group of students curated from all-state ensembles from around country, so they are extremely gifted and committed to making fantastic, inspiring music. What an honor to get to serve as their conductor!
I must mention that I am quite excited about hearing many of [the ANHE students'] individual stories.
I must mention that I am quite excited about hearing many of their individual stories. During our process, I will say, "All of y'all are from different states and have had different lived experiences. How can these bring the collection of those experiences to our performance, yet make music as one?" Two of my mentors, Dr. André Thomas and Dr. Anton Armstrong, learned the following phrase from their mentor Helen Kemp, "Body, mind, spirit, voice—it takes the whole person to sing and rejoice." How can we curate an experience that feeds the student's whole being during the NAfME All-National Honor Mixed Choir?
What advice would you share with young aspiring musicians preparing to audition for an ensemble?
Focus heavily on the process. Spend real, focused time in the practice room—starting today! Create a regimen and work tirelessly on your craft, but don't just go through the motions during the process. Make transfers from all of your lived experiences and begin to notice and unpack patterns from that journey. When you step into that room for an audition, be in the moment and share the most passionate, informed, honest performance you can. Leave the room knowing that THAT can be success, not just the final outcome or affirmation one might seek.
Why do you think music education is so important for all students?
I consider myself privileged. I often acknowledge the many ways I am privileged, but having access to singing opportunities like these is one I put at the top of my privilege list. I was given the opportunity to sing in a middle school and high school choral program, go on amazing trips, and have experiences that deeply impacted me. But what about the students who don't get those opportunities? I think about the friends I grew up with. So many of them weren't as privileged as I was. How would their lives be different if they had those same opportunities?
Now, I end up spending a lot of my time thinking about that reality and how to fix it. I try to focus my efforts by collaborating on projects that draw the circle wider and bring more people into the fold of this transformational art form. During many of those projects we end up having these big conversations and asking how can we use the broad and open framework of music to truly inspire our 21st-century learners to join our programs in droves? How can we create a space for them to have courageous conversations and inspire them to sustain lives that are sometimes mind-blowingly difficult? How can music be that catalyst?
I honestly don't have answers to these questions, but I do know that there are so many students profoundly impacted by creating musical art. I can't keep track of how many times I have heard from a student that music saved their life. So, for me, it keeps going back to drawing the circle wider! Let's be courageous and creative as we continue building a relevant and responsive music education curriculum for our future musicians.
A school music ensemble of 1000+ kids sounds like a great idea to me! Now we just gotta figure out how to get them in our rooms. 😉
The deadline to apply for the NAfME All-National Honor Ensembles is May 3, 2019. Learn more and apply today.
Did this blog spur new ideas for your music program? Share them on Amplify! Interested in reprinting this article? Please review the reprint guidelines.
The National Association for Music Education (NAfME) provides a number of forums for the sharing of information and opinion, including blogs and postings on our website, articles and columns in our magazines and journals, and postings to our Amplify member portal. Unless specifically noted, the views expressed in these media do not necessarily represent the policy or views of the Association, its officers, or its employees.
Catherina Hurlburt, Marketing Communications Manager. March 1, 2019. © National Association for Music Education (NAfME.org)
Published Date
March 1, 2019
Copyright
March 1, 2019. © National Association for Music Education (NAfME.org)