Why Guitar Class?
An Open Letter to Visual and Performing Arts Department Heads
By Darin Au
NAfME Council for Guitar Education-Western Division Representative
The NAfME Council for Guitar Education would like to continue an open letter series to the NAfME membership by sharing thoughts on the benefits of supporting a guitar curriculum in your school district's arts program.

Dear Performing Arts Administrator—
The guitar is easily one of the most popular instruments among children and teens, and it is also one of the most versatile. Students enjoy playing the guitar because it is one of the easiest instruments to learn, yet the hardest to master. Teachers and administrators love their guitar programs because of the instrument's natural versatility, and it is budget-friendly.
One of the Easiest Instruments to Learn 
In a class or two, students are able to learn two or three chords, which means they can play several songs. A few more class periods, and now they have five or six chords and perhaps seven or eight songs they can play together. This is just a launching pad to learning how to improvise, write songs, read music, understand music theory, and connect the music they play to their history classes (slavery, civil rights, Vietnam protests, classical music, to European history, etc.). Within one semester, students are also able to learn how to read music and play a variety of styles.
The Hardest to Master
Some of the more successful high school guitar programs allow students to play in guitar ensembles ranging from four students all the way up to large orchestras of 40 students or more! These ensembles play complex repertoire, ranging from arrangements of Vivaldi, Bach, Mozart, and Dvorak to original compositions by living composers who are often willing to meet with student ensembles via videoconference.
In addition to classical music, some guitar programs teach students blues, rock, and jazz improvisation which allow students to exercise analytical and critical thinking as well as creativity in very authentic ways. Many programs often have a composition and arranging component where students write pieces for each other to perform.
The Guitar as a Native Speaker 
Very few instruments can claim themselves as native speakers of many musical languages, and the guitar is one of them. In Hawaii, I teach all beginning guitar students how to play Hawaiian Slack Key guitar because this unique style originated in Hawaii about 150 years ago. The guitar also has its own history of classical composers writing specifically for the guitar. Because the guitar is the primary instrument of the blues, and the blues is the precursor to all pop/rock styles, the guitar has then become a centerpiece to those styles.
In addition, many stringed instruments around the world are closely related to the guitar, which then makes the guitar adaptable to many styles around the world. The guitar is equally at home playing rock as it is playing African, Asian, and Middle Eastern music. This versatility creates many opportunities for the classroom guitar teacher.
The Guitar Is Budget-Friendly 
One of the reasons the guitar has always been so popular is its affordability. A decent classroom set of guitars will cost $6,000 for 20 guitars. Add another $2,000 for accessories and a classroom set of texts. If your instructor teaches students to respect and care for the instrument, you could budget $30–$50 per instrument for maintenance each year. Now, you're ready to start a guitar program for a fraction of the cost of other programs at your school.
"Students across the country often tell their instructors guitar is their favorite class, not because it's easy, but because it presents challenges that are attainable."
The guitar is seeing a surge in popularity in music education with consistent rising enrollment, more than 900 members and counting in the School Guitar Teachers Facebook group, and the success of the NAfME All-National Honor Guitar Ensemble at the NAfME National Conference. Students across the country often tell their instructors guitar is their favorite class, not because it's easy, but because it presents challenges that are attainable. All students gain self-esteem when they see progress, and you'll see it, too.
About the author: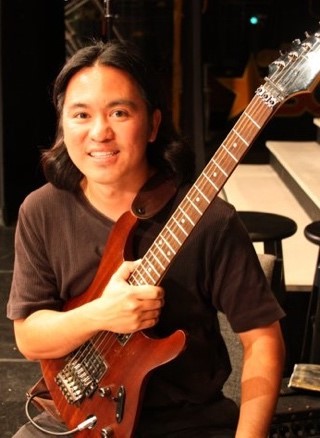 Darin Au has served on the NAfME Council for Guitar Education as the Western Division Representative since 2015. He is a faculty member of the Academy Music Department at Punahou School in Honolulu, Hawaii, where he has taught for more than 20 years. An active guitarist often playing classical, rock, reggae, and Hawaiian music, he is a composer as well. His published work, Chasing Dragons, received its premiere at the Guitar Foundation of America Festival in 2000 and since has had many performances around the world. The NAfME All-National Guitar Ensemble conducted by Dr. Michael Quantz also performed Chasing Dragons in November 2018. Au is also slated to write a new work for guest conductor, Chuck Hulihan, and the All-National Guitar Ensemble for a premiere in November 2020 at the NAfME National Conference. Darin received his Master of Music degree in Composition from the University of North Texas.
Did this blog spur new ideas for your music program? Share them on Amplify! Interested in reprinting this article? Please review the reprint guidelines.
The National Association for Music Education (NAfME) provides a number of forums for the sharing of information and opinion, including blogs and postings on our website, articles and columns in our magazines and journals, and postings to our Amplify member portal. Unless specifically noted, the views expressed in these media do not necessarily represent the policy or views of the Association, its officers, or its employees.
April 9, 2020. © National Association for Music Education (NAfME.org)
Published Date
April 9, 2020
Copyright
April 9, 2020. © National Association for Music Education (NAfME.org)