Guitar Class in the Centennial State
Number 36: The State of Colorado
By Thomas Amoriello Jr.
NAfME Council for Guitar Education Chair
In this edition of "50 States of Guitar Class" the NAfME Council for Guitar Education visits Colorado Springs with Chinook Trail music educator Brenda Clark. Ms. Clark has found unique ways to

incorporate the guitar (and ukulele) into the music program in Colorado. With that in mind not all guitar programs are full-year high school electives or honors ensembles performing classical repertoire. The guitar can enhance any music program K–12, and Brenda's work proves that. As a committed educator, Ms. Clark is on the Colorado All-State Elementary Choir Board and has completed Levels 1, 2, and 3 of Orff Certification from the University of Northern Colorado. Her husband records audio books, and the youngest of their four children is also a music teacher.
Thank you, Brenda Clark, for sharing your knowledge with the NAfME membership.
Please tell us about your school and overall music program.
Chinook Trail Elementary is the largest school in Academy District 20. Presently we have 633 children in Grades K–5. At least one-third of our school consists of military families. Our music music classes take place 45 minutes each day on a four-day rotation. We have 55 students in fifth grade beginning band, and we have 117 students in choir. Band meets two mornings a week before school, and choir (consisting of 3rd, 4th, and 5th graders) meets one morning a week. Choir usually performs three times a year and also sings "The National Anthem" with other elementary schools at an Air Force football game.
Band has mini-concerts throughout the year and has both a winter and spring concert. Grades 1 through 5 present musicals during the year, and kindergarten has a fall mini-concert and spring program. Both band and choir also have parent volunteers who come to help monitor children.
Please tell us about your own personal musical background growing up and your collegiate experience.
I grew up in a home of five children, but my parents thought that music was important. I had the opportunity to take piano lessons beginning in the spring of my second-grade year. My dad saved rolls of pennies in order to pay for the lessons and even painted my piano teacher's house in order to pay for the lessons. At the age of twelve I began to play for church services and really enjoyed the experience. I graduated with a Bachelor's and Master's Degree in Music Education from Texas Tech University and obtained an additional teaching field in Secondary Mathematics. I have taught in Texas, New Mexico, and Colorado and am in my 28th year of teaching.
What obstacles did you face when you were first hired at your school? Now?
My biggest obstacle when I came to Chinook was having no materials. There were no music curriculum books and few instruments. I begged one of my former school districts to give me the outdated music curriculum books and CDs that they had stored in a warehouse when new materials were purchased. I also had to overcome a negative view of music class by my students. They had not enjoyed music class previously and were really only interested in going to P.E.
What kind of classes related to the guitar do you teach? 
I teach a unit of guitar to my fourth and fifth grade students every other year. The guitar unit alternates with a ukulele unit. My main goal is for the students to develop a desire for further study with the guitar. I want them to learn to play simple guitar chords, learn how to read and play chords on their own, and learn simple strumming techniques. I use folk songs as well as the 4-Chord app. My four fifth grade classes then each perform a song on the guitars in their fifth-grade musical.
This year we are trying to learn the easy C, G, em, D, and F chords. The unit helps meet the Music Standards for understanding and performing Chords, both major and minor. It also helps engage students who enjoy playing instruments much more than other activities in music class. I have a couple of bass guitars that I also allow a few students to play in the musical. Parents love it when their kids play instruments.
What would you like to say to the non-guitarist music educator who is about to or interested in incorporating the guitar into their program?
I would tell the non-guitarist music educator not to be afraid of introducing the guitar to your classes. Guitar is not my main instrument, but I attended a couple of week-long summer Guitar Workshops to learn the basics.
I would also say to start small. Don't expect your elementary students to sound great with a beginning unit. Teach at least three simple chords—I, IV, V—so that they can play a variety of songs. Use half-size guitars for the elementary students and invest in a guitar app like "4-Chords" with a few pop songs that kids will feel great about playing.
Do you have any success stories you would like to share about students involving the guitar (musical and non-musical)?
In my classes I see some kids excited about music because of using the guitar, an instrument that they admire.
What kind of future do you see for guitar in music education in Colorado schools?
I see guitar used in high schools in Colorado, but I don't see it used much in the lower grades. Ukulele has grown in popularity and is used much more in elementary schools. Personally, I like the sound of 30 guitars in a concert much better than 30 ukuleles, but ukuleles are smaller and more affordable on the elementary level.
The biggest problem I see with guitar classes in high school is that school administrators add a guitar class to the high school choir or band director's schedule. Often the choir or band director is untrained in guitar and has no interest in teaching the class. However, a guitar class can really lure high school students into music who are not interested in traditional choir, band, or orchestral classes.
What type of guitar related lesson plans have you done for your classes that may be unique? 
Again I add the iPad app to my classes as a "hook" for all my students to want to play guitar. I also use the guitars in my musicals to show parents that children are really learning to play music in my classes.
Do you participate in any musical performances or activities outside of your public school teaching duties?
On the side, I have enjoyed playing the baritone in "Tuba Christmas," a holiday program offered in Colorado Springs and have performed with the "Don't Quit Your Day Job Band," an informal group that plays for the opening session of the District 20 Teacher Rally.
Any last thoughts to conclude our interview?
Music teachers need to remember why they went into teaching—a passion for music and children. Don't let the tedious activities of teacher goals, evaluations, and meetings take away your joy of teaching.
Past "Guitar Class in 50 States" articles:
About the author: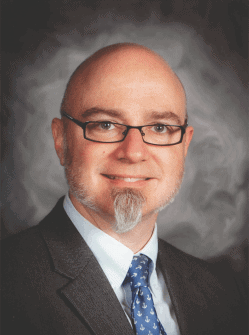 Thomas Amoriello Jr. serves as the chair on the NAfME Council for Guitar Education and is also the former Chairperson for the New Jersey Music Education Association. Tom has taught guitar classes for the Flemington Raritan School District in Flemington, New Jersey, since 2005 and was also an adjunct guitar instructor at Cumberland County College, New Jersey, for five years. He has earned a Master of Music Degree in Classical Guitar Performance from Shenandoah Conservatory and a Bachelor of Arts in Music from Rowan University. He is the author of the children's picture books A Journey to Guitarland with Maestro Armadillo and Ukulele Sam Strums in the Sand, both available from Black Rose Writing. He recently made a heavy metal recording with a stellar roster of musicians including former members of Black Sabbath, Whitesnake, Ozzy Osbourne, Yngwie J. Malmsteen's Rising Force, and Dio that was released on H42 Records of Hamburg, Germany. The record released on 12-inch vinyl and digital platforms has received favorable reviews in many European rock magazines and appeared on the 2018 Top 15 Metal Albums list by Los Angeles KNAC Radio (Contributor Dr. Metal). Visit thomasamoriello.com for more information.
Did this blog spur new ideas for your music program? Share them on Amplify! Interested in reprinting this article? Please review the reprint guidelines.
The National Association for Music Education (NAfME) provides a number of forums for the sharing of information and opinion, including blogs and postings on our website, articles and columns in our magazines and journals, and postings to our Amplify member portal. Unless specifically noted, the views expressed in these media do not necessarily represent the policy or views of the Association, its officers, or its employees.
Catherina Hurlburt, Marketing Communications Manager. December 5, 2019. © National Association for Music Education (NAfME.org)
Published Date
December 5, 2019
Copyright
December 5, 2019. © National Association for Music Education (NAfME.org)