Guitar Class in the Hoosier State
Number 47: The State of Indiana
By Thomas Amoriello Jr.
NAfME Council for Guitar Education Immediate Past Chair
Images in this article were taken before the closure of schools due to the COVID-19 pandemic.

Noblesville High School in Hamilton County, Indiana, just north of Indianapolis, is fortunate to have music educator Jason Jasper on their faculty. He is a well-rounded educator whose course load includes AP Theory, Songwriting, Recording Arts and two levels of Guitar Class. The NAfME Council for Guitar Education would like to thank Mr. Jasper for sharing his guitar experience with the NAfME membership.
Please tell us about your school and overall music program.
We have a really well-rounded music program. Noblesville High School offers three levels of concert band, marching band, five jazz bands, a percussion class, a guard/dance class, two levels of orchestra, six choirs (four of which are show choirs), three levels of guitar, three levels of piano, AP music theory, songwriting and recording arts, and basic levels of music history/appreciations and music theory.
Please tell us about your own personal musical background growing up and your collegiate experience. 
As a young musician I was mostly a singer and saxophone player. My major instrument at Hanover College was voice, but I got my certification in Music K–12 Area. I played saxophone in the 100th Division Army Reserve Band at that time and moved to the Indianapolis area after college. I taught in Indianapolis Public Schools for eight years where I taught general music, band, choir, strings, etc., in every grade level. During that time I worked on my guitar chops by playing in the bluegrass band, "The Lonesome Sharks." After my daughter was born, I wanted to find a job closer to my home at the time in Westfield, and I was hired for the guitar teaching position at Noblesville High School. I'm now in my 13th year here.
Have you found opportunities to blend your work from the guitar classroom into the Music Technology program at Noblesville High School?
Very much so! A few years back our department chair asked what we needed to make a world class music education program, and my response was a recording class. I had a few students that tried to enroll in school for audio engineering, and they didn't have the experience. At that point I put together a recording and songwriting class. We now have a recording studio and have had several students get into the programs at Indiana University, Ball State, Berklee, and Belmont.
What obstacles did you face when you were first hired at your school? Now? 
I don't know that I would call it an obstacle, but when I was hired, it was as a guitar teacher and assistant choir director. As the music department expanded, my role became more guitar and lab classes like AP music theory and the recording classes. Now, I don't teach any choir, which is fine with me because I love what I do.
What kind of classes related to the guitar do you teach?  
I teach three sections of Guitar I and one section of Guitar II. We have a three-level program. David Hartman teaches a section of Guitar II and also the Guitar III class. He's the orchestra director and a classical guitar major from Ball State who began the program more than 20 years ago.
I also teach AP Music Theory, Songwriting and the Recording Arts, and Music Production (when offered).
What would you like to say to the non-guitarist music educator who is about to or interested in incorporating the guitar into their program? 
My biggest piece of advice is to use written notation with their classes in addition to tab and chords. I don't believe that every guitarist needs to learn how to read standard notation on guitar in the real world. However, to communicate in class, you need to be able to use the language of music notation.
The other piece of advice is that you don't need to be the best guitarist in the room. I've had incoming Guitar I students who are fantastic guitarists before entering the classroom. There is still a great deal that a music teacher can give advanced students by giving great feedback and direction.
Do you have any success stories you would like to share about students (musical and non-musical)?
One of our former students is Alex Ruger who is a Berklee graduate and is a film and video game composer in L.A. Another student of mine, Angelo Ferraro, just went to work for the music producer, Phil Tan (Mariah Carey, Rihanna).
What do you tell your talented students who are planning to pursue music or guitar studies in high school or college after they finish with you? 
The first thing I do is ask them a question. "Do you want to study music, or do you want to play music?" I think that far too often students who want to major in music aren't really interested in studying it. You don't need a degree in music to play. But if you are passionate about researching music, teaching, or writing about music in addition to playing, then you're doing it for the right reasons. If it's just because they want to continue playing guitar, they should go to school for something else and keep playing their guitar.
Do you have any networking or advocacy tools that have worked for you promoting your program that would help other educators?
There's nothing specific that I can think of, but I make use of any course fairs or other opportunities that my district offers. I usually don't have to recruit for the guitar department too much.
What kind of future do you see for guitar in music education in Indiana schools? 
There are more programs than when I started teaching here. Usually it's in larger high schools like mine where there can be more offerings. Since much of the state is comprised of smaller, rural school districts, I think we're pretty lucky at NHS.
What type of lesson plans have you done for your classes that may be unique? 
We have e-days where the kids aren't at school for the day while teachers are doing professional development. On those days, rather than just having the students record themselves practicing, I have students do things like:
Shop for Guitars—Students have to find three examples of three styles of guitars that they'd like to own and then explain why they would or wouldn't buy that guitar.
Ultimate Rock Band—Students create their Ultimate Rock Band with video evidence in a discussion board.
Exploring Online Guitar Lessons—Students have to post one bad and one good video lesson and explain why they have that opinion.
Fix-A-Tab—Students have to find a tab on Ultimate Guitar that is wrong and then fix it.
Do you do any musical performances or activities outside of your public school teaching duties?
I am the music director for my church where we do hymns with guitar, which can be a little odd. I also play the odds and ends jazz saxophone or bluegrass guitar gig. Lately I've been working on my music production skills, and have been teaching myself Ableton Live with the Push 2 (up until recently I've been mostly a Logic Pro X kinda guy).
Any last thoughts to conclude our interview?
Thanks for this opportunity!
Past "Guitar Class in 50 States" articles:
About the author: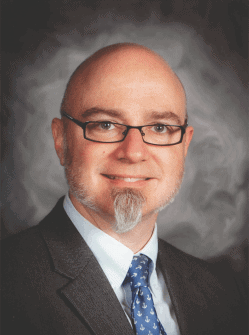 Thomas Amoriello Jr. is the Immediate Past Chair of the NAfME Council for Guitar Education and is also the former Chairperson for the New Jersey Music Education Association. Tom has taught guitar classes for the Flemington Raritan School District in Flemington, New Jersey, since 2005 and was also an adjunct guitar instructor at Cumberland County College, New Jersey, for five years. He has earned a Master of Music Degree in Classical Guitar Performance from Shenandoah Conservatory and a Bachelor of Arts in Music from Rowan University. He is the author of the children's picture books A Journey to Guitarland with Maestro Armadillo and Ukulele Sam Strums in the Sand, both available from Black Rose Writing. He recently made a heavy metal recording with a stellar roster of musicians including former members of Black Sabbath, Whitesnake, Ozzy Osbourne, Yngwie J. Malmsteen's Rising Force, and Dio that was released on H42 Records of Hamburg, Germany. The record released on 12-inch vinyl and digital platforms has received favorable reviews in many European rock magazines and appeared on the 2018 Top 15 Metal Albums list by Los Angeles KNAC Radio (Contributor Dr. Metal). Visit thomasamoriello.com for more information.
Did this blog spur new ideas for your music program? Share them on Amplify! Interested in reprinting this article? Please review the reprint guidelines.
The National Association for Music Education (NAfME) provides a number of forums for the sharing of information and opinion, including blogs and postings on our website, articles and columns in our magazines and journals, and postings to our Amplify member portal. Unless specifically noted, the views expressed in these media do not necessarily represent the policy or views of the Association, its officers, or its employees.
Catherina Hurlburt, Marketing Communications Manager. May 22, 2020. © National Association for Music Education (NAfME.org)
Published Date
May 22, 2020
Copyright
May 22, 2020. © National Association for Music Education (NAfME.org)