Guitar Class in the Cornhusker State
Number 11: The State of Nebraska
By Thomas Amoriello Jr.
NAfME Council for Guitar Education Chair
Joshua Austin is currently the North Central Division Representative on the NAfME Council for Guitar Education. He is the director of Classroom Guitar and Music Technology/Recording at Omaha South Magnet High School where they have four distinct leveled classes of guitar. In addition to guitar, Mr. Austin also teaches three levels of Music Technology/Recording at South. His teaching experiences have included band at the middle and high school levels, mariachi, collegiate percussion and method courses, and private lessons for guitar, bass, and percussion. In his spare time, he loves playing guitar, reading, composing music, but most importantly spending time with his wife and three children.
Please tell us about your school and overall music program.
Omaha South High School is a Magnet School for Fine and Performing Arts as well as Information Technology. This doesn't mean we audition or elect students. We have open enrollment. We just are able to offer more opportunities because of our magnet status. We currently have 2700+ students, in which roughly 30% of them participate in a music class on a daily basis. We offer three levels of piano, four levels of guitar, three levels of music technology, three orchestras, three concert bands that meet during the day, extra-curricular marching and jazz bands, as well as a vast number of choral ensembles and voice classes.
Please tell us about your own personal musical background growing up and your collegiate experience.
My father was a band director for 40+ years, so I got involved in music at an early age. I began piano at five years old. In elementary I joined band as a drummer (to my father's dismay). He told me very young, "You will be a percussionist, not a drummer." I then began bass guitar when I was in 8th grade. With my parents' support and direction, I was given private lessons (for percussion) for the whole of my public school experience. The high-quality high school band program and the amazing instruction of my high school band directors and private instructors gave me the skills to experience Honor Bands, Drum Corps, a gigging jazz quartet, and playing with local and regional symphony orchestras all during high school and college. Even with all the performance opportunities I had, the whole time I had my eyes set on music education. I was able to assist and instruct high school marching bands and drumlines every year of my college career, and that is what gave me the most joy.
How do the guitar family instruments fit into your teaching?
We start the kids off with steel string acoustic guitars. This practice is always up for debate. At least we debate internally every year if we keep teaching this way. It can be hard on the kids' fingers and tougher in certain playing situations. We have found that it has positive side effect of developing finger strength that can easily be applied to classical which we use the majority of the time in the following years of guitar instruction. We also have used electric guitars, bass guitars, ukulele, and we have a contra classical guitar that we try to use when it fits stylistically.
What obstacles did you face when you were first hired at your school?
I was a first-year, young teacher, hired as the head band director at an urban, low-socioeconomic school . . . there were obstacles, but we moved past them. In addition to hiring me at the beginning, the school hired an accomplished, retired band director named Jim Johnson as a part-time assistant. He helped me a lot navigating through my first year and the obstacles that were there. One of the biggest obstacles that I am still working through is that many of our students come from backgrounds and cultures in which music education wasn't a huge part. So, trying to convince students and their families to devote a Saturday for a marching band competition or a Thursday evening for a wind ensemble concert was really tough, especially when the students, many times, worked jobs to help their families out. Guitar has been a little easier sell for the demographic I work with.
What kind of classes related to the guitar do you teach? 
I am lucky enough to teach all four levels of our guitar program. We have eight total periods of guitar reaching 180 students every day. I am able to teach six of those periods (130 students); Sandra Bolton, one of our choir directors, teaches the other two (50 Students). We have a Beginning Guitar class (Guitar 1-2) that teaches the fundamentals of music, beginning guitar technique, both finger picking and flat picking, and introduces students to ear-training and musical composition in the first year playing classical and popular/rock music. The second-year class is called Intermediate Guitar (Guitar 3-4) and continues on from the beginning year adding more advanced techniques while introducing students to fingerstyle guitar soloing concepts. Advanced Guitar (5-6) becomes more of an ensemble-based class immersing the students in a wide variety of music in many different genres. This class still has solo-playing aspects. Finally, Honor Advanced Performing Guitar (Honors Guitar 7-8) is our audition-based class that takes the students to a higher level, and allows/requires them to perform frequently at various venues. These performances, or gigs, can be solo, duets, trios, quartets, or as a large ensemble.
Teaching classroom guitar has really opened my eyes even more of why we teach music and why everybody needs music in their lives.
What would you like to say to the non-guitarist music educator that is about to or interested in incorporating the guitar into their program? 
I didn't play guitar until nine months before I started teaching it (in my 8th year of teaching overall). After receiving the "ok" from my administration to include a guitar course the next year, I started to study privately and went to my first Teaching Guitar Workshop the summer before. It was super exciting and even a little therapeutic to be working on a new instrument. When I started teaching, I was just "that much" ahead of the students that it looked like I knew what I was doing. There are some great classroom guitar method books out there that will help take the guessing out of it. I had a blast that first year and didn't feel the same pressure as I did in the band setting. I was teaching music and teaching the kids to love music. I wasn't instructing to prepare for the next performance or competition. Teaching classroom guitar has really opened my eyes even more of why we teach music and why everybody needs music in their lives. My advice is don't sell yourself short. You already have musical strengths and understanding you can easily apply to teaching guitar and maybe even reaching a student who hasn't had a musical connection before in an educational setting or otherwise.
Do you have any success stories you would like to share about students (musical & non-musical)?
I tell my students the first day, and many days throughout the year, that the reason I teach guitar is so that "You [the student] will be able play guitar the rest of your life. You can perform, connect with the world, or just have an emotional/creative outlet for yourself."
Hands down, the biggest success is when I come across students who have graduated, and they enthusiastically say, "Guess what, Mr. Austin? . . . I'm still playing my guitar!"
Do you have any networking or advocacy tools that have worked for you promoting your program that would help other educators?
I have made so many connections through Teaching Guitar Workshop (TGW) that have helped shape my program. I wouldn't have the kind of program without the many people of TGW.
To promote my program—it has been a lot on my advanced performing group. They have performed for big corporations' holiday parties (companies whose commercials you see on TV), music education association (MEA) conferences, national education conferences, community outreach events for programs like YMCA or Boys and Girls Club, public meetings, homeless shelters, nursing homes, coffee shops, charity drives, and many more. They shine the positive light of guitar, themselves, and their school. I just sit back and enjoy!
What kind of future do you see for guitar in music education in the Nebraska school system?
We are seeing it continuing to expand. We've had a lot of positive feedback from well-attended sessions and concerts presented at our state MEA conference. There are many districts (urban, suburban, and rural) beginning and/or continuing to include guitar classes in their curriculum. We are working to get to know more of these individual programs so we can start networking internally within our state. There are more out there than we know currently, and we want to change that.
What type of arrangements and/or transcribing have you done for your school performances? 
My students all get into some type of arranging or transcribing popular music in every year of guitar. Some of our favorites that we've transcribed and then arranged are: the Beatles ("Here Comes the Sun," "Blackbird"), X Ambassadors ("Renegades"), Robin Schulz ("Sugar"), Michael Jackson ("Billie Jean"), Rufus Wainwright ("Hallelujah"), Shawn Mendes ("Stitches"), and Led Zeppelin ("Stairway to Heaven"). We're excited about the ones we are working on this year; 5 Seconds of Summer ("Youngblood"), The Eagles ("Hotel California"), and two songs from Yann Tiersen's soundtrack for the movie Le Fabuleux Destin d'Amélie Poulain.
Do you do any musical performances or activities outside of your public school teaching duties?
I've played at a few weddings and coffee shops. I always tell my students, "You can play guitar anywhere." Not as a performance but for personal fulfillment or to be with family and friends, I've played on beaches in Costa Rica, in the mountains in Colorado, a farm in Minnesota, around campfires in the wilderness, in my basement, in my backyard, sitting on a chair in my driveway. I just enjoy playing. I'm not even good, but it's so fun.
Any last thoughts to conclude our interview?
I am so very thankful to have an amazing administration that has been very supportive since the beginning. Guitar has only enhanced our course offerings. Not once, in the seven years of the guitar program, have we ever taken a student away from a "traditional" ensemble. However, we have had many guitar students go on and join choir, band, and orchestra because they fell in love with music.
Past "Guitar Class in 50 States" articles:
About the author: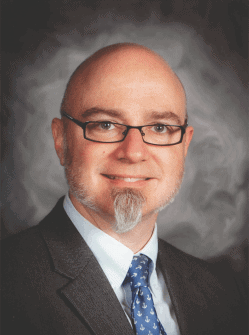 Thomas Amoriello Jr. serves as the chair on the NAfME Council for Guitar Education and is also the Chairperson for the New Jersey Music Education Association. Tom has taught guitar classes for the Flemington Raritan School District in Flemington, New Jersey, since 2005 and was also an adjunct guitar instructor at Cumberland County College, New Jersey, for five years. He has earned a Master of Music Degree in Classical Guitar Performance from Shenandoah Conservatory and a Bachelor of Arts in Music from Rowan University. He is the author of the children's picture books A Journey to Guitarland with Maestro Armadillo & Ukulele Sam Strums in the Sand, both available from Black Rose Writing. He recently made a heavy metal recording with a stellar roster of musicians including former members of Black Sabbath, Whitesnake, Ozzy Osbourne, Yngwie J. Malmsteen's Rising Force, and Dio that was released on H42 Records of Hamburg, Germany. The record released on 12-inch vinyl and digital platforms has received favorable reviews in many European rock magazines and appeared on the 2018 Top 15 Metal Albums list by Los Angeles KNAC Radio (Contributor Dr. Metal). Visit thomasamoriello.com for more information.
Did this blog spur new ideas for your music program? Share them on Amplify! Interested in reprinting this article? Please review the reprint guidelines.
The National Association for Music Education (NAfME) provides a number of forums for the sharing of information and opinion, including blogs and postings on our website, articles and columns in our magazines and journals, and postings to our Amplify member portal. Unless specifically noted, the views expressed in these media do not necessarily represent the policy or views of the Association, its officers, or its employees.
Catherina Hurlburt, Marketing Communications Manager. February 21, 2019. © National Association for Music Education (NAfME.org)
Published Date
February 21, 2019
Copyright
February 21, 2019. © National Association for Music Education (NAfME.org)