Yay Storytime! Musical Adventures with Children's Picture Books, Part Five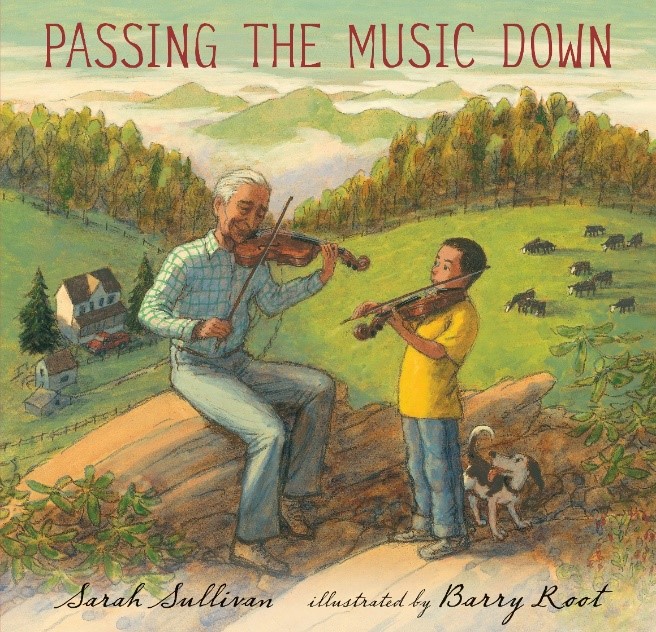 Yay Storytime!
Musical Adventures with Children's Picture Books, Part Five
By Thomas Amoriello Jr.
NAfME Council for Guitar Education Chair
The "Yay Storytime! Musical Adventures with Children's Picture Books" series continues with a fifth installment profiling two stories that offer something unique to the music classroom. The witty humor of Mike Thaler's The Music Teacher from the Black Lagoon offers laugh-out-loud, knee-slapping fun intertwined with musical literacy, while Sarah Sullivan's Passing the Music Down touches upon the student-teacher bond as well as the preservation of rural traditional songs.
Please feel free to leave comments on social media for open dialog or reach out to me at tamoriel@frsd.k12.nj.us to share which music-themed children's picture books have been successful in your classroom. On behalf NAfME, I would like to thank Sarah Sullivan and Mike Thaler for sharing their stories with the membership.
Passing the Music Down
Sarah Sullivan is the author of picture books, novels, and poetry. Her picture book Passing the Music Down was an N.C.T.E. Notable book, a nominee for the West Virginia Children's Choice Award, and a Bank Street College Best Children's Book. Her novel All That's Missing received a starred review from the Bulletin of the Center for Children's Books. Her poetry has been anthologized and has appeared in Cricket magazine and other publications. Sarah holds an MFA in Writing for Children & Young Adults from Vermont College where she was awarded a Harcourt Post-Graduate Scholarship. She lives with her husband in Williamsburg, Virginia.
Rural and traditional folk music are an important part of the musical culture in our country. How important is exposure to this music and history to, let us say, the younger generation of residents in these rural regions?
Sarah Sullivan: Music is a pathway for transmitting culture, because when you learn a song or a tune, you are not just learning the tune. You are also learning about the time and place, the people, and the culture the music comes out of. Visiting schools in rural areas in Appalachia heightened my desire to help young people celebrate what is rich in their culture because there are so many negative stereotypes that they have to contend with, and there is so much hardship, which can be isolating.
Old-time or traditional Appalachian music is something that comes directly out of local culture and yet is beloved all around the world. It's something kids can feel ownership of and be proud to be connected to. I can't tell you how many times kids have come up to me after a school presentation or a classroom visit to tell me about an uncle or aunt or a grandpa or sister or cousin who plays the fiddle or banjo or guitar. It helps them feel a connection to the outside world. It enhances their sense of pride in where they come from.
"My goal was to tell a story that, (I hope), reflects and honors that circle of life story, the passing-down of culture and tradition, and the way that music can serve as a link between generations."—Sarah Sullivan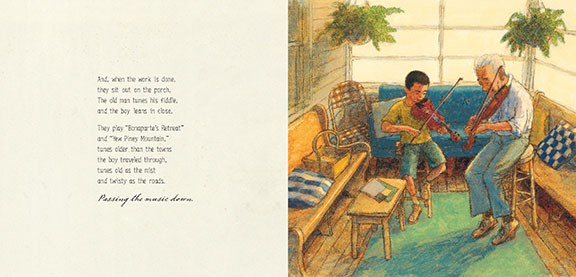 Fiddle players Melvin Wine and Jake Krack are an integral part to your story. Did you get an opportunity to communicate with these real-life musical characters during the creation of your book or afterwards?
SS: I had heard Melvin play a number of times before he passed away at the age of ninety-three. In those final years, Jake played with him. I had read about Jake's apprenticeship in my local newspaper, as well as in the New York Times. Their story struck me as something so unique and yet so ageless. I wanted to create something that honored what they were doing, preserving culture by passing it down. At first, I told Melvin's story, ending at the point where he started teaching Jake his tunes. My editor suggested I tell "the boy's" story. Thank goodness! That really is THE story, isn't it? But, perhaps I needed to tell the old man's story before I was ready to tell "the boy's."
Purely by coincidence, at the time I was revising the story for my editor, I started a long-term substitute teaching position at a local high school where Jake's mother happened to be the school librarian. When I told her what I was doing, she was happy to share her memories with me and to look over my manuscript. I then interviewed Jake by telephone. He was a freshman at Berea College by that time. Both Jake and his mother offered so much helpful information. For example, when the old man says, "You got to start with a spin and end with a skid," both Dara and Jake told me that was something Melvin said. Also, when the boy first meets the old man, he plays a tune called "Peg 'N Awl," and that is the tune that Jake played for Melvin the first time they met.
There was a Teacher's Guide for your book Passing the Music Down (created by Natalie Diaz Lorenzi). What lesson or theme would you want school-aged children in music class to walk away from after reading your book and working with the guide.
SS: My first and primary concern is always to tell a good story. I don't really think about lessons or themes. I was moved to tell this story (inspired by the lives of Jake Krack and Melvin Wine) because it seemed so reminiscent of age-old stories like those of young King Arthur and Merlin, or Obe Wan Kenobe and Luke Skywalker, or Harry Potter and Albus Dumbledore. It was the same story of a young man sensing a calling to accomplish a particular task—to save something that was at risk of being lost—and then going out to find the wise elder who could teach him what he needed to learn.
In real life, Jake was a young music student in Indiana who had a passion for old-time music. He was introduced to the music of several traditional Appalachian fiddle players by his bluegrass teacher, who told him, "This music isn't written down, so when these musicians die, the music will die with them, unless someone learns it and passes it down." So, that's what Jake did. He went out and found the musicians and learned their music, and now he's passing it down.
"Music is something that resonates deep in our DNA. It endures. It heals. It comforts. It celebrates."—Sarah Sullivan
Music is something that resonates deep in our DNA. It endures. It heals. It comforts. It celebrates. It connects people who are separate from each other. It's a universal language. My goal was to tell a story that (I hope) reflects and honors that circle-of-life story, the passing-down of culture and tradition and the way that music can serve as a link between generations.
Please tell us about the illustrator Barry Root, who helped bring your story to a visual life. Were you able to share ideas with him during the editorial phase?
SS: I was so incredibly lucky to have Barry Root agree to illustrate Passing the Music Down. We actually waited two years for him because he had other work to do first. He was illustrating U.S. Poet Laureate Ted Kooser's Bag in the Wind, for example. It was an incredible honor to have him bring my words to life.
As you probably know, under normal circumstances a picture book author and illustrator do not communicate with each other. And that was the case here, as well. However, unlike usual circumstances, in this instance I did send photographs of the real people and places to my editor. She gave them to the art director who, in turn, shared them with Barry Root. I can tell they informed his work. However, it is important to remember that the book was never intended to be a biography or a non-fiction account of events that happened. It is fiction, albeit fiction inspired by a true story. So, the photographs were intended to be helpful as background information. Jake's mother loaned them to me. I saw sketches, as I always do, before I saw the final work. And Candlewick asked me to share the sketches with Jake and his mother to make sure there were not any glaring errors in things that would matter. But I never communicated directly with Barry Root. I was absolutely thrilled with his work.
What kind of feedback related to Passing the Music Down have you received from educators and budding musicians young and old alike?
SS: The feedback I have received from educators, musicians, parents, students, people from all different walks of life really, has been incredibly moving. People have written letters about family members who played music and about how much the memories of those people mean to them and how my book has rekindled those memories. People frequently ask me to sign books they are giving to music students or to an elderly relative who taught them how to play the fiddle or violin or another instrument.
I've done school visits where my presentation has been paired with performances by music students or music teachers. I've done virtual visits with music classes where students tell me about their own experiences learning to play instruments. And, there are the teachers who have used the book as a springboard to an activity where students create a quilt square with a few words and a drawing of a family member who taught them some kind of skill. Dancing, carpentry, playing the violin or guitar, baking, creating art, playing baseball . . . the possibilities are endless. The teachers then create a quilt of those squares on the classroom door. I never dreamed the book would reach as many readers as it has and I'm incredibly grateful.
The Music Teacher from the Black Lagoon
Mike Thaler has published more than 200 books for children and is known as "America's Riddle King." He is considered one of the most creative forces in children's literature. He lives in West Linn, Oregon, with his wife Patty. Mike and Patty have traveled throughout the world, helping children and teachers create their own stories, riddles, and books. He writes and teaches with creativity, inspiring his audiences with a love of language. He attended University of California at Los Angeles and the Art Center College of Design, located in Pasadena, California, majoring in English and Art. He welcomes all invitations to speak at school programs, conferences, seminars, and churches.
Your book is a great tool to help alleviate the fear that children may have of the unknown. Especially a new teacher. The character Miss LaNote is transformed from the scary opera Viking to a normal person at the end. Having authored many books in this series what kind of feedback have you received over the years from children and teachers?
Mike Thaler: It's overcoming fears of the unknown that is valuable for kids. I think the humor helps them to embrace the message and encourages reading. Many identify with the main character, Hubie, who always imagines the worse outcome, but still manages to face the pending disaster with preparation and courage, only to discover it wasn't as bad as he thought it would be.
The Music Teacher from the Black Lagoon is a favorite among music teachers and students alike. When you were writing the book, could you imagine it being read aloud in a music classroom?
MT: No, I wasn't imagining it being read aloud. I was just trying to write the best story I could.
I hope my book gives kids a friendly attitude toward music. There's always been a gulf between kids and classical music, and it's nice to build a little bridge.
Are you a musical person? Were you well versed in music literacy and the many terms before you authored the book?
MT: I had piano lessons in elementary school. I was in choir in high school. I love music. I listen to the classic music station in Portland, Oregon. So I guess I'm a musical person.
"I hope my book gives kids a friendly attitude toward music. There's always been a gulf between kids and classical music, and it's nice to build a little bridge."—Mike Thaler
You use musical humor such as All-Toes, Bear-Tones, Soprano-Nose, and so much more. I really love how children at various age groups get the witty nature, and others have a delay in the understanding as they explore language, making your book fun for all ages! You must be proud to have had Scholastic get your books in schools literally across the world.
MT: Scholastic has done an amazing job, and I'm proud to be associated with them. I never imagined my books would reach so many, and over multiple generations. Adults who enjoyed reading my books 25 years ago, are now reading them to their children. I feel honored to be considered as one of their favorites. I love playing with language and I hope the books encourage kids to do the same.
Did you work closely and share ideas with illustrator Jared Lee when creating the book, or was that out of your domain?
MT: Jared and I have been working together on books for more than 30 years. Our first book was called The Hippopotamus Ate the Teacher in 1989. It's amazing how closely alike we think. I write the story and turn it over to Jared with full confidence. His art is truly amazing. We are a good team. The Music Teacher from the Black Lagoon is no longer available as a paperback edition, but it can be ordered as a hard-cover book through my website or directly from ABDO Publishing: A Family of Educational Publishers.
Read past articles by Thomas Amoriello Jr.:
About the author:
Thomas Amoriello Jr. serves as the chair on the NAfME Council for Guitar Education and is also the former Chairperson for the New Jersey Music Education Association (NJMEA). He has had more than fifty guitar and ukulele advocacy articles published in music education journals in Michigan, Ohio, Virginia, Washington, Illinois, Rhode Island, and New Jersey. Tom has taught guitar classes for the Flemington Raritan School District in Flemington, New Jersey, since 2005 and was also an adjunct guitar instructor at Cumberland County College, New Jersey, for five years. He has earned a Master of Music Degree in Classical Guitar Performance from Shenandoah Conservatory and a Bachelor of Arts in Music from Rowan University. His primary teachers have been Alice Artzt, Glenn Caluda, David Crittenden, and Joseph Mayes. He has performed in the master classes of Benjamin Verdery in Maui, Hawaii, and Angelo Gilardino and Luigi Biscaldi in Biella, Italy.
During his time on the NJMEA board he has directed guitar festivals and drafted the proposal to approve the first ever NJMEA Honors Guitar Ensemble. Tom is an advocate for class guitar programs in public schools and has been a clinician presenting his "Guitar for the K–12 Music Educator" for the Guitar Foundation of America Festivals in Charleston, South Carolina, and Columbus, Georgia; Lehigh Valley Guitar Festival in Bethlehem, Pennsylvania; Philadelphia Classical Guitar Society Festival, Philadelphia, Pennsylvania; NAfME Biennial Conferences in Baltimore and Atlantic City; as well as other state music education conferences in New Jersey, Massachusetts, New York, and Virginia. He has twice been featured on episodes of "Classroom Closeup–NJ," which aired on New Jersey Public Television. He is the author of the children's picture books A Journey to Guitarland with Maestro Armadillo and Ukulele Sam Strums in the Sand, both available from Black Rose Writing. He recently made a heavy metal recording with a stellar roster of musicians including former members of Black Sabbath, Whitesnake, Ozzy Osbourne, Yngwie J. Malmsteen's Rising Force, and Dio that was released on H42 Records of Hamburg, Germany. The record released on 12-inch vinyl and digital platforms has received favorable reviews in many European rock magazines and appeared on the 2018 Top 15 Metal Albums list by Los Angeles KNAC Radio (Contributor Dr. Metal). His next recording is a 5-track EP called "Dear Dark," which will be released by Ice Fall Records on cassette in March 2020 and features former members of Megadeth, King Diamond, TNT, and Dokken. Visit thomasamoriello.com for more information.
Did this blog spur new ideas for your music program? Share them on Amplify! Interested in reprinting this article? Please review the reprint guidelines.
The National Association for Music Education (NAfME) provides a number of forums for the sharing of information and opinion, including blogs and postings on our website, articles and columns in our magazines and journals, and postings to our Amplify member portal. Unless specifically noted, the views expressed in these media do not necessarily represent the policy or views of the Association, its officers, or its employees.
Catherina Hurlburt, Marketing Communications Manager. May 7, 2020. © National Association for Music Education (NAfME.org)
Published Date
May 7, 2020
Copyright
May 7, 2020. © National Association for Music Education (NAfME.org)