Yay Storytime!: Musical Adventures with Children's Picture Books, Part Four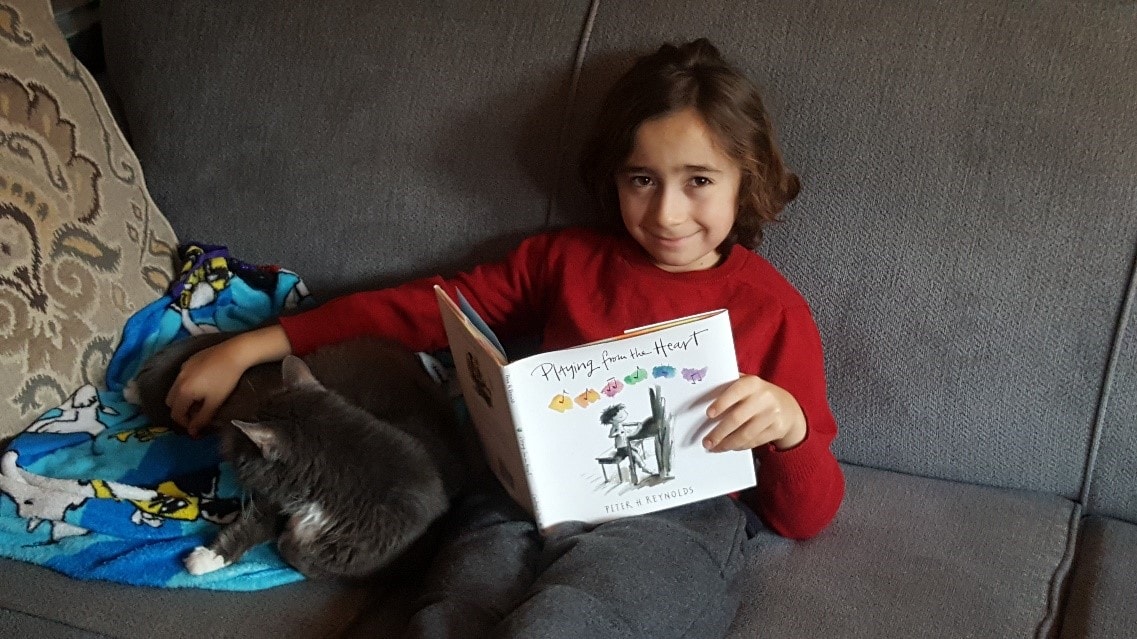 Yay Storytime!
Musical Adventures with Children's Picture Books, Part Four
By Thomas Amoriello Jr.
NAfME Council for Guitar Education Chair
In this edition of the "Yay Storytime!" series, we visit two award-winning, New England-based authors/illustrators who show how the power of music can creatively cross multiple curricula. Besides the sublime artwork that accompany their music-themed stories, deeper themes pervade throughout the featured children's picture books of Peter H. Reynolds and David McPhail—some being deliberate, some unintentional. Also, the presence of the piano and violin encourage music literacy as the books include terms such as sustain pedal, keys, string, bow, scale, and more—not to mention that musical vocabulary mixes with water colors, a father-son relationship, and an endearing, burrowing, furry creature.
Thank you to Reynolds and McPhail for sharing your thoughts with the NAfME membership.
Playing from the Heart
In Playing from the Heart, award-winning author and illustrator Peter H. Reynolds has created a book that focuses on that initial primitive fascination with music before the technical, rehearsed aspect becomes a reality, a sometimes delicate balance for the young musician to comprehend as they develop through tutelage. Playing from the Heart does not downplay the importance of learning skills but is a simple reminder of that initial spark and magic that draws one to an instrument. Reynolds also shifts the focus away from the performing musician to the sentimental listener. The importance of an attentive, emotional sole listener sometimes serves as an inspiration to the creator.
Reynolds lives in Dedham, Massachusetts, and is the co-owner of his family's book store, The Blue Bunny Bookstore, and is also the author/illustrator of The North Star, The Dot, So Few of Me and Ish. He attended the Massachusetts College of Art and Fitchburg State College.
Did you set out to write a book that could be shared in a music classroom?
PHR: I didn't create Playing from the Heart specifically for the music classroom—although it certainly is a good fit. The story is about music, but it is a metaphor for finding true joy from within in whatever you endeavor to do. I think of the whole world as our classroom. Learning is happening everywhere. Home, museums, backyards, parks, not just schools. Learning happens all around us. 
I wrote the book inspired by my own personal music journey. After years of violin and cello lessons, my music teacher said, minutes before the 8th grade spring concert began, "Peter, if you could, keep your bow an inch from the cello strings at all times during tonight's event." The curtain raised, and I began playing air cello. My cheeks were flushed with embarrassment. I was devastated and after the show—I took my cello and snapped it into its case. I was thinking, "Well, that's it then. I'm done." 
Years later, on a business trip, I sat at a hotel piano, closed my eyes and played. My meandering song finished, and I was surprised to hear applause from folks gathered around me. I finally had my "concert." I smiled. Soon after, I bought a piano. I began plunking happily, making my own kind of music-ish. Felt good—just to let it flow. 
I believe that we are moving away from binary thinking in our society to spectrum thinking. There are many ways to experience and connect to music. I sorted them in four parts, which I call the Four As:
Awareness (e.g., opera exists!)
Appreciation (e.g., wow! opera is amazing to listen to! I can see the dedication and talent in those who do it!)
Application/Aptitude (e.g., I think I'll give opera a try! I may discover I have what it takes to sing opera—to write one!)
Acceleration (e.g., I'm good, but I want to be great. There will always be some way to grow, learn, and surprise myself with opera.). 
What type of feedback have you received from educators, parents, musicians, and children?
Many readers have shared with me that the story brought back memories of their own introduction to music. They share similar stories of showing initial interest and a dollop of aptitude, and then it was years of lessons which became more chore than choice. Many hadn't played in years despite knowing HOW to play. I found that remarkable. It was one of these trips down "music lesson memory lane" a friend shared with me before I wrote the book that was part of my inspiration for writing Playing from the Heart. People resonate with the book in many ways. Some pick up on the father/son story. Some relate to how to deal with loss. Many have shared that they were moved to tears by the story. 
This is a letter I received about my book: 
Your character, Raj's story reminded me of my father-in-law who played the clarinet for years. He was a music major, but after serving in the military in WWII, he decided to be a dentist. He had lost touch with music for decades until my daughter, Victoria, picked up the violin as an instrument. He attended every single concert, and I could swear he lived through her violin playing, vicariously. He attended almost every single one of her Seattle Youth Symphony concerts until he couldn't do it anymore due to infirmary. 
Before he passed away, one of his last wishes was to have my daughter play "Coming Home" at his funeral with her violin. It was in this moment that I connected your book with my memory. It brought me to tears. And that is what I meant when I said the book is about "Coming Home" to your talent and the persistence of the human spirit. 
Kindest regards,
Ann
Any thoughts on music in our society and how children's picture books can inspire future musicianship and advocacy for children and parents?
Music is a powerful language. Our schools are evolving to appreciate other "languages" more (art, theatre, engineering, etc.), beginning to value them more, and incorporating them into the curriculum rather than just an "add on." In general, educators need to be encouraged and supported to innovate and be creative in their approach to engaging all learners. There are some wonderful picture books to connect kids not only to music, but to a creative mindset—helping children to be ready, eager, and open to learn. 
With Playing from the Heart, I wanted to celebrate the natural energy and fearlessness that children are born with and encourage all of us, as we learn the rules and techniques, not to forget that original joy in making music. I also wanted to remind us that it's okay to bend, break, re-invent, and even ignore the rules if your heart is nudging you in new directions. Creativity thrives on bravery and originality. The book also reminds us that as we get older, especially when we reach our final years, we become much closer to the wisdom we had as children. The wisdom to play, truly PLAY—joyfully—which gives new meaning to "playing" from the heart. 
Mole Music
Born in Newburyport, Massachusetts, but a current resident of Rye, New Hampshire, David McPhail attended the School of the Museum of Fine Arts in Boston. While there, he began illustrating. His first book was The RUNJUMPBUMB Book by Robert Brooks—published by Little Brown and Company, Boston. Later that same year (1971), the first of his own stories was published. It is titled In the Summer I Go Fishing published by Addison-Wesley Press. In 1972, The Bear's Toothache was published by the Atlantic Monthly Press. Thus began a wonderful and all-too-brief association with Emilie McLeod, editor extraordinaire, who published some of his favorite (of his own) stories, including Henry Bear's Park and Pig Pig Grows Up.
He has continued to write and illustrate, and there are now well over 100 books with his name on them. Mole Music (A Reading Rainbow Book) by David is a story of growth, patience, perseverance, and longevity, all performed in "solitaire" by a furry creature.
I love how Mole goes from making horrible screeching sounds to one day playing better than the man he saw on television who inspired him to order a violin—a great lesson in perseverance when learning an instrument that can be difficult at times. What are your thoughts on this?
DM: "Perseverance," exactly! Though other elements are involved, too. "Desire" and "imagination" are equally important, I believe. Desire might also be defined as "talent" (or a propensity to want to do something, like PRACTICE! If you take no pleasure in practicing, you will probably soon lose interest). Imagination, where you can envision yourself on a concert stage, or jamming in a small club with other musicians.
When I was trying to learn to play the guitar, I pictured myself traveling the world, "sitting-in," much like Eric Clapton, without the huge arenas and concert halls. Sadly, after a while, I realized that I had little "aptitude" for this pursuit. I never gave it up, entirely . . . I still bang away at the poor little instrument . . . but my dreams of competence have deserted me.
Mole Music was bestowed with a Reading Rainbow Book acknowledgement. What kind of feedback have you received over the years from music educators, children, and other readers?
Interesting question . . . The Reading Rainbow designation has certainly helped with sales. And the San Francisco Symphony adopted the book as a "Teaching Tool," and bought many copies to give to young students. Many of the letters I have received, regarding Mole, have focused on asking me why Mole doesn't take his "gift" on the road. (My wife was the first to pose that question). My answer, from the start, was that Mole's reward was in the "doing," and the simple act of "playing" was enough!
At some point, my position softened. "Why shouldn't he play for people?" I asked myself. "After all, isn't one somewhat obligated to share one's 'gift'?" So, I recently wrote the story of Mole going on a world-wide tour, and dazzling listeners with his virtuosity.
Music can change the world and melt away the anger and sadness as you touch upon its emotional power. The warring knights lay down their swords by the beauty of Mole's fiddling. What was the genesis of your creation?
Almost always, my writing begins with a simple (vague) concept. I might have just a single line in my head or an image that I want to draw. That line, or image, often leads to another, then another, and so on. More often than not, however, the developing story trails off, and leads nowhere. (I have a file cabinet filled with such promising beginnings.) So, the answer, I guess, is not consciously . . . I mean, I had no inkling of where the story would go.
The growing tree and birds are affected by the sounds of Mole practicing. How has music helped you grow? Do you listen to music while you are illustrating, and who are a few of your favorite musicians/composers?
For most of my working life, I listened to music (all kinds of music!) as I worked, mostly on the radio (even though I had a fine collection of recordings). The radio brought surprises, and new experiences, and I relied on the knowledge and good taste of the people making the musical selections. I still listen to the radio, but mostly to sports radio. I am/was a big Boston Red Sox fan (until they traded my favorite player, Mookie Betts, to the Los Angeles Dodgers).
Funny, I seem to concentrate best when I am surrounded by sound and activity. I seldom write at home. I have a favorite BUSY coffee shop that seems to be the perfect environment for my "creative juices." The tree in the book is more or less an afterthought. I love adding things to the illustrations that were not included in the original storyline. I suppose it's just for my own amusement, but it usually works out, and, in Mole's case, adds something substantial to the story.
You recently authored Mole Goes on Tour. Anything you would like to say readers about this work?
Mole Goes on Tour is, at the moment, not a book! Although it does exist in a "dummy," or mock-up, form, and is being considered for publication by the very same editor who published Mole Music more than twenty years ago. She (the editor), like me, is not 100% convinced that Mole needs to travel any further than his living room to have his "art" appreciated. (We have considered, however, publishing a 25th Anniversary Edition of the original book, which might include a CD of the musical pieces that Mole plays).
If, indeed, Mole Goes on Tour becomes an actual book, it won't be available until at least 2022. I will turn eighty this coming June, so the likelihood of my seeing, and holding, a copy of the book is somewhat "iffy."
Read past articles by Thomas Amoriello Jr.:
About the author:
Thomas Amoriello Jr. serves as the chair on the NAfME Council for Guitar Education and is also the former Chairperson for the New Jersey Music Education Association (NJMEA). He has had more than fifty guitar and ukulele advocacy articles published in music education journals in Michigan, Ohio, Virginia, Washington, Illinois, Rhode Island, and New Jersey. Tom has taught guitar classes for the Flemington Raritan School District in Flemington, New Jersey, since 2005 and was also an adjunct guitar instructor at Cumberland County College, New Jersey, for five years. He has earned a Master of Music Degree in Classical Guitar Performance from Shenandoah Conservatory and a Bachelor of Arts in Music from Rowan University. His primary teachers have been Alice Artzt, Glenn Caluda, David Crittenden, and Joseph Mayes. He has performed in the master classes of Benjamin Verdery in Maui, Hawaii, and Angelo Gilardino and Luigi Biscaldi in Biella, Italy.
During his time on the NJMEA board he has directed guitar festivals and drafted the proposal to approve the first ever NJMEA Honors Guitar Ensemble. Tom is an advocate for class guitar programs in public schools and has been a clinician presenting his "Guitar for the K–12 Music Educator" for the Guitar Foundation of America Festivals in Charleston, South Carolina, and Columbus, Georgia; Lehigh Valley Guitar Festival in Bethlehem, Pennsylvania; Philadelphia Classical Guitar Society Festival, Philadelphia, Pennsylvania; NAfME Biennial Conferences in Baltimore and Atlantic City; as well as other state music education conferences in New Jersey, Massachusetts, New York, and Virginia. He has twice been featured on episodes of "Classroom Closeup–NJ," which aired on New Jersey Public Television. He is the author of the children's picture books A Journey to Guitarland with Maestro Armadillo and Ukulele Sam Strums in the Sand, both available from Black Rose Writing. He recently made a heavy metal recording with a stellar roster of musicians including former members of Black Sabbath, Whitesnake, Ozzy Osbourne, Yngwie J. Malmsteen's Rising Force, and Dio that was released on H42 Records of Hamburg, Germany. The record released on 12-inch vinyl and digital platforms has received favorable reviews in many European rock magazines and appeared on the 2018 Top 15 Metal Albums list by Los Angeles KNAC Radio (Contributor Dr. Metal). His next recording is a 5-track EP called "Dear Dark," which will be released by Ice Fall Records on cassette in March 2020 and features former members of Megadeth, King Diamond, TNT, and Dokken. Visit thomasamoriello.com for more information.
Did this blog spur new ideas for your music program? Share them on Amplify! Interested in reprinting this article? Please review the reprint guidelines.
The National Association for Music Education (NAfME) provides a number of forums for the sharing of information and opinion, including blogs and postings on our website, articles and columns in our magazines and journals, and postings to our Amplify member portal. Unless specifically noted, the views expressed in these media do not necessarily represent the policy or views of the Association, its officers, or its employees.
Catherina Hurlburt, Marketing Communications Manager. March 19, 2020. © National Association for Music Education (NAfME.org)
Published Date
March 19, 2020
Copyright
March 19, 2020. © National Association for Music Education (NAfME.org)