Yay Storytime! Musical Adventures with Children's Picture Books, Part Six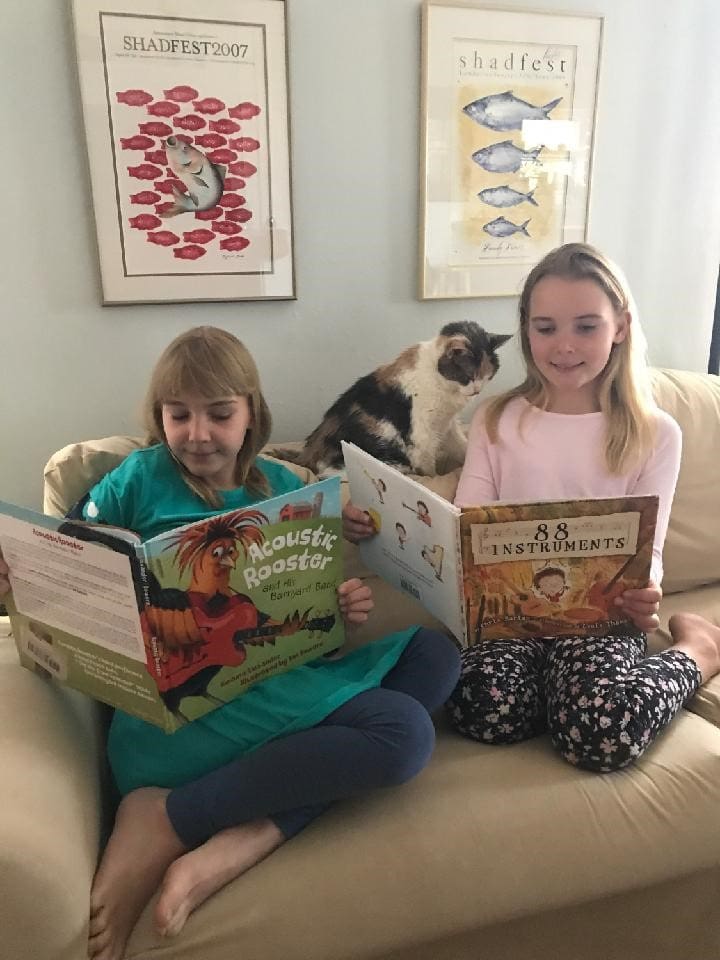 Yay Storytime!
Musical Adventures with Children's Picture Books, Part Six
By Thomas Amoriello Jr.
NAfME Council for Guitar Education Immediate Past Chair
The "Yay Storytime! Musical Adventures with Children's Picture Books" series continues here with article number six as our two authors prove that you can have a musical stage whether you are on a farm or in a music store.
Kwame Alexander and Chris Barton have found creative ways to reach youngsters musically by way of crafty writing that could potentially plant the seeds for a child's love of music! Jazz creatures named Ella Finchgerald, talent shows, piano keys, bass guitars, "bashiest" drums, and so many other music literacy terms are introduced to the vocabulary of the young mind in Acoustic Rooster and His Barnyard Band and 88 Instruments.
Please feel free to leave comments on social media for open dialog or reach out to me at tamoriel@frsd.k12.nj.us to share which music-themed children's picture books have been successful in your classroom. On behalf NAfME, I would like to thank Kwame Alexander and Chris Barton for sharing their stories with the membership.
Acoustic Rooster and His Barnyard Band
Kwame Alexander is the Innovator-in-Residence at the American School of London, and the New York Times bestselling author of 34 books, including Caldecott-Medal and Newbery Honor-winning picture book The Undefeated, How to Read a Book, Swing, Rebound, which was shortlisted for prestigious Carnegie Medal, and, his Newbery medal-winning middle grade novel, The Crossover. As the founding editor of Versify, an imprint of Houghton Mifflin Harcourt, he aims to Change the World One Word at a Time.
Here is a clip of Kwame introducing Acoustic Rooster
Acoustic Rooster and His Barnyard Band is a fun story that introduces young readers and listeners to many musical literacy terms related to musical instruments and jazz literacy terms. What sparked the initial idea for this children's picture book?
I was in Tuscany, and I'm walking up this gravel road, and on my right is this farm, and on the farm are these chickens, and the chickens are sort of playing. And they're—and I sort of say to myself, Wow, these chickens, are they having a party, and if so, what kind of music are they listening to? Well, of course it's going to be jazz music. And if there's jazz music, then who's playing it? Well, of course it's going to be—if it's on a farm, it's going to be Mules Davis, and then we're going to bring in the rooster's cousin, Duck Ellington. And, the rest is history.
In the book you disguise historical jazz figures in unique farm animals such as Mules Davis, Duck Ellington, and Ella Finchgerald. How inspiring to your art as an author and poet were the real-life jazz cats such as Miles and Duke? 
I am a jazz aficionado. Whenever I'm writing, I listen to instrumental jazz, preferably bebop or straight-ahead jazz. Music plays a huge role in my writerly life, and I think that's another reason why I wanted to write this book.
Have you participated in library storytimes and school author visits based on Acoustic Rooster? What kind of feedback have you received from children and educators?
Thousands. I like to think of my school visits as literary pep rallies. My goal is to really bring the words off the page, so I pretend like I'm on a Broadway stage. We sing, we dance, we have a big ole book party.
You are a musical person. Please tell us about your MixTape series.
Me and my best friend, Randy Preston, sat up one night and wrote songs to accompany all of my books. Well, he did most of the work, 'cause he's the singer/songwriter/guitarist. And we'd sing them when we went to schools and libraries, and kids loved them. So we decided to make them available as CDs. Thing is, nobody really listens to CDs anymore. 
Will we see more music-oriented creations from you in the future?
There's an Acoustic Rooster Musical debuting at The Kennedy Center in Washington, DC, this fall. That should be fun, especially since I got to write it, and Randy stars in it, along with Chickee Minaj and Miss Dairy Parton. It's a really wonderful MOOOOOOOsical!
88 Instruments
Chris Barton is the author of picture books including bestseller Shark vs. Train, Sibert Honor-winning The Day-Glo Brothers, Orbis Pictus honoree Dazzle Ships, and Whoosh!: Lonnie Johnson's Super-Soaking Stream of Inventions, included on 19 state reading lists. His newest books include Fire Truck vs. Dragon, What Do You Do with a Voice Like That?: The Story of Extraordinary Congresswoman Barbara Jordan, and All of a Sudden and Forever: Help and Healing After the Oklahoma City Bombing. Chris and his wife, YA/middle-grade novelist Jennifer Ziegler, live in Austin, Texas, where Chris has advocated for greater diversity in children's literature by co-founding the Modern First Library program with BookPeople.
88 Instruments is a fun rhyming, tongue-twisting story and advocates for a young child to choose an instrument for the first time. That can be a tough decision! What was the original inspiration for this particular book?
This book originated with a real-life experience in an editor's family: Her young nephew's passion for musical instruments and big-band videos gave her the idea of a child being overwhelmed by his many options and struggling to focus on a single instrument. But that was just the broad concept for a picture book. It took me a while to figure out what to do with it. Maybe three months later, the rhythmic possibilities of "eighty-eight" suddenly occurred to me—I began chanting that number to myself under my breath—and once they did, I immediately knew which instrument the main character would end up with.
The little boy character tries out many instruments ranging from the bagpipes to triangle and everything in between without naming any of them until the very end. The descriptive words in the text really brought those instruments to the illustrator Louis Thomas.
Those words describing the instruments and their sounds were the other big "Aha!" moment in writing this book. A page or so into my first handwritten draft, I wrote "Biggest? Smallest? Loudest? Softest?" and then immediately moved along to "Clangiest? Twangiest? Barrangiest?" etc. My third draft was mostly just lists of rhyming sounds, and by the time that editor received a manuscript, it had a few illustration notes from me indicating which instruments (kazoo? zither?) I thought might go with some of those sounds. But deciding which instruments to pair with my words was mostly Louis's doing. He's French, but I guess there was no language barrier for those sounds, because he picked terrific instruments to show.
A visit to a music store is like a visit to a candy story for kids. Many memories for musicians come from these places where kids young and old are free to explore sounds. Do you come from a musical background and play an instrument?
I didn't have music-making modeled for me at home while I was growing up, but I've always loved listening to music, and I did play trombone—adequately—in my middle-school's second-tier band. My occasional attempts to pick up guitar over the years didn't last, but in our house today we do have a piano, and so I remain hopeful that one of these years I'll develop a music-making habit and have it stick. As a father of young children, though—my youngest is now 16, so this was a while back—I definitely appreciated the opportunities to explore music stores with them. I once spent a week in Orlando with a toddler, and while we never even laid eyes on a theme park, we made multiple trips to a musical instrument store, and he was fascinated.
I really like how you include the parents in your book as we all know that much of the music-making would not exist without the presence of a parent or guardian to lend support.
Thank you for drawing attention to them. Including parents in a story like this can be trick. They're often so important to creating the circumstances in which a child's exploration takes place, but it makes a story less satisfying if the parents step in to help the main character solve the problem. In 88 Instruments, he figures it out on his own. It takes him a little while, but I think that just allows him to savor the experience all the more.
What kind of feedback have you received about 88 Instruments from music educators and parents/children?
When I visit schools, music teachers often make a point of approaching me and letting me know that they've used the book in their classrooms, often after receiving it as a gift from the school's librarian. And I can see how 88 Instruments would come in handy—not only modeling persistence and problem-solving, but also making the whole process of exploring musical options all the more enjoyable. At the very least, they get to say "squonkiest" as part of their job, and that gives me a lot of satisfaction. And since schools shut down and at-home learning kicked in, thanks to COVID-19, the book I've received the most inquiries about—from educators wanting to share recorded readalouds with their students—has been 88 Instruments. So for at least a few people, hopefully, this book has been brightening a difficult time.
Any other music-themed books on the horizon for you?
In addition to my playful fiction like 88 Instruments and Shark vs. Train, I also write a lot of nonfiction picture books. Over the years, I've worked on biographies of jazz trombonist Melba Liston and bluegrass pioneer Bill Monroe—only to have other authors get their takes on those subjects published before I was able to make it happen. Kudos to Katheryn Russell-Brown for Little Melba and Her Big Trombone and to Barb Rosenstock for Blue Grass Boy—I highly recommend both of those titles to music educators. But I'm still optimistic. There's a musical duo whose remarkable story I've been trying for a long time to turn into a picture book, and I'm sticking with it. The piano-playing kid in 88 Instruments isn't the only one who knows a thing or two about persistence.
Read past articles by Thomas Amoriello Jr.:
About the author:
Thomas Amoriello Jr. is the Immediate Past Chair of the NAfME Council for Guitar Education and is also the former Chairperson for the New Jersey Music Education Association (NJMEA). He has had more than fifty guitar and ukulele advocacy articles published in music education journals in Michigan, Ohio, Virginia, Washington, Illinois, Rhode Island, and New Jersey. Tom has taught guitar classes for the Flemington Raritan School District in Flemington, New Jersey, since 2005 and was also an adjunct guitar instructor at Cumberland County College, New Jersey, for five years. He has earned a Master of Music Degree in Classical Guitar Performance from Shenandoah Conservatory and a Bachelor of Arts in Music from Rowan University. His primary teachers have been Alice Artzt, Glenn Caluda, David Crittenden, and Joseph Mayes. He has performed in the master classes of Benjamin Verdery in Maui, Hawaii, and Angelo Gilardino and Luigi Biscaldi in Biella, Italy.
During his time on the NJMEA board he has directed guitar festivals and drafted the proposal to approve the first ever NJMEA Honors Guitar Ensemble. Tom is an advocate for class guitar programs in public schools and has been a clinician presenting his "Guitar for the K–12 Music Educator" for the Guitar Foundation of America Festivals in Charleston, South Carolina, and Columbus, Georgia; Lehigh Valley Guitar Festival in Bethlehem, Pennsylvania; Philadelphia Classical Guitar Society Festival, Philadelphia, Pennsylvania; NAfME Biennial Conferences in Baltimore and Atlantic City; as well as other state music education conferences in New Jersey, Massachusetts, New York, and Virginia. He has twice been featured on episodes of "Classroom Closeup–NJ," which aired on New Jersey Public Television. He is the author of the children's picture books A Journey to Guitarland with Maestro Armadillo and Ukulele Sam Strums in the Sand, both available from Black Rose Writing. He recently made a heavy metal recording with a stellar roster of musicians including former members of Black Sabbath, Whitesnake, Ozzy Osbourne, Yngwie J. Malmsteen's Rising Force, and Dio that was released on H42 Records of Hamburg, Germany. The record released on 12-inch vinyl and digital platforms has received favorable reviews in many European rock magazines and appeared on the 2018 Top 15 Metal Albums list by Los Angeles KNAC Radio (Contributor Dr. Metal). His next recording is a 5-track EP called "Dear Dark," which will be released by Ice Fall Records on cassette in March 2020 and features former members of Megadeth, King Diamond, TNT, and Dokken. Visit thomasamoriello.com for more information.
Did this blog spur new ideas for your music program? Share them on Amplify! Interested in reprinting this article? Please review the reprint guidelines.
The National Association for Music Education (NAfME) provides a number of forums for the sharing of information and opinion, including blogs and postings on our website, articles and columns in our magazines and journals, and postings to our Amplify member portal. Unless specifically noted, the views expressed in these media do not necessarily represent the policy or views of the Association, its officers, or its employees.
Catherina Hurlburt, Marketing Communications Manager. June 17, 2020. © National Association for Music Education (NAfME.org)
Published Date
June 17, 2020
Copyright
June 17, 2020. © National Association for Music Education (NAfME.org)